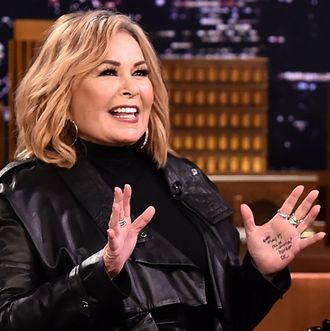 Photo: Theo Wargo/Getty Images for NBC
For richer or poorer, in sickness or in health, Andrew Dice Clay and Roseanne Barr are officially launching a comedy tour together. After previously throwing his support behind Barr following last's year's never-ending Roseanne debacle, Dice posted to Instagram this weekend that the pair's Mr. & Mrs. America joint tour is a go.
As you might recall, Barr was fired and the Roseanne revival canceled by ABC last May after the actress tweeted a racist joke/political rant about Obama administration adviser Valerie Jarrett, comparing her to the offspring of the Muslim Brotherhood and The Planet of the Apes. The network subsequently created The Connors, bringing back the rest of the Roseanne cast without its titular star.
"When people ask about what she said, I say, 'She's a comic!'" Dice told Fox News. "We gotta stop policing comedians. This is America!" He added, "America really needs to lighten up and not worry about the words comedians use because it's all we have. There's clean stuff and there's street stuff. I'm a street guy because I tell it like it is." If you don't have to dip into your emergency savings after shattering your monocle reading about this truly shocking turn of events, tickets for the tour will reportedly go on sale next week.