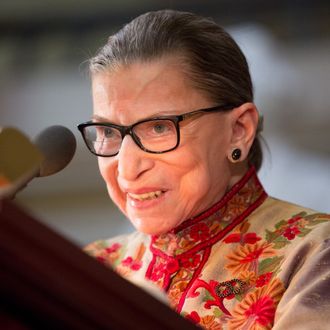 Photo: Allison Shelley/Getty Images
Good thing Heidi Schreck's What the Constitution Means to Me had its Broadway run extended. That gave Supreme Court justice Ruth Bader Ginsburg plenty of time to make it all the way to Manhattan for a show, as audience members excitedly reported on social media this weekend. Even better, Schreck's play includes audio of RBG's oft-repeated quote about women on the Supreme Court: "When will there be enough women on the court? My answer is, when there are 9." According to Slate, on Saturday night the line drew a standing ovation.
If, unlike Ginsburg, you haven't snagged a ticket yet, What the Constitution Means to Me is a blend of storytelling, debate, and political critique. Schreck examines the lives of her female ancestors and the U.S. Constitution, pulling apart how the document, like society at large, both protects and fails women. As such, the show concludes with a literal debate with a high-school student, specifically Queens high-school senior Thursday Williams on Saturday, about the merits of the Constitution. In the end, one audience member is selected to decide whether to keep or discard our nation's most important document, and they didn't pick RBG. Not intentionally, of course. According to Schreck, most of the cast had no idea she was even in the house (fair!), and ultimately a regular old non–Supreme Court justice was picked to hold court. The cast of Rodgers & Hammerstein's Oklahoma! better emotionally prepare themselves, because hey, maybe RBG's making a week of it.