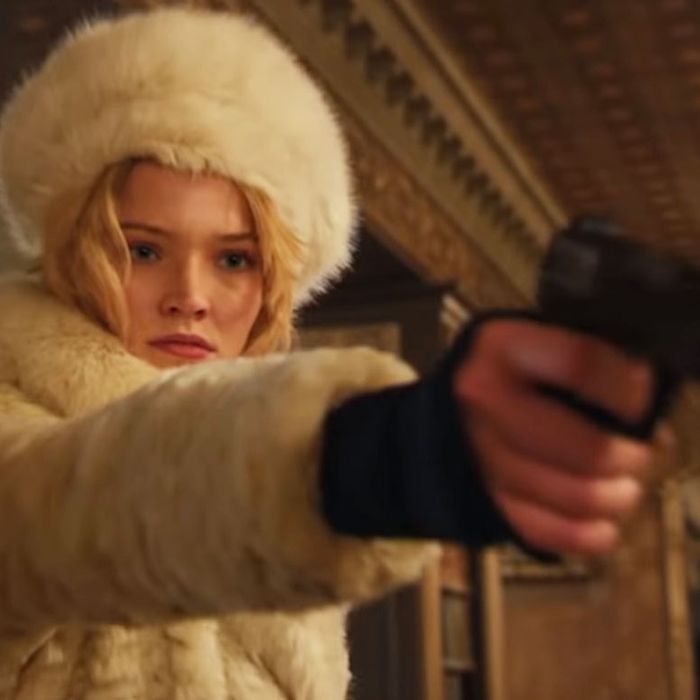 Meet Sasha Luss, the actor.
Photo: Summit Entertainment
Sasha Luss is in virtually every scene in Anna, the R-rated Luc Besson action flick about a supermodel turned super assassin that finally opens — after a series of delays related to sexual assault allegations made against its director — this month. The movie charts the titular character's rise from Russian street urchin to professional killer, the kind who can take down a bear-size mobster with a fork to the neck or disembowel four assailants using dinner plates. Luss's favorite scene occurs when Anna, in a fit of pique, pistol-whips an arrogant fashion photographer with nothing but his own camera, snapping photos of the haute couture humiliation as it happens. "Models are going to love me for it!" she says.
Over the past decade, Russian-born Luss has become one of the most sought-after models in the fashion industry. But the catwalk was never really her end goal. The Vogue cover girl — who turned 27 last week, and spent her birthday at the Wizarding World of Harry Potter — began her career as a professional stage performer. As early as age 8, she was taking parts in plays like Jonathan Livingston Seagull. (She played an "abortion angel" in a Moscow production.) Living in New York for the past several years, she's continued to study acting with the acclaimed drama coach Susan Batson (the one Nicole Kidman and Tom Cruise acknowledged in respective awards acceptance speeches). The world simply wasn't made aware of her talents until a chance scouting by a controversial French filmmaker.
Anna director Besson is known for habitually stocking his thrillers and visually gonzo sci-fi films with models. Just as he was casting for Valerian and the City of a Thousand Planets, he came across Luss's image in a magazine and reached out to her modeling agency. The two met the day after the director's father died, and Luss says their conversation inevitably got heavy — about families, relationships. Months later they met again in Paris for a four-hour audition, during which Luss sang a cappella and spoke in an alien language of her own creation. ("He tortured me!" she says.) She got the job, and her debut role: Princess Lihö-Minaa of the 28th-century planet Mül, a trippy-looking humanoid with alabaster skin, cerulean blue eyes, and a monk-bald pate, whose untimely death at the hands of marauding aliens sets the movie's plot in motion.
Over the course of seven days at New Zealand's renowned special effects company, Weta Workshop, the actress says she got to know Besson. "It was me, Luc, [and] his wife was producer on the set," Luss recalls during a recent visit to Los Angeles, in fluent but Russian-accented English. "Luc was always asking questions. He knew that I was frustrated with modeling by that moment. It was not interesting anymore. So he was like, 'Is acting something you're serious about?' And I was like, 'Yes, very much.' And he was like, 'How do you see your life in five years?' I said, 'In five years, I'm going to have an Oscar.' He was like, 'You don't sound like a girl who just shot a little scene in a big movie. But let me see if I can help you.'"
Meanwhile, Luss not only continued to work on her acting but endeavored to write her own screenplays too — which is what compelled her to reach out to Besson a few months after the Valerian production wrapped to request some of his shooting scripts. "He knew that I'm writing a lot and I asked him, 'May I please have a few screenplays? Like maybe The Fifth Element or something, so I could just see how you write,'" she recalls. "That's when he sent me Anna. I was like, 'Wow, I never heard of it.' And he said, 'Yeah, because it's new.' Then he's like, 'Would you want to do the role of Anna?'"
The upshot? A kind of shoot-'em-up Cinderella story that fits into the Atomic Blonde, Red Sparrow, and Salt family of espionage tales. Despite an almost total absence of acting bona fides, Luss inhabits the starring role in the $30 million Anna, holding her own in the high-octane ass-kicking scenes, as well as in the dialogue-heavy sequences opposite Oscar winner Helen Mirren (who portrays Anna's take-no-shit KGB spy overseer). To physically prepare to play a character who is lethal in jujitsu grappling and muay Thai kickboxing, Luss trained with the film's action choreographers up to six hours a day, five times a week, for two months. She then continued the grueling regimen throughout principal photography. "I knew there were going to be a lot of fighting scenes, and I'm not a very sporty person, I have a dancing background, which I thought would help; it did not," Luss says. "Physically, it was hard. It was long. It was exhausting. A lot of people ask me, 'Who got beaten up the most?' And I'm like, 'Me!'"
It's the kind of star-making performance that should be familiar to Besson completists. He's long introduced audiences to unknown actresses: future Resident Evil franchise face Milla Jovovich in The Fifth Element (1997), 13-year-old Natalie Portman in The Professional, and French superstar Anne Parillaud in 1990's La Femme Nikita. British supermodel Cara Delevingne had only appeared in Suicide Squad before she headlined Besson's Valerian. (Scarlett Johansson, who plays a telepathic, telekinetic mental time traveler impervious to pain in Besson's $463 million–grossing sci-fi thriller Lucy, was already quite famous by the time Besson cast her. No word yet on whether she'll appear in the movie's rumored sequel.)
Anna will likely be praised for its propulsive action, its Bourne-esque fight choreography, and its herky-jerky timeline that flashes between past and present, but the film will arrive onscreen June 21 with another distinction. It's Besson's first movie to debut since nine women — including former assistants, casting directors, students, and actresses — accused him of sexual assault and harassment. (He has consistently denied the charges.) Dutch-Belgian actress Sand Van Roy, who had a small part in Valerian and reportedly shot scenes for Anna, filed a lawsuit against the director, accusing him of rape and sexual assault. Consequently, Anna's release was delayed when Besson's company, EuropaCorp, shut down its in-house distribution business. In February, after a nine-month investigation, a Paris prosecutor dismissed the rape allegations against Besson for lack of evidence.
I ask Luss the unavoidable question: Did she ever see or experience any inappropriate behavior while working with Besson? "I know Luc for about five years now," Luss says, haltingly. "I know his family. I know his wife. I know his daughter. And I know a lot of women who worked with Luc. I have never seen anything but care and gentleman behavior from Luc. I know, of course, this case. But from what I experienced, I could not believe it. I had a few friends on staff, they were models. We could not believe it. Because what I saw from Luc was just a great person. Gentleman behavior." (Besson is participating in limited promotional events for the film. He declined to comment for this article.)
The actress is more comfortable speaking about the Oscar she sees five years in her future. Admiring the transformation Charlize Theron underwent for her Academy Award–winning turn in 2003's Monster, Luss says she is eager to "get over the pretty-girl thing" and take on grittier roles. She understands that many models turned actresses face less-than-stellar records of dramatic excellence, and the now part-time runway walker knows full well she'll face doubters. "I have a unique situation," Luss concludes. "A lot of actors get the leading role after doing a bunch of smaller things and people get to know them. I came out of nowhere."