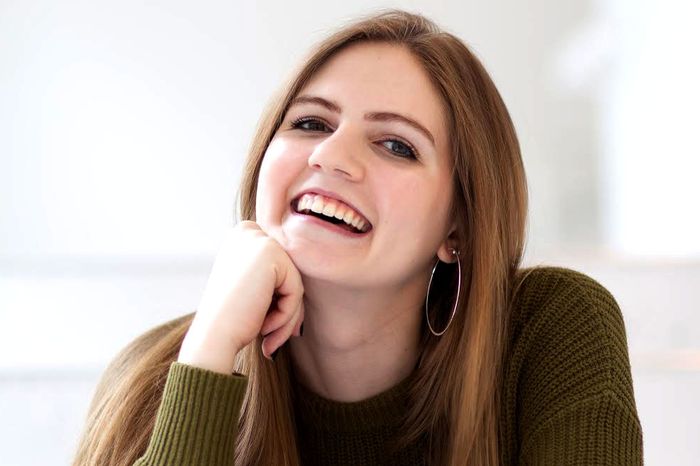 Shelby Slauer.
Photo: Rachel Erickson
Shelby Slauer (@shelbyslauer) is a Brooklyn-based writer and comedian who has been described as a modern-day Shelby Slauer. She contributes to ClickHole and Reductress and sends in monologue jokes to Late Night with Seth Meyers. She hopes someday they'll use one.
This week, Shelby and I chatted about John F. Kennedy, classic literature, and ribs (the food).
This tweet became a tradition in 2016 of looking back and taking time to reminisce. It's so comforting to recall all the joys each year holds!
How did you get into comedy?
Growing up, the thing that would always make me laugh most was doing something weird and seeing looks of confusion on the faces of my peers. Then my mom told me comedy is about making other people laugh, not yourself. It's nice to have such a support system. I think I mainly just always loved stories. I love every movie I've ever seen, except for 2018's The Grinch. I read a lot of classic literature because my brother did and he is smart, and now I reread a lot of classic literature because I was dumb and now am smart. Otherwise, I'd say it was when I walked down the street with an extra-large-size ice cream cone and multiple people laughed out loud at me as I passed by. Then I had the thought, I could make a career out of this.
Has using Twitter as a platform for your jokes helped you IRL at all?
Tweeting has allowed me to experience catharsis when I need it, like the time none of my friends wanted to come to my apartment for game night when they found out we were playing "Dust! Sweep! Mop!" Also I'm obsessed with former president John F. Kennedy, so it's been a nice outlet for that.
The Museum of Natural History had Thomas Jefferson's bones on display. Most people don't know he was actually shaped like this — I sure didn't. It's eye-opening to realize how different the president looked from what the history books tell us.
You're from a fairly religious, conservative, Southern family. Does that inform your sense of humor?
My family's very close, and I think my sense of humor has been most informed by comedy we watched together. Outrageous Fortune, Soapdish, Foul Play. Last time I was home we watched Ruthless People. I think I'm naming all the movies in one DVD set. My dad has Steve Martin's records memorized. We loved Ellen DeGeneres and Paula Poundstone's specials. Just neutral, silly, dumb, inconsequential humor. That being said, I don't cuss online (adorable), I try to always make stuff my whole family could enjoy (cute), and I inadvertently wrote entirely Bible sketches for a class and they thought I was unhinged. Also, ribs. The food. Ribs make it into a lot of my content and will likely continue to do so.
What're your comedy goals over the next year?
Right now my primary goal is becoming an Oscar-nominated actor by the time I'm 22 years old. I'm 24 years old, but I think that goes to show how strong my work ethic is. In the meantime, I'm always writing in some capacity, wherever the mood strikes. Sometimes it's starting a YA novel for some reason, sometimes stand-up, a short story, a short-form video script, a wildly unproducible screenplay. I wrote a play that'll be at BCC August 4, and I'm writing another play with my pal Darian Lusk. I've sent out some TV pilots into various crevices of the earth. I have a fairly large portfolio of work, and now what would be truly thrilling is if a human being looked at it and said, "Here is money."
This one really speaks for itself.
Did PopSugar ever help you find your twin? Do you think she's out there, searching for you too?
No. I am actually the only blonde person with glasses that has ever walked the earth.