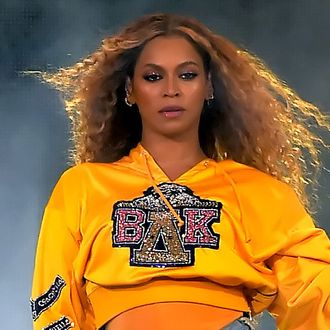 Beyoncé.
Photo: Kevin Winter/Getty Images for Coachella
Everything changed the moment Rihanna dropped the Fenty fur slides in 2016. From then on grocery trips, fourth dates, and wash days got a little more fabulous. You couldn't walk around without seeing someone in those bright-purple shoes. The shoes were comfy and fabulous. Athletic but chic. They embodied Rihanna's casual but maximalist vibe. Celebrity design collabs changed forever. So, is that what Beyoncé thought she was doing with these Beyhive bike shorts?
With her new line of merch, "Beyhive," Beyoncé tapped into the "Outdoor Voices athleisure, but make it $75" demographic but forgot to add her classic "more is more" aesthetic. It's all over her Instagram, but missing from her merch. Bike shorts, specifically, are so trendy right now that people will fully spend $75 on them. Like the Fenty slides, they're comfy and sexy. But plain black? With just the word Beyhive on the thigh? Printed in white? It just ain't it. Especially not when Rainbow has bike shorts for $3.99.
The entirety of the new "Beyhive" line looks like leftover Ivy Park, which would be fine if we weren't actively waiting on another Beyoncé x Adidas collab. Key items from the drop include the "Open 24 Hours" design, which features the accented E and, the most visually interesting item, a shirt with photos from her performance at an Indian billionaire's daughter's wedding with Beehive written in Devanagari script. It's a random but kind of thoughtful shout-out to "India Hive." The collection also features two different mesh bodysuits, just in case. Online, the Beyhive is torn between calling out the prices and just calling it boring. Many are positive that this is punishment for the Nicole Curran incident. It's more likely that this is just Bey's design language. The promotional video implies there will be another drop eventually, so we truly cannot wait for bike shorts volume two. Please, please be white with black writing.