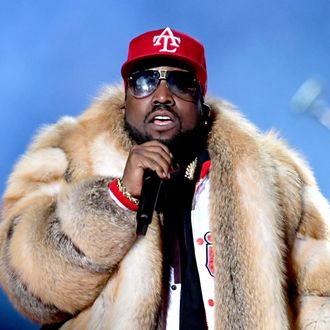 Photo: Kevin Winter/Getty Images
Shudder's Creepshow will do anything to get you to subscribe to the streaming service, even murder! Okay, not murder, but stunt casting it'll do. Re-Animator's Jeffrey Combs is coming to the Creepshow party — as is Big Boi, Kid Cudi, DJ Qualls, and that guy that melted in X-Men (Bruce Davison). The series is based on the anthology film by Stephen King and George Romero. King and his son Joe Hill will be contributing stories, as previously reported.
According to Deadline, Cudi and Combs will star in the WWII period piece "Bad Wolf Down," written and directed by Rob Schrab. Big Boi will act in "The Man in the Suitcase," about exactly what it says in the title. Qualls will star in "The Finger," directed by showrunner Greg Nicotero, previously of The Walking Dead. The A.V. Club says "The Finger" will be about a man's severed finger gaining sentience. Like Idle Hands, but one-fifth the scope? Only time will tell.