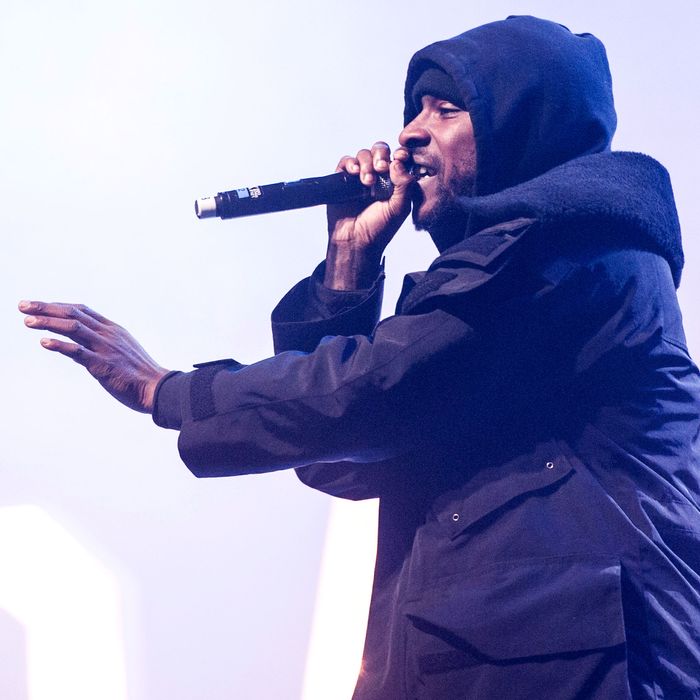 He could call in all the big guns and make the star-studded crossover album, but he won't.
Photo: Ollie Millington/Redferns
Like Leonardo DiCaprio's Academy Award win for The Revenant, the acclaim for grime veteran Skepta's 2016 studio album Konnichiwa seemed aimed more at his station than the specific performance, which was great but sporadically frustrating. The Nigerian rapper has been a key figure in the U.K. hip-hop scene since DJing for his brother JME, founder of the Boy Better Know collective, over a decade ago. He's a sharp rhymer and dresser, an emcee cocky enough to name his debut album Greatest Hits ("'cause all of my old music is better than your latest shit") and ruthless enough to hold grudges old enough to visit PG-13 movies without a chaperone. Konnichiwa showed flashes of that guy in devilish cuts like "Shutdown" and "That's Not Me," but it also fished for stateside recognition in songs with A$AP Mob and Pharrell Williams that watered down the album's intensity. He deserves the attention, but he shouldn't have to fight for it.
Skepta teeters perennially on the edge of full blown American fame, from guesting on a Diddy remix to appearing at Kanye West's Brit Awards performance of "All Day" (and later, on the Ye album) to stealing the show on Drake's More Life. (Supposedly, Drake's "signed" to BBK. Skepta has the October's Very Own owl tatted on his chest; Drake has BBK on his shoulder.) He could call in all the big guns and make the star-studded crossover album, but he won't. Last year, as fans clamored for a Konnichiwa follow-up, Skepta spent the spring and summer stepping out with Naomi Campbell. He also became a father somewhere in that stretch, as hinted at in Instagram posts. This spring's Ignorance Is Bliss is older, wiser, and more effortlessly global in execution than its predecessor, but a measure of the last album's poignancy got lost in the transition.
Older, wiser Skepta is still a keen trash-talker, and Bliss is a flurry of quotables. (See: "Animal Instinct," where he snarks, "I'm in Paris with the goons / I should take a selfie and go and hang it in the Louvre" or the verse in "What Do You Mean?" that goes, "I'm a top boy like Sully with a six-figure hobby.") Punchlines come easily to a guy who built his name in clashes with other emcees. The album's true mettle is displayed in songs like "Going Through It," "Same Old Story," and "Glow in the Dark," where he focuses his talents on telling relatable stories about love, loss, and inequality. "Dark" is a reminder that U.K. politics aren't going well for people of color at the moment ("They would love to see me on a push bike pedalin' scores") that this album could've used more of. Konnichiwa's gift was its prescient disdain for authority at a point in world history where we've ceased trusting the ground-level idea that the purpose of a political state is the preservation of its public. Ignorance Is Bliss, as a step back from those themes, feels like a deliberate shuttering of the blinds, a recentering of the artist's focus on what's going on inside rather than outside.
The love songs get the most value out of this change of course. "Bullet from a Gun" is a prideful pep talk after a breakup. "Same Old Story" is the rare moment where our protagonist owns up to his imperfections. "Love Me Not" turns British singer Sophie Ellis-Bextor's disco crush anthem "Murder on the Dancefloor" inside out; Skepta speeds the track up and punches the original vocal in and out of the mix as he tells the story from the other end of the song, as the man being restlessly pursued, for what he suspects are the wrong reasons. We don't appreciate Skepta enough as a producer. His beats build bridges between the African and Afro-Caribbean heritages of black Britain, the sounds of American rap, and electronic music from both sides of the Atlantic, while managing to sound like sexy video game dungeon music or stranger. (Bliss's "No Sleep" sounds like a succession of glasses tumbling musically into a sink.) "Greaze Mode" and "Redrum" nod to trap without much pandering, although the hook on the former leans too close to a Travis Scott Auto-Tune chorus in tone and tics.
It's a very American thing to clamor for a star who has claimed incredible honors in his own country to come and climb that hill in our territory, too, rather than sit back and enjoy the spoils of war at home. Skepta is exactly where he wants to be. He wants to be a voice and a force in grime. That hasn't changed. Ignorance Is Bliss is a smooth listen, the kind of confident, unfussed middle-career cruiser you can only make if you've made it through disheartening peaks to the breathtaking vistas and valleys on the other side. It might not be the story we need to hear right now, but it's one that only legends can tell.