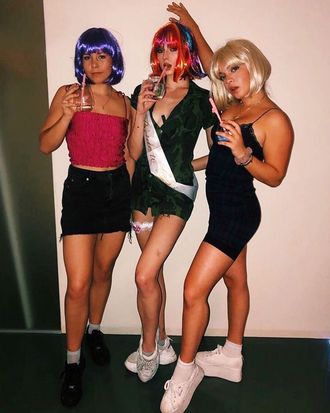 Photo: Sophie Turner/Instagram
After a pre-wedding wedding in Las Vegas and husband Joe Jonas's bachelor bash that got the cops called on them three times, Sophie Turner's bachelorette extravaganza is already off to an incredible start. Turner — with an army of her closest friends, including co-star Maisie Williams — is jetting around Europe for her celebration. They started in London, where the Jonas Brothers were performing with Busted, then hopped on a private jet to traverse Europe. The bachelorette party made stops in Berlin, Prague, and Benidorm, Spain. Here's what Sophie, Maisie, and the ladies of the North have been up to so far. Or, at least what they've posted about.
Taking advantage of having a pop star for a husband, Sophie got her entire bachelorette crew plus her mom into the Jonas Brothers' concert in London. Her mom even had a sweet "Mother of the Bride" sash.
A glorious intersection of lowbrow and highbrow: spilling chicken nuggets on a private plane. According to People, Sophie is taking care of all expenses, so any soda stains are on her.
In Berlin, they chilled at the Soho House pool.
Once in Benidorm, the entire party got wiggy with it, even Maisie Williams, whose own hair is basically the same color as her wig.
The bachelorette events were not sponsored by Smirnoff Ice, but they likely wouldn't turn a case away. Next stop on Sophie T.'s bachelorette tour is, reportedly, Prague. Keep your eyes on Instagram.