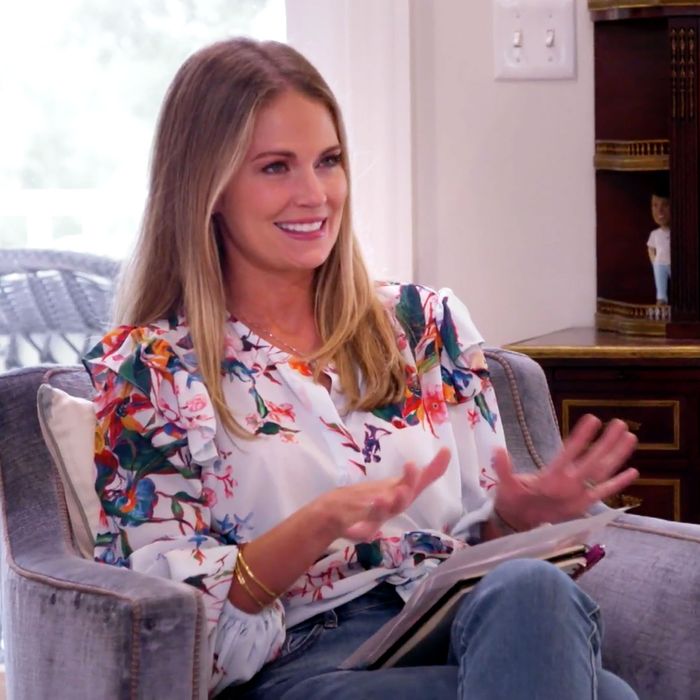 There's nothing like a camping trip to make you really, really hate the friends who somehow convinced you to go on a camping trip. Before we chomp into the meat of this episode — which is salty, half-raw, and covered in a light dusting of pine needles — some miscellaneous agenda items:
•Michael takes Patricia through the McDonald's drive-through to order a cheeseburger, hold the ketchup. She dines right there in the parking lot, equipped with a white tablecloth and red wine poured in a crystal glass. Please note that this bullet point constitutes a formal pitch to my editors at Vulture to send me to Charleston to write a dispatch from the backseat of the Altschul Bentley, parked in close proximity to various fast-food establishments.
• Kathryn isn't the first, and won't be the last, Bravo personality to pass off serving takeout on fine china as a charming personality quirk, but I do think she's the only one we've watched plate meatballs and arugula by the fistful. That's the kind of image that sticks with you. Her boyfriend, the (state) senator, comes bearing a bouquet of flowers, the stems of which she hacks at with what appears to be a bread knife.
• Cameran, whose whole shtick this season is about wanting to go back to work — there, I caught you up — interviews a possible nanny for Palmer. Cam hits on all the pressing questions that would keep any concerned parent up at night (what would she do if Palmer tried to crawl into the fireplace? Does she believe in astrology?), and yet chooses to keep an unequivocally fucking haunted bonneted baby doll in her beloved daughter's bedroom. Future grist for the Conjuring franchise mill.
• In what feels like a hobo-camp community stew of leftover cast members otherwise unaccounted for this week, Naomie and Danni visit Eliza, who remains a part of this television program, to ride horses around the Limehouse plantation. The women are cautioned to watch out for armadillo holes, a warning I am confident that I have never been given in my life. Eliza complains that her parents' divorce made it so that her young-and-hot-and-just-graduated-college-a-year-and-a-half-ago behavior at Miss Pat's was "under a microscope," but no. I didn't know her from an armadillo hole in the ground, and she was objectively annoying.
• Danni apparently texted Kathryn, "You just spit on our friendship. I hope it felt good," which is, like, a Jagged Little Pill–era Alanis lyric. I love it.
Okay, whip out the Crazy Creek chair and take a full-body dip in bug spray. It's go time.
The men of Southern Charm set off in an RV bound for Nashville, with a man named Nate — who is (1) hot, and (2) almost certainly not getting paid enough for this — behind the wheel. Everything inside the RV is exactly the beige-green Big Lebowski color palette you're imagining it to be. The trailer looks like it smells vaguely of both puke and depression even before it's occupied by four large adult men drinking, with one small baby bathroom, for eight straight hours, which, by the way, is three and a half more hours than they initially believed this leg of the trip to be. Math!
When they pull into their Tennessee campsite, the gang discovers they don't have enough firewood to make dinner. Craig and Austen, wearing a newly purchased headlamp that I don't doubt has permanently blinded any and all woodland creatures unlucky enough to have been caught in its beam, gather twigs that seem better suited to crafting creepy Blair Witch stick figures and, in Craig's case, bang haphazardly at a damp stump with a hatchet.
At some point between here and the Carolinas, Whitney became extremely cranky. It has, it seems, only now occurred to him that their firepit-grilled, roughing-it meal will not include ample vegetarian nor "pasture raised" options beyond corn on the cob and canned beans. Did he think they were stopping off for a Michelin-starred tasting menu somewhere in the wilderness?
It does not help matters that Craig, a culinary legend in his own mind, has been placed in charge of cooking, nor that these men are hydrating themselves with something like eight concurrently open bottles of wine. Standing on either side of Craig, Shep and Whitney quite literally scream at him for salting with a heavy hand.
I would like to state for the record that I am firmly on the side of the chef here. Yes, Craig "Grillmaster" Conover is notorious for culinarily overextending himself, but if I had to listen to someone complain endlessly about my cooking without taking a moment's break from listing his top-ten all-time favorite bands to lend a hand, I would grill his face to a perfectly pink medium rare.
Before long, Craig invites Whitney to shut his fucking mouth. And after one too many cracks about carcinogens, Craig throws a hot dog at him. Whitney throws it back. Craig throws a plate. "Dude, you got hot-dog juice on my glasses," Whitney complains. (Not necessarily the first time he's gotten hot-dog juice on his glasses, am I right, thank you, thank you.)
Shep — who, you should know, recently tore his MCL riding a mechanical bull, which seems like a sentence generated by a machine-learning model I built to write my Southern Charm recaps for me, but is in fact a true fact in this reality — has gleefully aided and abetted Whitney's abuse of Craig throughout the evening. "We're here to bust each other's chops," Shep argues confusingly. "We're having fun. We're by a fire. What do you do by a fire? Compliment one another?" I mean … maybe? Would that be a problem?
Figuratively if not literally fed up, Craig stops cooking mid-burger immolation to go inside the trailer to sleep, leaving Austen — whose post-breakup healing, lest we forget, was theoretically the purpose of this trip — to be bossed around into building a tent by Shep and Whitney.
I'm tempted to say this won't end well, but that would imply there was anything good about the way that it started.