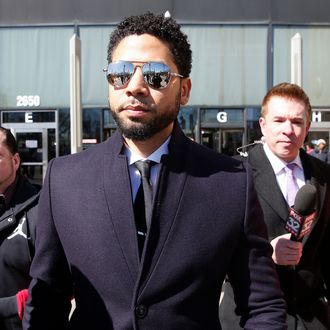 Photo: Nuccio DiNuzzo/Getty Images
Just under three months after all criminal charges were dropped against Jussie Smollett following claims he allegedly faked a racist and homophobic assault on himself, an Illinois judge has approved the appointment of a special prosecutor to reexamine the case against the Empire star and determine if the initial investigation was in any way "compromised, impeded or undermined" by the actions of the State's Attorney's Office.
Subsequent to Smollett's January 29 report of the crime, the actor was arrested and eventually indicted on 16 charges for allegedly staging the attack. After the charges were later dismissed, State Attorney Kim Foxx received criticism for her handling of the case from Chicago police and then-Mayor Rahm Emanuel, among others.
In February, Foxx reportedly informally recused herself from the case, in part because she had been contacted by Michelle Obama's chief of staff, Tina Tchen, who expressed concerns about the police's handling of it. There was also a text-message exchange between Foxx and a member of Smollett's family. First Assistant State's Attorney Joe Magats subsequently took over the case.
According to Cook County Circuit Judge Michael Toomin, however, by handing the case over to her top aide rather than officially requesting a special prosecutor, the judge asserts Foxx was essentially creating a position ("Acting State's Attorney") that didn't actually exist.
Foxx, meanwhile, says that because she did not actually have a conflict of interest, a formal recusal motion was not required. In a statement, she said she had "followed the advice of counsel and my then-Chief Ethics Officer." In the end, according to the judge's ruling, "the unprecedented irregularities identified in this case warrants the appointment of independent counsel to restore the public's confidence in the integrity of the criminal justice system." You can read the ruling in full here.