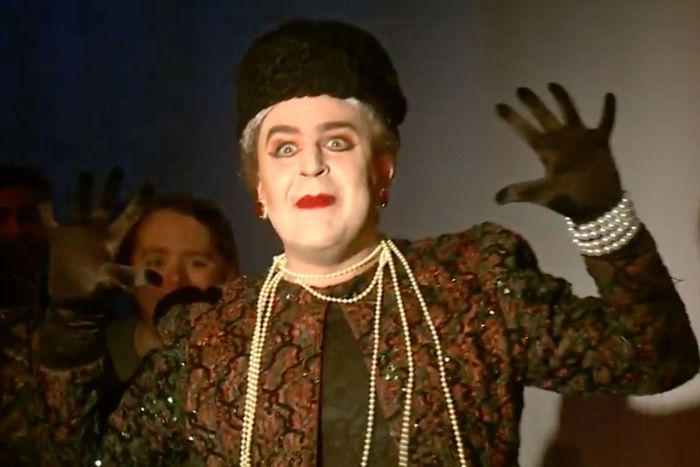 Brett Davis on
The Special.
Photo: The Special Without Brett Davis/YouTube
Last month, The Special Without Brett Davis aired its series finale on the Manhattan Neighborhood Network to an audience of untold hundreds.
Like the 164 episodes before it, the finale was a comic fantasia of intentionally sloppy sketches, musical performances, and distracted "interviews" masquerading as a hellish late-night talk show. But it was also a warm demonstration of the influence of its host and creator, the surrealist clown Brett Davis, whose unshakable no-fucks-given integrity has kept the show afloat since it premiered in February 2015.
The Special was, in theory, a public-access comedy showcase for characters, many of them played by the host himself after "Brett Davis" was murdered in the first episode. But over the last four years, the real Davis proved to be an expert conductor of writers and performers, and in exchange for providing his collaborators with total creative freedom, he was rewarded with total fealty and trust from an ever-growing and merry band.
Like Chris Gethard, whose The Chris Gethard Show immediately predated The Special on MNN (and whose upcoming Chris Gethard Presents will immediately follow it), Davis drew heavily from the bowels of New York's underground comedy and rock scenes, encouraging avant-gardism even when it was disgusting, stultifying, or in poor taste. The show's peculiarity attracted comic legends like Gilbert Gottfried and Richard Kind, as well as Oscar-nominated actors like Michael Shannon and Jackie Earle Haley, all while helping to launch the likes of Jo Firestone, Conner O'Malley, and Ana Fabrega to internet fame.
In the clips below — most of which, a mere sampling of The Special's many tonalities and stars, have YouTube views in the double digits — one sees the show that Andy Kaufman might have created had he remained alive and been given access to many tawdry wigs. But while Davis is undoubtedly working in Kaufman's legacy (and appropriately, he won the late comic's namesake award in 2015), his creative vision was distinctively his own: troubling, anarchic, free-flowing, fucked-up, and achingly funny. There was never anything like it on television before, and there will likely never be anything resembling it again — if only because those wigs can be expensive.
Big Baby New Year Gets a Spanking
As far as the show's many guests were willing to go for the laugh, Darren Mabee, whom Davis referred to as his own personal "Bob Zmuda," could and would go farther. Along with being Davis's quasi-sidekick, Mabee was a co-writer and producer on the show and its most adventurous inventor. Over the years, he portrayed Russian comedian Yakov Smirnoff, legendary musician Van Morrison, and Trump adviser Steve Bannon. But Big Baby, an underdressed infant giant, may have been Mabee's most popular and distressing character. Here he is being spanked in extreme close-up 25 times.
Crimbo Causes Chaos
Lorelei Ramirez was one of The Special's most active participants in its first three years, usually at the center of their own particularly maniacal set piece. "Crimbo Causes Chaos" features Ramirez's first appearance as Crimbo, a Jigsaw-like ventriloquist's dummy whose brush with freedom ultimately inspires another puppet to take control of its master, Goosebumps-style. As the show and everyone in it fall into a downward spiral of evil, watch how the masterful Ramirez controls the stage: For five long minutes, Crimbo never so much as drops their arms, which hang like a puppet's would on strings.
Edna Bismarck Returns to MNN
Edna Bismarck, the ghoulish former television star with impulse-control issues, is one among many of Davis's signature characters. Bedecked with pearl necklaces and sporting cadaverous makeup, Edna and her assistant, Stroheim (Mabee), like to blather on about a public-access show that may or may not have actually existed. Nonetheless, in episode 126, "West 59th Street," Edna finally got her own close-up as interim host of The Special, only to find herself slavishly in love with her guest (and prisoner) Nate Fernald. If Glenn Close is busy during the next revival of Sunset Boulevard, someone should give Edna a call now that she's free.
Patti Harrison and Jo Firestone's Home Videos
During the show's four-year run, scatology was embraced on several occasions. Yet none was so memorable as rising comic Patti Harrison farting blood into satin pajamas while doing splits and Jo Firestone about to make a similar mess on her puppy oven mitts during one of The Special's recurring "Funniest Home Videos" segments. Perhaps it was the shock of seeing beet-red shit on television, possibly for the first and last time in my life, or the juxtaposition of Harrison's hyperactive physicality with Firestone's signature deadpan. Either way, these images are stained in my memory, and now yours.
The Miss Juggalette Finals
Oh, the pageantry of the Miss Juggalette competition! Hosted by Creampie (The Special writer-comedian Mary Houlihan), the talent portion of this fully insane episode, "Juggalo Family," features a poetry reading by a contestant played by Spike Einbinder titled "Too High to Cry" and a strip dance for a dead clown by Wicked-Ass Princess Die (Ana Fabrega). In an episode entirely devoted to Faygo, only Tha Fresh-Ass Wicked-Ass Motherfucking Kill-You-With-An-Ax Rap Battle was fresher. MMFWCL, homies.
Brett Gelman Meets Claywoman
John Gentle, "a pitiable former adjunct college professor and self-published poet from New Jersey," first brought misery to The Special after Davis died in the premiere episode. Over the years, Gentle and his pretentious beret made a failed pass at Janeane Garofalo, released a collection of perverted stories called Offer Me Your Breasts, and nearly had a fistfight with Dr. Sebastian Gorka (James Adomian). Weepy and weak, he also once allowed a nightmarish beast out of David Lynch's Mulholland Drive called Claywoman (Michael Cavadias) to terrorize the actor Brett Gleman. To his credit, Gelman never batted an eye when this grotesque gargoyle began stalking him on set. Who says actors can't be brave?
Jennifer Vanilla, "Jenniferland"
Though each episode typically devoted two segments to musical acts, Jennifer Vanilla's Björk-inflected season-two rendition of "Jenniferland" introduced performance art to the mix. Behind psychotropic lighting straight out of Suspiria, Vanilla (the alter ego of musician and fellow public-access host Becca Kauffman) guides the studio through a fitness-obsessed fantasy world, all while rocking a turtleneck tracksuit in her signature pink. Like Davis, Kauffman's character-driven performances are experimental stews seasoned with seemingly unrelated influences: Peter Pan, Jane Fonda, Serge Gainsbourg. To my mind, Jennifer Vanilla represents a musical mirror double of "Brett Davis," another paradigm of amorphous, improvisational creativity.
Woodstock '99 Reunion: Limp Bizkit
Did you know that Limp Bizkit's "Break Stuff" performance at Woodstock '99 may have incited a mini plague of sexual assault and violence? As legendarily bad as that 50-minute show was, it still wasn't the trashiest thing to come out of their role in "the day the music died." That trophy goes to this meeting of Korn-hater and Putin-lover Fred Durst (Darren Mabee) and Wes Borland (Spike Einbinder) with their sworn enemy, Kid Rock (Davis), in the episode "Woodstock '99 Reunion." The encounter is short-lived, but the toxic fumes will remain in that room forever.
The Doctor's Corner with Dr. Escabara
It's always easy to remember the sketches that were outrageous, torturous, or confusing, but the introvert in me always enjoyed segments that tapped Davis's taste for the droll. A favorite is this long-form parody of insipid television body experts — Oz, Phil, Rachael Ray — by a master of understatement, Ana Fabrega, the co-creator of HBO's upcoming Los Espookys and a frequent Special guest. As the incompetent and possibly insane Dr. Escabara, Fabrega delivers a monologue on "health" with such blind confidence that I'm still unsure if it was scripted, ad-libbed, or both. Fabrega played a number of similarly deluded characters in her time on the show, but since there's no playlist of her greatest hits, this clip from the episode, "The Doctor's Corner," will suffice.
Ellen Interviews Pete Holmes
For all his gifts as an improviser, Davis displayed equal dexterity as an impersonator. We've written before about his savagely accurate Chris Hardwick impersonation, but his lacerating portrayal of Crashing's Pete Holmes in conversation with Ellen DeGeneres (brilliant Twitter star Rachel Kaly) earlier this year was so sharp that it bordered on cruelty. Between the too-tight black jeans and the hug he forces on Ellen, Davis nails Holmes's suffocatingly innocent manner before he even utters a word. Kaly, for her part, plays the weary victim perfectly. Ellen: "Do you have any weapons on you?" Pete: "Oh, just a killer smile!"