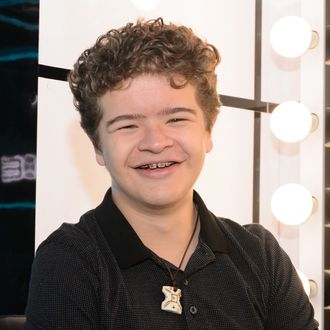 Photo: Daniel Boczarski/Getty Images for AXE
Every prank show is like a horrifying Twilight Zone episode to some degree or another: The whole world secretly laughs at your televised humiliation, except at least in reality you're dealing with Ashton Kutcher instead of some sort of airplane gremlin. Stranger Things star Gaten Matarazzo's new prank show Pranked Encounters, however, has a particularly horrifying twist. According to the announcement that Netflix made on Friday about the show, all the prankees will believe they are working their first day of a new job.
Matarazzo will host and produce the hidden-camera series, which received an eight-episode order. "Each episode of this terrifying and hilarious prank show takes two complete strangers who each think they're starting their first day at a new job," says the streaming platform's release. "It's business as usual until their paths collide and these part-time jobs turn into full-time nightmares." Truly, the only thing worse than starting a new job is realizing one of the kids from Stranger Things is covertly goofing on you the entire time. Oh no, he's probably going to invite those other kids to stop by as guests. Those teens are going to destroy you!