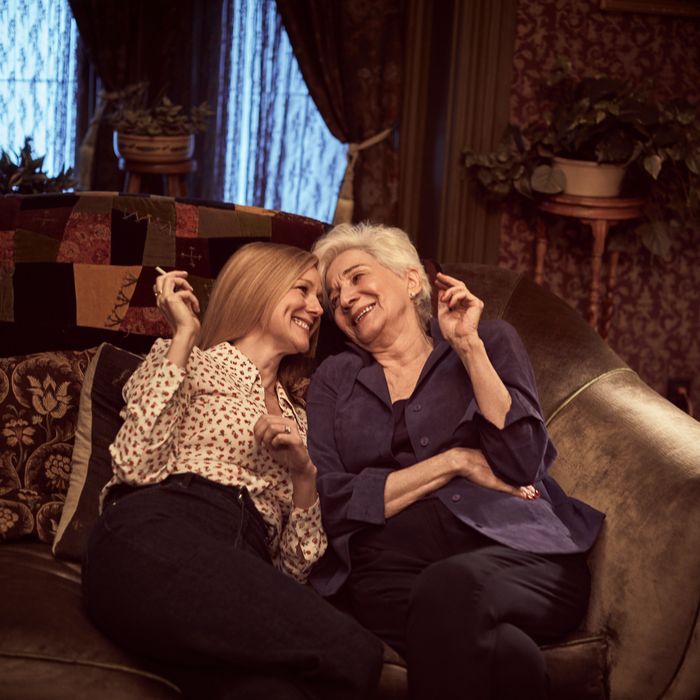 Photo: Nino Munoz/Netflix
There is a lot to love about Netflix's Tales of the City, a revival of several original miniseries based on the novels by Armistead Maupin. In moments it is lovely. There are a handful of scenes where the writing, acting, and gutsiness of the underlying story cohere into something raw and striking and well made. In other moments, though, Tales of the City feels like a rough draft, both bloated and aimless. If it had been whittled down to its strengths, edited down by a third, it might've felt more motivated and more vibrant. There might've been more momentum pushing the series toward its ending revelations. Instead, pulling out the pleasures of Tales of the City requires some patience, and some determined picking and choosing.
The original Tales of the City miniseries, which first aired on PBS in 1994, is the story of Mary Ann Singleton, a young woman from Cleveland who goes on vacation in San Francisco and decides to move there. It's set in 1975, and Mary Ann is as green as they come, shocked by the joint her landlady tapes to the welcome note, by the gay men she meets in the grocery store, by her high-school friends' sexual forwardness, by everything. When Tales of the City appeared on PBS, Mary Ann was not alone in her wide-eyed alarm — in spite of critical praise and strong ratings, PBS received enough blowback to the series that it declined to air the sequels More Tales and Further Tales.
There was sex on the original Tales of the City, but the response to the show had as much to do with its framing as the content. Maupin's San Francisco begins in the 1970s, before AIDS, before the worst violence of drug wars and overdosing, after the initial counter-culture movements of the '60s but before the conservative backlash of the '80s and '90s got into full swing. Twenty-eight Barbary Lane, the small apartment complex Mary Ann moves into, is a sweet, earnest, optimistic place full of San Francisco bohemians. It's full of young people, and overseen by caftan-wearing, joint-distributing Anna Madrigal, Barbary Lane's matriarch, who has secrets but is not traumatized by them. None of the young people of Barbary Lane, straight or queer, start from a place of shame. As much as anything else, the threat of the original Tales of the City was not that it was full of sex, drugs, and queerness. It was that its characters' lives were full and good, and they were often very happy.
The sweetness and sincerity of the original series has returned in the Netflix revival, as have many of the original cast and characters. Laura Linney and Olympia Dukakis reprise the roles of Mary Ann and Anna Madrigal, as does Paul Gross as Mary Ann's former boyfriend Brian. There's also Michael (Murray Bartlett), a cheerful gay Barbary Lane resident from the original series, and his new boyfriend Ben (Charlie Barnett), as well as a new set of younger characters, including Brian's daughter Shawna (Ellen Page), young queer couple Margot (May Hong) and Jake (Josiah Victoria Garcia), and a brother and sister pair of social media influencer types (Ashley Park and Christopher Larkin). As in the original series, the makeup of Barbary Lane residents is meant to reflect San Francisco at a certain moment in time — older people, younger people, all with shifting ideas of what identity means and how the world works.
Too often, the new Tales of the City lets its conflicts feel toothless or overly simple, but at its strongest, the revival leans into moments of friction. The far-and-away best scene of the season is at a dinner party attended by Michael and Ben, a party full of wealthy older gay men. Ben is younger than anyone else there, and he quickly bristles at the older men's racism and transphobia. "I don't think we use that word," Ben interjects, as the men chortle at a story about a "Mexican tranny club." The older men resent that they are "being policed" at a gay dinner party, and when Ben tries to politely remind them how relatively privileged they are, they react furiously. "Any so-called privilege that we happen to enjoy at this moment was won, okay?," snaps a man named Chris. "Clawed, tooth and nail, from a society that did not give two shits if we lived or died. When I was 28 I wasn't going to fucking dinner parties. I was going to funerals." "I understand," Ben tries to tell him, but Chris is not willing to listen. "You understand? Why, because you saw Angels in America? Fuck that."
The specificity and unashamed directness of that scene is unlike almost anything else in the series. It is unwilling to soften either side of the argument. Chris and his friends are unquestionably in the wrong, and Tales of the City is not suggesting that their trauma is an excuse for their current behavior. But neither does it gloss over the horror they experienced, the lasting wounds of their youth. If more of the revived Tales had the observational acumen and fearlessness of the dinner party scene, it could've been an unmissable, remarkable season of TV.
But in its effort to replicate the earnest sentimentality of the original series, the new Tales of the City too often mistakes sweetness for simplicity. There is no easy answer for the impasse between Ben and the older gay men, and the fact they cannot join hands and sing songs of unity is what gives that scene its hair-raising power. Much of the rest of the season, though, is too willing to fall back on obviousness. Even in the stories where it swings at moral complexity, as in the backstory we learn about Anna's life, or in the eventual revelations about Mary Ann and Shawna, Tales is too anxious that we root for its characters, and none of their complexities end up feeling all that complex.
The other major weakness of the series is in its relationship with current San Francisco. Because it was set two decades into the past, the original series' San Francisco had a little more license to be fictional. The city in 1975 was not an innocent fairy tale haven for misfits, because no city ever was or could be, but the historical setting made that softness feel like a choice rather than a blind spot. The new Tales of the City is set in current-day San Francisco, but you could be excused for not recognizing it. There's no encroaching Silicon Valley and there are no tech bros. Social media and digital spaces are relegated to jokes, the sole property of the influencer siblings who are meant to be funny and who are instead just laughable. There is a real-estate crisis, but it too is mostly a small joke plot rather than a dominating source of anxiety. There are protest scenes, but they feel goofy rather than furious.
A few decades ago it may have felt radical for the original Tales of the City to invent an edenic space for sex and drugs and happy queer freedom. Right now, it's hard to not see that same impulse as a little out of touch. For a series that ends each episode with a rainbow splash screen rather than a cut to black, its storytelling and internal logic too often feel black and white. And perhaps most frustratingly, there's just too much of it. It's too bad. A Tales of the City that found a way to be joyful and sweet while also letting its characters be flawed — and that knew the value of a concise story — would have been so welcome. This version comes close, but not close enough.