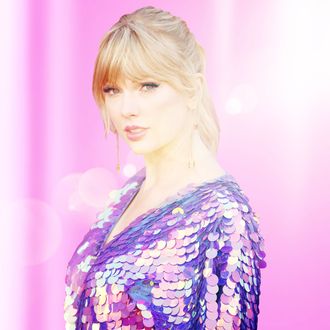 Photo: Vulture/Getty Images
The album previously designated TS7 has a name, and it is Lover. In an Instagram livestream today, Taylor Swift announced details about her forthcoming release while finding her light in front of windows in her home. Lover will have 18 tracks, making it her longest album yet, and will lean heavily on the theme of "romance." The romance of loneliness, the romance of sadness, the romance of actual romance — it's all fair game! Swift will extend her launch partnership with Target, making four deluxe special editions available through the retailer, each with unique "content." Based on what Taylor shared on IG, that at least includes four different thick booklets of material that will come with the album, and as bonus tracks she is including the recording process of two new songs. (It sounds like an elaboration on the behind-the-songwriting bonus material she put on 1989's deluxe release.) A new track called "You Need To Calm Down" will drop tonight at midnight EST, and Lover will arrive in its entirety on August 23, and yes there is classic Taylor numerology that you can math your way through in that release date.
A special guest also dropped in on Taylor's livestream, but not in the sense that she was in the singer's home with her. Lindsay Lohan tuned into the IG-cast to try and get Taylor to notice her, and also share a fun fact about her family. In addition to sending a classic heart eyes emoji, Lohan told Taylor "you should respond" and also, seemingly with no context besides the eventual presence of Taylor's pet Meredith, Lohan told Swift and everyone else tuned in that her mom was in Cats. (Vulture has not confirmed this, nor do we have details about which production of Cats, Dina Lohan was in. Was it regional? Was it local? Did she go all the way to Broadway?) So, that was nice of Lohan to drop by and share.
Anyway, Stella McCartney will also apparently be releasing some Lover "inspired" clothing item (will she help break the bad merch curse?), and Taylor either ate or made cookies with Katy Perry earlier this week. So, it's a big week for Swift partnerships, and it seems like Lindsay Lohan would like to be part of one.