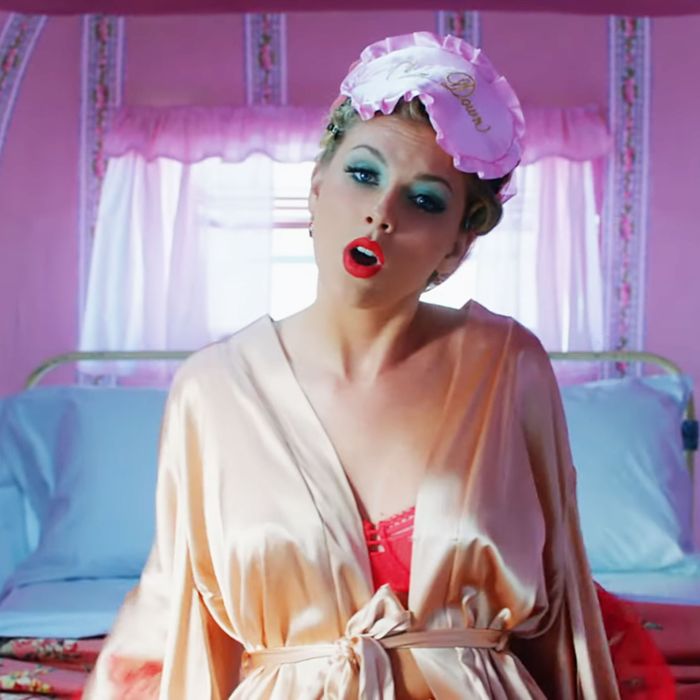 Taylor Swift's rollout dovetailing as neatly with Pride Month as it has so far raises important questions.
Photo: YouTube
Taylor Swift writes singles for the music video treatments and stadium tours now; when a new one lands ahead of the inevitable visual component, it can feel like you're not experiencing the music in its final form. My first thoughts upon hearing "You Need to Calm Down" Friday were about which dozen celebrity guests would cameo in the clip for a song about haters dialing it down. The internet's stressing everyone out. Pop stars and rappers seem especially tired of the heat of the spotlight, if the year in overreactions to critics and palpable social-media exhaustion is any indication. "You Need to Calm Down" bottles the feeling of telling someone they're getting too familiar, that rush of flaming a hater for hassling you with senseless negativity. The mood is relatable, even if the Joel Little beat exudes too much Pure Heroine energy — fascinating to see Lorde and Taylor seek each other's producers — and the lyric is overly eager for a second life as tweet fodder. It's the kind of hook that requires a highly GIFable statement video.
Swift and co-director Drew Kirsch's video dramatizes the scenario sketched out in the lyrics. It's a who's who of talented queer celebrities living in an RV park that would make fantastic television. Actress Laverne Cox is a lawn flamingo enthusiast. Singer and actor Chester Lockhart is her woozy neighbor. Figure skater Adam Rippon plays ice-cream man. Singer-songwriter Hayley Kiyoko is a recreational backyard archer. Todrick Hall is … Todrick Hall. The Queer Eye cast sips tea. Pose's Billy Porter serves face. Ellen gets a tattoo. RuPaul judges a pageant of Drag Race stars in signature Taylor, Nicki Minaj, Beyoncé, Cardi B, Ariana Grande, Adele, Lady Gaga, and Katy Perry outfits. (Jade Jolie's Taylor drag nears the peak of its powers.) Modern Family's Jesse Tyler Ferguson plays a happy groom tying the knot (with his real-life hubby Justin Mikita), until the ceremony, officiated by Ciara, is ruined by a homophobic protest and food fight, where the real Taylor and Katy make public peace. The final card urges viewers to make the Senate pass the Equality Act, which amends the Civil Rights Act to outlaw discrimination based on gender and sexual orientation. Federal law doesn't include this language; only 21 states have passed protections.
"You Need to Calm Down" is chipper, and it has great intentions, but there's been resistance. Taylor Swift's rollout dovetailing as neatly with Pride Month as it has so far raises questions. People want to know if she's glomming onto these issues to kill the complaint that she was calculatedly apolitical at a junction in world affairs where her voice was needed, if she's just another business seeking woke points for adopting a rainbow filter in the month of June, or if she's a good-natured ally too cozy occupying air in queer spaces. We've seen these endeavors go down badly. The quick corporatization of Pride has been depressing. Celebrities who use queerbaiting as a sales strategy are tiresome. (Bless the JoBros, but the year Nick spent chasing gay roles, bars, and magazines felt like pandering.) Advocacy requires poise; Taylor Swift campaigns are freight trains. Is she here to make the same mistakes? Is there more to this story than what we know right now? Lover is going to make people itch until answers are revealed.
Taylor's coming on strong. (I still don't know what "Shade never made anybody less gay" means. Is it an overcooked closet metaphor?) And at-risk communities reserve the right to be suspicious of famous people sniffing around a celebration that serves as an annual reminder of the blood, sweat, and tears spilled fifty years ago on the streets of Greenwich Village and the pain and suffering of oppressed queer, bi, trans, and gender non-conforming people all over the world both before and since. That said, the Lover era's only crimes so far are saccharine writing, audio/visual overstimulation, and a lack of subtlety — politics as usual for the weeks before a Taylor Swift launch. If she's as serious about using her wattage to spotlight LGBTQ talent and lobby for more extensive rights for communities in need as this latest music video suggests, let's hear her out for a while.