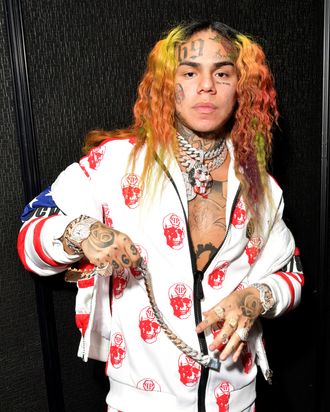 Tekashi 6ix9ine.
Photo: Swan Gallet/WWD/Shutterstock
Rapper Kooda B admitted in a New York court Monday to pocketing money from Tekashi 6ix9ine in exchange for getting someone to shoot at rival Chief Keef.
Kooda B, whose legal name is Kintea McKenzie, pleaded guilty in Manhattan federal court to arranging the June 2, 2018, attack on Keef outside a Times Square hotel, officials said.
Kooda B's plea stems from the sprawling racketeering case that ensnared Tekashi, born Daniel Hernandez, and five others linked to the "Gummo" performer last fall. A few months later, several more people, including Kooda B, were hit with charges in this investigation.
The U.S. Attorney's Office for the Southern District of New York had said that Tekashi was part of a bloods subset called the Nine Trey Gangsta Bloods.
"Members and associates of Nine Trey engaged in a series of violent disputes with rivals of Nine Trey, including those within Nine Trey who they deemed disloyal to the enterprise. During these disputes, members and associates of Nine Trey committed multiple shootings, robberies and assaults against their rivals and against fellow Nine Trey members," prosecutors had alleged. "Members and associates of Nine Trey sold heroin, fentanyl, furanyl fentanyl, MDMA, dibutylone and marijuana in and around Manhattan, Brooklyn, and the Bronx, New York."
Tekashi wound up admitting to nine counts in January, and at the time appeared to admit to having a role in Chief Keef's shooting.
"On or about June 2, 2018, in furtherance of Nine Trey, of the Nine Trey enterprise, I paid a person to shoot at a rival member of Nine Trey to scare him. The shooting took place in Manhattan. I did this to maintain or increase my own standing in Nine Trey. In furtherance of this shooting, I knew that a member of Nine Trey discharged a gun," Tekashi told the judge.
Prosecutors said that Kooda B "agreed to accept money from Daniel Hernandez … to shoot at a rival gang member and rapper who was staying at a hotel in Times Square. Kooda B helped to organize the shooting in order to scare that rival gang member."
"Today, Kintea McKenzie admitted his responsibility for a brazen shooting in bustling Times Square," Manhattan attorney Geoffrey S. Berman said in a statement after the guilty plea. "In coordination with Tekashi 6ix9ine and other Nine Trey gang members, McKenzie arranged to have another individual shoot at a rival gang member. We continue our daily work with our law enforcement partners to keep our communities safe and to vigorously investigate acts of violence committed by gang members."
Kooda B pleaded guilty to one count of assault with a dangerous weapon in aid of racketeering. The 21-year-old faces up to 20 years in federal lockup. Kooda B's lawyer did not respond to requests for comment.
Eight people implicated in this Nine Trey racketeering case, including Kooda B, have pleaded guilty, officials said.