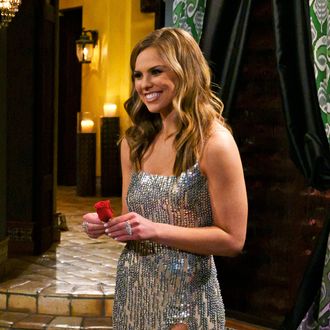 Let the power of Christ compel you to stop harassing Hannah Brown on social media. Our current Bachelorette star, whose viral moment about religion and sex in the show's mid-season trailer was met with a chorus of approval and, yes, some eye rolls from viewers ("I have had sex and Jesus still loves me!"), has posted a plea on social media for people to stop Christian-shaming her. The vitriol has gotten so bad, Brown wrote, that she had no choice but to voice her concern.
"I refuse to not stand in the sun. I refuse to feel shame. I refuse to believe the lies and evil that flood my comments. I am standing firm in believing that maybe God wants to use a mess like me to point to His goodness and grace. But dang, it's hard," Brown said, in part. "I've realized that a lot of the things that Satan uses to hurt me, come in the form of many of your comments — he uses a grain of truth to steer to evil lies. 'You're not enough, you're dirty, you're dumb, you're immature, you're not worthy.' It's upsetting to get messages from Christians telling me I give Christians a bad name."
She added, in her signature self-depreciating way: "I've lived my life for the world to see and judge and absolutely, I'm hot mess on a stick, I blew it a few times … but I refuse to believe I give Christians a bad name. I'm an imperfect human." The backstory for Brown's now-viral speech comes from later in this Bachelorette season, which was teased in a trailer: Luke P., the most loathed contestant, slut-shamed Brown for having sexual liaisons with other contestants. Brown, infuriated with Luke's comments, responded by seemingly sending him home — an unprecedented spoiler for the series.