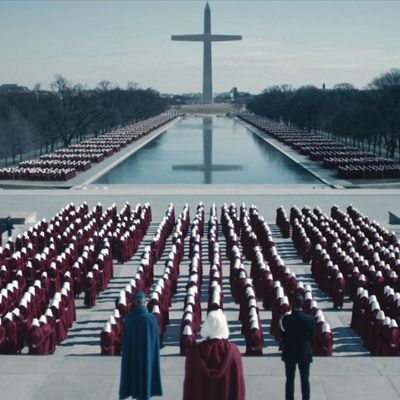 Spoilers below for The Handmaid's Tale season three.
The fundamentalist zealots on Hulu's The Handmaids Tale have been inspired by Nazi imagery from the very beginning, be it the ruling Commanders who wear their uniforms just so, the destruction and vandalizing of shops and businesses run by Gilead's chosen scapegoats, or the forced labor camps where they send anyone who doesn't fall in line.
But in "Household," the sixth episode of the third season, we finally get to see what Gilead has done to the nation's capital. Written by Dorothy Fortenberry and directed by Dearbhla Walsh, the episode takes Elisabeth Moss's June and a cavalry of her oppressors to Washington, D.C. It's still the center of government, and it's where June learns that things could get much worse for herself and her fellow Handmaids than she imagined: In the capital, Handmaids have their mouths wired shut, formerly beloved U.S. landmarks and monuments have been shattered or reimagined, and no Commander would even remotely consider bending the rules.
"We wanted to heighten the horror and the power to really show that Gilead had set up, in a real way, a government that they imagine is going to be around for a thousand years," says Fortenberry, who grew up in D.C. The episode projects the helpless doom of those who lost the will to fight against their masters. The visit conveys a stern message to June and the other Handmaids: "This is just how it is now. And it will always be this way. So get used to it."
We talked to Fortenberry, Walsh, series creator Bruce Miller, and production designer Elisabeth Williams about how exactly the episode turned our nation's capital into an Americanized take on the Third Reich.
The Washington Monument and Lincoln Memorial
June's first glimpse of D.C. under Gilead comes from her train car window: The towering Washington Monument has been turned into an enormous white cross. Miller points how that this act of hostile rebranding was inspired by actual history: As fascism spread across Europe in the first half of the 20th century, so too did the destruction and remodeling of statues and landmarks.
"In Germany, it was a combination of nationalism and a cult of personality," Miller says, explaining that, during the rise of the Nazis, "there's so much symbolism about Nazi Germany and there's not so much symbolism about Germany … so Gilead is trying to eclipse America. Everything is Gilead. It's not America and not God."
Further into the episode, June and Serena Joy Waterford (Yvonne Strahovski) have their latest row as they gaze upon the now-headless statue at the Lincoln Memorial — one of the few scenes that was actually shot in D.C. during the cast and crew's sole day of filming on location in February. The shoot had to wait until the end of this past winter's government shutdown, and while the production schedule would probably have only allowed for a day of shooting in D.C. anyway, things were even more rushed because of worries that the U.S. government might shut down again. (If native Fortenberry had her druthers, she would have included shots of specific neighborhoods, shops, and Rock Creek Park).
The Memorial and National Mall were open to the public that day, meaning filming could only happen in five-minute intervals. Production designer Williams says most shots actually had regular people in the background who had to be painted out. (You know, so as to avoid a coffee cup incident). In continuation of the show's bizarre and unfortunate parallels to our real world, Fortenberry says some bystanders saw the costumed actors and assumed "another day, another demonstration" against the Trump administration. "People in D.C. have gotten so used to seeing handmaids walking around," she said.
Union Station
Aunt Lydia (Ann Dowd) stresses to June when they arrive in D.C. that Union Station architect Daniel Burnham was a "heretic." (Burnham was from a family of Swedenborgians, while his associate on this project, Pierce Anderson, was raised Mormon.) Therefore, Aunt Lydia explains, his neoclassical marvel simply will not do in their new country of Gilead. Instead, the two take a long escalator ride north from the train tracks and disembark into a glassed-in, gray utilitarian structure adorned with lots and lots of their new country's flags.
"We wanted the escalators to rise up to uniformity and order," Walsh says of the scene. "Household" is the first episode she's directed for the series, and she watched documentaries and researched places like North Korea and Nazi Germany to learn how people behaved, moved, and operated under such strict authoritarian control. She shared images that inspired her with Williams and others, while director of photography Stuart Biddlecombe also found images that shaped this scene.
Williams, who with her team won an Emmy for the series' production design last year, says the repetition of the red banners with the black-and-gold detailing are "inspired by Nazi Germany," while also stressing that "many totalitarian regimes actually have that dogmatic, regimented look."
As for the design of the station, Williams says she and others involved wanted the "ominous feel that you get when you remove all of the accessories … and just leave the starkness. The flags that are basically a constant reminder that Big Brother is watching."
The National Mall
The final scenes of the episode, which are set at and around the National Mall, happened during the end of the D.C. production day and included 200 extras. It's a chilling scene onscreen: Fred Waterford (Joseph Fiennes) is the appointed speaker for an address overlooking the Reflecting Pool, and he's enjoying every moment of the spotlight as he launches into prayer on the importance of offspring, pleading that "his" infant daughter be returned home after an "abduction."
Uniformity and perfection were key for the rally scene, and both were part of some of the Nazis' favorite pastime of public speeches and marches. Miller says he wanted to give the audience a feeling like "we've been invaded." He was specifically inspired by the 1991 Disney movie The Rocketeer, which included an animated Nazi propaganda movie with soldiers lined up in such a perfect order that it looked fake.
"It always stuck with me: that idea of ranks and ranks and ranks of similarly looking people and the power of that with the [flags and] symbols behind it," Miller says. "We can get away with making Gilead look a lot more beautiful because it's important to Gilead to look beautiful. It's a curated image."
"The ceremonies are the point," he added. "They want it to look like everybody is always together."
Williams says they would have done more set dressing, but the National Park Service has strict rules in place to protect and respect the Lincoln Monument. Therefore, there was also no dais for the characters to stand on and no flags were placed on the cobblestone steps. (The ones seen onscreen are VFX.) Still, she says, "The simplicity of the flags on the sides and it being very symmetrical and clean and pure made it very compelling."
The scene is terrifying not only for its magnitude, but because of the symbolism carried over from a few moments prior when June gathered her strength at the headless Lincoln Monument. There, Walsh created the eerie optical illusion of our heroine leaning on the remains of the statue in such a way that it looks like she, too, has been decapitated.
You can almost hear June's inner monologue as she processes her options: Should I rip the muzzle off my mouth and scream about as many of Gilead's injustice as I can before getting a bullet to the head as the cameras roll? That would make her a martyr for the whole world to see, but may also cause more Handmaids to suffer and the Commanders to enact harsher regulations upon those who don't rise up. Instead, she stays mute, realizing the power she does have when a sea of ladies in red standing alongside the Reflecting Pool imitate her actions and kneel.
Walsh's interpretation of what June's silence is meant to tell us with that final close-up show? "I may be silent, but my work here is not done."