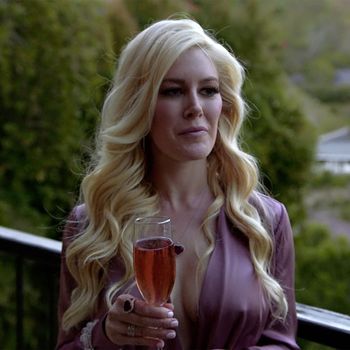 The Hills, a show that helped define the current age of reality TV and taught its audience to deconstruct that genre all in one fell swoop, is back. There are some new additions, but many of its original personalities (players?) have returned, nine years after any of them were last featured on MTV as representative of a generation of cool youths in Hollywood. Many have since married and had children. Some are divorced. The world has changed. And yet for the most part, The Hills: New Beginnings feels eerily unchanged from the original series.
Part of that is due to the look of the thing. The faces, the bodies, the shots of surfing, the glossy lips pursed carefully around a cocktail straw; the drawn, concerned female expressions, and the furrowed eyebrows of male frustration; the eyeline that drifts off over the horizon when some painful topic is mentioned. The palm trees, the staged conversations, the careful shots of getting ready to go out, the slightly feral hint to Spencer Pratt's lips as he contemplates an upcoming party — we're back, baby.
Except that the rest of the world is not quite in that place anymore, and in some ways it's because the rest of us have caught up to where The Hills once forged a new path. The first thing I noticed about New Beginnings is that its cinematography is now indistinguishable from the commercials that run alongside it on MTV. Just as the original series was, but now with a slightly more frantic, more overly produced tempo, New Beginnings is full of glowing yellow lens flare, unsubtle music cues, and anonymized montages of a curated version of L.A. life. It is a world punctuated by shots of attractive swim bodies with the heads cropped off, tanned arms holding craft cocktails jutting into the frame, car doors opening with legs extended outward, and distant tilt-shifted landscapes. Large portions of it blend seamlessly into the visual language of the interstitial ad breaks.
However, that's not really the knock on The Hills, which in many ways invented the glossy, music-video style that now dominates whole swaths of reality TV, advertising, teen melodrama, and corporate-sponsored Instagram stories. The Insta Story is a particularly on-the-nose visual copycat, with an interface that invites users to chain together many disparate short video clips of their day, collecting a series of images to suggest and stand in for a whole world. Before watching New Beginnings, I'm not sure I would've recognized how thoroughly The Hills' visual style has seeped into the way we tell stories about ourselves. But that doesn't change the fact that what was once a distinctive, trailblazing style for constructing fabricated narratives about a group of real people now just feels like everything else on TV and social media.
But while the style has not changed, the content of New Beginnings has been forced to accept the passage of time, at least in some respects. These people have children, for Pete's sake, and where stories once focused on the peaks and valleys of wanting to party versus wanting to stay home, one of the primary topics of conversation on New Beginnings is parenting. Parenting, Audrina Patridge, Whitney Port, Heidi Montag, Spencer Pratt, and Brody Jenner all agree, is hard. (Brody is not a parent, but he cites the hardness of parenting as a primary reason why he doesn't want to be doing it right now.) But parenting and the hardness thereof only makes it feel weirder when everyone glosses their lips and sprays their hair and heads off to a big "welcome back to L.A." party for Spencer's sister Stephanie. Much of New Beginnings' premiere episode consists of conversations about how much everyone's lives have changed, but it's then capped by a sequence where the cast all don their going-out clothes and steel themselves for the party ahead, as if the cars they step into are actually transporting them all backward in time to The Hills' original series.
For a show called New Beginnings, in other words, the revived Hills series seems desperate to deny that any such new beginnings have taken place. Old relationships and feuds are poked at like the embers of a long-dead fire someone's frantically trying to spark back to life. Thanks to some reminders from Heidi and Spencer, the world of New Beginnings is apparently one where Perez Hilton, the once-notorious gossip blogger, is still a powerful, news-making figure.
The real figurehead of New Beginnings' confused, time-traveling, tail-eating identity is its most notable new cast member. Mischa Barton once starred in The OC, a fictional show that inspired the reality show Laguna Beach, of which the original Hills series is a spinoff. Barton's appearance on New Beginnings is a real ouroboros of a casting situation, an actor who played a character whose life inspired a reality show which created a spinoff that's become a revival on which that actress now stars. The convoluted self-awareness of that backstory could've been (and could still be) New Beginnings' most genius move, but right now, one episode into the show, everything is still nostalgically backward looking. Who can say what the future will hold, though? The rest is still unwritten.