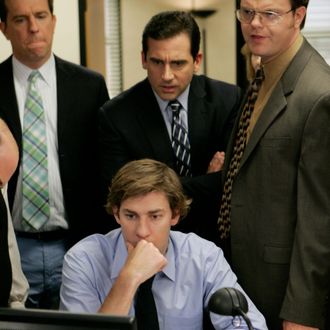 The Office.
Photo: Chris Haston/NBC via Getty Images
It's not a surprise, but it's still huge: The Office will leave Netflix and relocate to NBCUniversal's yet-to-be-launched-or-named streaming service on January 1, 2021. The Comcast-owned company has been hinting for months that it was looking to bring the show back into the Peacock fold once its existing streaming deal with Netflix was up in 2021. But doing so wasn't a cut-and-dried process: While NBCU's Universal Television produced and owns the rights to The Office, Universal had to make sure the new NBCU streaming service paid an appropriate market price for the rights to the series or else risk a lawsuit from so-called "profit participants" in the show (think creator Greg Daniels or Ricky Gervais, who created the original U.K. series). NBCUniversal didn't reveal how much it will be paying to take back the show from Netflix, saying only that it had secured the rights for five years, starting sometime in 2021.
While Netflix will not crumble without The Office, its absence will create a huge gap in the streaming network's lineup. Per NBCUniversal, the show was streamed for more than 52 billion minutes in 2018 via subscription video on demand (read: Netflix), while in April of this year, the company says, the show was seen by twice as many people as the next biggest show on SVOD. (Netflix does not confirm such stats.) Netflix confirmed the news as well today, giving Office fans a heads-up to start their binge-watching now:
"The Office has become a staple of pop culture and is a rare gem whose relevance continues to grow at a time when fans have more entertainment choices than ever before," said Bonnie Hammer, the chairman of NBCU's Direct-to-Consumer and Digital Enterprises unit. "We can't wait to welcome the gang from Dunder Mifflin to NBCUniversal's new streaming service." Still, it's not as if Netflix is being caught unawares by this development: It has been furiously green-lighting thousands of hours of first-run content to prepare for the day when outside companies decide to take back their biggest properties. Netflix's output deal with Disney expired at the end of last year, and various Disney films will be slowly migrating to the Disney+ streaming platform over the next few years.
While neither Netflix nor NBCUniversal were commenting beyond their respective prepared statements, a person familiar with the situation tells Vulture The Office landed at the NBCU streaming service after Universal Television held "an arm's-length" auction for rights to the show and multiple platforms — including Netflix — bid on the show. NBCU obviously won the bidding. Per NBCU-owned cable network CNBC, the NBCU streaming service will pay a half-billion dollars for rights to The Office, which translates to $100 million per year. CNBC says Netflix bid $90 million per year (or $450 million) to keep the show.
With The Office now confirmed to be leaving Netflix, all eyes will now be on WarnerMedia-owned Warner Bros. TV, which is in the process of determining whether Friends will remain on Netflix after its current deal with the streamer expires later this year. The company has suggested it may be open to letting Friends stay on Netflix in addition to streaming it on WarnerMedia's own service, which is expected to formally launch next year.