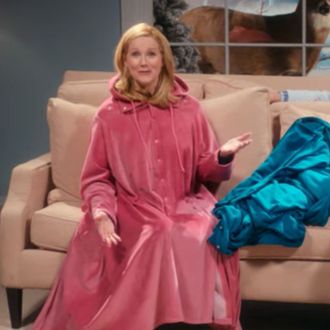 Laura Linney.
Photo: Netflix
Laura Linney is back on Netflix with the reboot of Armistead Maupin's Tales of the City, and she and the cast celebrated the series exactly the way her character Mary Ann would want them to: by wearing her beloved Bloodies.
It's been nearly 20 years since we saw Mary Ann leave San Francisco in the original PBS series to pursue her dream of television stardom, and things haven't quite worked out the way she planned. Instead of becoming the face of daytime TV, she's the face of infomercials, selling products that you don't need or necessarily want, but might order on a whim during a bout of insomnia at 2 a.m.
"It's so human — she got a little blood in her mouth for ambition," Linney told Vulture at the June 3 premiere. "I always thought she wanted to be the next Katie Couric, and it didn't work out. So she made some bad decisions, and then she had to live with them."
Mary Ann returns unannounced, the prodigal daughter, in the first episode of this new Tales to celebrate the 90th birthday of Anna Madrigal (Olympia Dukakis). With her, she brings a bucket of Bloodies to gift to those she left behind. For those just tuning in: A Bloodie is like a Snuggie, but with a hood — so a wrap-around cape-blanket fused with a hoodie sweatshirt. It's a product she sells on the small screen with great enthusiasm: "It's a Bloodie-good blanket!"
Linney tried her hand at selling them to Vulture, too. "The Bloodie is a very cozy fabric with buttons and it has a hood. It's cozy for a night [spending] time by the fire!"
While the characters onscreen roll their eyes at the shameless present, Linney says that, in reality, "we all shamelessly love them" — so much so that at the end of filming Tales of the City's ten episodes, each cast member was gifted one. "We all got them! We all got them as cast gifts at the end of the show; we love them. [Mary Ann] knows what she's talking about."
So perhaps we can expect an Instagram selfie one of these days with Linney rocking out and getting cozy in a Bloodie? "Absolutely," she said.