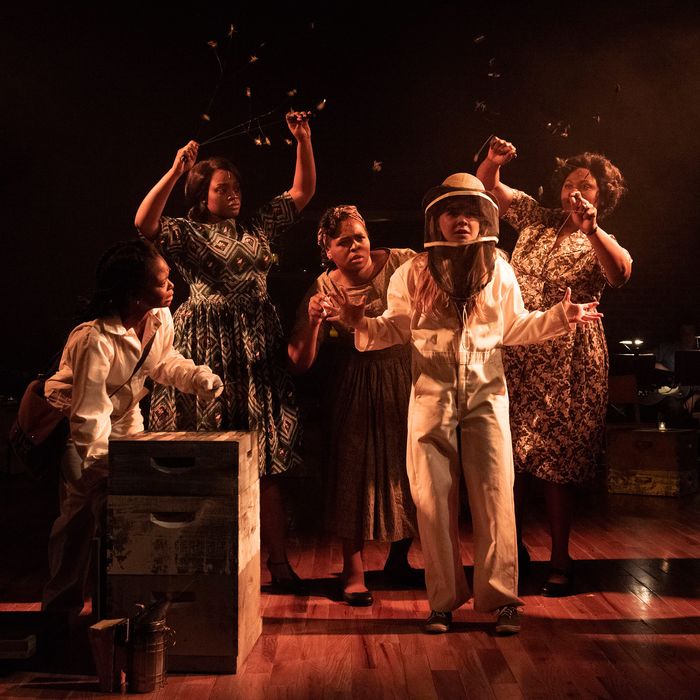 From
The Secret Life of Bees
at the Atlantic.
Photo: Ahron R. Foster
Sue Monk Kidd's 2001 novel The Secret Life of Bees stayed on the best-seller list for too long not to be snapped up by Hollywood, but now, in a musical collaboration by playwright Lynn Nottage, composer Duncan Sheik, and lyricist Susan Birkenhead, it might have found its ideal form. Kidd — whose second novel was made into a Lifetime movie and who's also written three memoirs chronicling the development of her Thomas Merton–inspired Christian faith — doesn't necessarily balk at sentiment or narrative contrivance. The story of Bees turns all the emotional corners you expect it to, often dipping into the maudlin and the melodramatic as it does so, but the musical now premiering at the Atlantic under the mercifully cool direction of Sam Gold transmutes the content into something more. With its immediate access to outsize feeling, its genre-given ability to sidestep hard logic, and its potential for helping us to invest not simply in a protagonist but in an ensemble, musical theater brings out all that's effective about The Secret Life of Bees while dexterously downplaying its less convincing elements.
Kidd's book — set in the South in 1964 and written in first person by a grown version of a 14-year-old runaway named Lilly Owens — is very much about a white girl who's saved by four black women. Nottage, Sheik, and Birkenhead's musical is about those women and that girl and the community that surrounds them. There's a subtle but crucial widening of the lens. Lilly (Elizabeth Teeter) still drives the story's plot and experiences some, though not all, of its big revelations, but here her perspective is gently decentered. The gradual transformation of Rosaleen (Saycon Sengbloh), the young black woman who works as Lilly's caretaker, is of equal if not greater dramatic weight, and Lilly is often left purposefully in the wings, wide-eyed and unsettled, slowly registering how much she has to learn.
Bees follows Lilly and Rosaleen as they flee from one fictitious South Carolina town to another. In Sylvan, they leave behind Lilly's abusive father T. Ray (Manoel Felciano) and a crowd of white thugs who attack Rosaleen when she tries to register to vote. (Nottage weaves radio news flashes throughout the musical's book, tuning us into events on a national stage, and as the story starts, LBJ has just signed the Civil Rights Act.) Following a clue left by Lilly's mother — long dead under shadowed circumstances for which Lilly herself fears responsibility — the pair set out for Tiburon. There they find the Boatwright sisters. August (LaChanze), June (Eisa Davis), and May (Anastacia McCleskey) are something neither Lilly nor Rosaleen has seen before: independent, cultured black women. They've been to college; they run a beekeeping farm; they read books, play instruments, and answer to no one. And in their parlor they keep a driftwood sculpture of the Black Mary — said to have been discovered in a river by slaves and handed down through the generations — and in her they root their faith.
LaChanze and Davis are wonderfully matched as the elder Boatwright sisters, August the hopeful, matriarchal caretaker and June the watchful skeptic who fears that the presence of a naïve white girl will bring, as the sisters sing in fiery debate, "Trouble on the House." Davis's cool, tough stare masks a bubbling core of righteous anger, and LaChanze's voice fills the theater to the rafters. McCleskey has the toughest part as May, the quiet, dreamy younger sister who's been emotionally fractured since the suicide of her twin, but she still gets to let rip in "Hold This House Together," a spine-tingling a cappella anthem of defiant fortitude, built only of manual percussion and the actors' massive, reverberant voices. (Thankfully, Nottage also saves May from one of the novel's most overripe tragic gestures.) Gold's whole cast is first rate—from the charming Nathaniel Stampley as June's persistent suitor, Neil, to the golden-voiced Brett Gray as Zachary, August's godson and the eventual object of Lilly's affection — and he keeps them present around the periphery of the stage, sitting in the shadows among flickering candles to watch their fellow actors perform. There's a thrilling feedback loop in this simple gesture: You can sense the ensemble sending and receiving energy, which they quickly convert into roof-shaking flights of song.
One of the most striking of these is the overflowing spiritual "Tek a Hol a My Soul," in which the Boatwright sisters' personal congregation, the Daughters of Mary, pay homage to the statue that represents their communal survival. The excellent Sengbloh lights up as Rosaleen, who has never been able to imagine real possibilities for herself, joins the chant, her voice and soul unleashed. Teeter — who has a lovely, lilting voice and makes sincere, unostentatious work of Lilly — watches from the shadows, awed and humbled. It's Rosaleen's liberation, and Lilly must learn how to honor it.
It's always heartening to encounter a production that truly feels like a fruitful collaboration and whose various team members are all joyfully pulling their weight. Nottage — still the only woman with two playwriting Pulitzers to her name — and Birkenhead have shaped and sharpened Kidd's story into a streamlined, sensitive play, and Sheik's music is rich and rousing. Music director Jason Hart leads a fantastic onstage band through tunes that explore the marvelous range of the black southern music tradition, and several cast members, including Vita E. Cleveland doing goose-bump-raising feats on the djembe, slide gracefully between playing instruments and diving into Chris Walker's earthy, ecstatic choreography. Costume designer Dede Ayite does gorgeously expressive work, especially when the Daughters of Mary are dressed for their service, and set designer Mimi Lien has stripped the Atlantic's Linda Gross Theater to its beautiful brick, making brilliantly apparent the shape of the church that it once was. Indeed, the way the show's writers and Gold have conceived of it, The Secret Life of Bees feels like an extended act of worship, a storytelling ritual less concerned with full mimesis than with communion and transcendence. Like Rosaleen, it feels lifted and liberated, having found itself in song.
The Secret Life of Bees is at the Atlantic Theater Company through July 14.