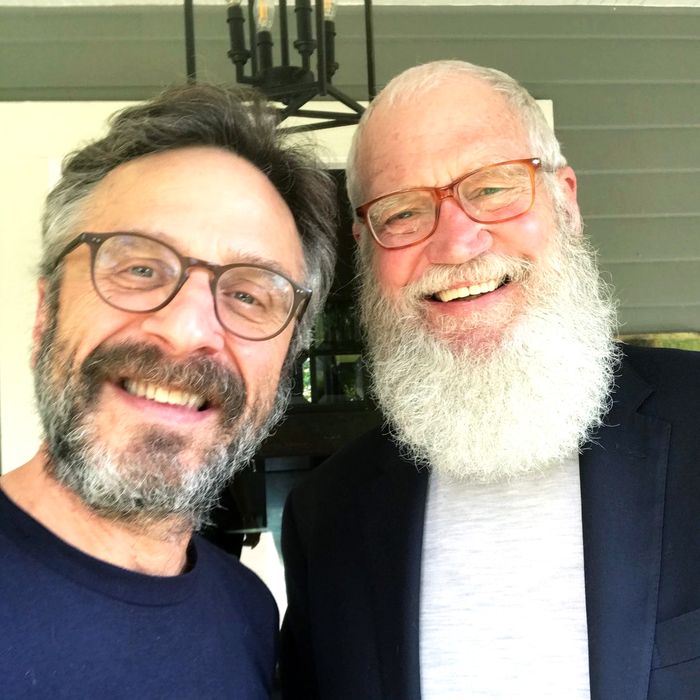 Marc Maron and David Letterman.
Photo: WTF with Marc Maron/Twitter
The comedy podcast universe is ever expanding, not unlike the universe universe. We're here to make it a bit smaller, a bit more manageable. There are a lot of great shows and each one has a lot of great episodes, so we want to highlight the exceptional, the noteworthy. Each week, our crack team of podcast enthusiasts and specialists and especially enthusiastic people will pick their favorites. We hope to have your ears permanently plugged with the best in aural comedy.
WTF With Marc Maron – David Letterman
From President Obama and Paul McCartney to Keith Richards and Lorne Michaels, Marc Maron has sat down with some of the world's most well-known people. When welcoming guests of this ilk, usually to his garage, Maron has always remained poised and even-keeled. Then, in walks David Letterman. For longtime WTF listeners, this interview felt inevitable, yet out of reach. In the opening minutes of the show, Maron does admit to being nervous. In calling out theses nerves, he and Letterman seem to get on the same page and jump right into the heart of their conversation. Maron's vulnerability continues to be the driving force behind WTF and the bridge that allows him to make such great connections with his guests. Since retiring from The Late Show in 2015, Letterman talks about his path to self-improvement by reflecting on his failures. For someone who could easily coast by for the rest of their life, it was nice to hear Letterman speak about the importance of continued growth in order to become a better person. At the core of this episode, the two truly connect on their shared profession of stand-up comedy. They talk a lot about the world-famous Comedy Store, Jay Leno, and why every comic felt inferior to the talents of Robin Williams. By the end, Letterman and Maron have a rapport that can best be described as, dare I say it, friends? —Tom Rainey
Listen: Spotify | Apple |Website
The Guilty Feminist - Late Night with Emma Thompson and Mindy Kaling
"I'm a feminist but …" is the relatable start of each Guilty Feminist episode. This irreverent, award-winning live show and podcast, hosted by stand-up comedian Deborah Frances-White, gathers feminists to support each other in their insecurities and hypocrisies. This week, Frances-White chats with Emma Thompson and Mindy Kaling about their new film, Late Night (written by Kaling and starring both). Before an advanced screening, Thompson joined Frances-White and her audience to clarify that the film, in which a woman has hosted a late-night talk show for decades, isn't science fiction. Then, Frances-White and Kaling sit down for a one-on-one convo to talk about how Kaling identifies with the two leads (both the only woman of color in the writers room and the complacent showrunner), Ed Weeks's love life, and more. After they reflect on how being named Jimmy makes you more likely than a woman to host a late-night show, you'll hear more of the live show. If you tune in for one thing, let that be Thompson's comparison of male and female comedy with their respective orgasms. Don't let your "but" be that you didn't support this women-written and -driven film in its opening weekend. Late Night opens Friday June 7. —Anna Marr
Listen: Spotify | Apple | Website
Why Won't You Date Me? - Having Sex in Drag (Live from DragCon 2019 w/ Vicky Vox)
The energy on this week's Why Won't You Date Me? is instantly contagious. Recorded live at RuPaul's DragCon, host Nicole Byer and guest Vicky Vox (DWV and Magic Mike XXL) waste no time cracking each other up as they try to determine why they're both perpetually single. Byer introduces herself to the audience by adding to the podcast's log line — she's "smart, funny, has a fat ass and loves giving blow jobs" and that she'll "let you cum in [her] butt and then [she'll] squeeze it out and drink it." And so begins a sort of call-and-response in which either Byer or Vox drop a raunchy quip, and the other can't help but howl with laughter. Discussing everything from having sex in drag to using AOL Instant Messenger to lose your virginity, this episode is a nonstop ride. Fueled in part by enthusiastic audience participation, the episode also involves people AirDropping photos to Byer throughout and wraps up with questions from the audience about fisting, taking a big dick, and their ideal wedding proposal (regulating your breathing seems to be essential for all three circumstances). It's safe to say nothing is off limits here, which creates an absurdly funny experience for the listeners. —Becca James
Listen: Spotify | Apple | Website
Podcast: The Ride - Star Wars Galaxy's Edge Opening Day Special With Len Testa
For the Star Wars enthusiasts who missed the opening weekend of Black Spire Outpost, Disneyland's new Star Wars expansion, you're in luck. The Good Boys (along with appearances by Jenny Nicholson, Lindsay Katai, Erin Gairdner, and Len Testa) got smuggled into the first public group allowed inside. After recording a pre-trip intro that's buzzing with excitement, hosts Scott Gairdner, Mike Carlson, and Jason Sheridan bring listeners into Batuu, recording segments while waiting in line and walking around the massive new land. Fans even get to be a fly in the cockpit of the Millennium Falcon during the Smuggler's Run ride. Everything true theme-park diehards will care about is covered, like Blue Milk, the bathroom situation at Oga's Cantina, and of course, Oga's master of ceremonies, DJ R-3X (voiced by Paul Reubens). If listeners didn't think the Boys weren't already suffering from irony poisoning, wait until they hear how much the DJ R-3X dancing Bluetooth speaker cost Gairdner and Carlson. Be sure to check out the show's Instagram for additional documentation of the momentous day, which includes an exclusive space hot-dog review by Earth hot-dog enthusiast Jason Sheridan. —Mark Kramer
Listen: Spotify | Apple | Website
Screwed-Up Stories - Burning Man After a Breakup w/Krista Allen
Comedian, writer, actress, and podcaster Krista Allen (host of I'm Fine With Krista Allen) joins the hosts of Screwed-Up Stories, Christine Blackburn and Rachel O'Brien, to share the tale of what might have been titled "Missteps on the Playa." This podcast follow some crazy tales — the hosts open things up with their own "Screw-Ups of the Week." But Allen, on the heels of a breakup after a looooong friendship-into-marriage with a guy, and just having turned 50, made the bold life choice to take her first jaunt to Burning Man. She hitched a ride with a friend of her ex in his motor home and, with the words of her 21-year-old son echoing in her head ("Have fun, Mom. Take drugs! Whoo!"), off she went. If you've never been to BM (I have not, nor have hosts Blackburn and O'Brien), this episode serves as a cautionary tale, with tips on which drugs to do (acid, shrooms) and avoid (molly), events to sidestep (the anal bleaching tent, for one), and encounters to dodge (the cuddle-hungry horndog who drove you there and a hippie with sticky balls, for starters). Let's just say our hosts, while gung-ho to go to the playa this September at the start of the show, have a change of heart as Allen's tale unfolds. Not that it was all bad, according to her. She emerged feeling stronger and loving herself … and she may even go back to give the Burn another shot. —Marc Hershon
Listen: Spotify | Apple | Website
Other Podcasts We're Listening To:
Larry Wilmore: Black on the Air - Jordan Klepper
Listen: Spotify | Apple | Website
Death, Sex & Money - Alia Shawkat & Esther Perel: Life in Our 30s and 60s
Listen: Spotify | Apple | Website
Small Doses With Amanda Seales - Side Effects of the GOT Finale
Listen: Spotify | Apple | Website
Women of Marvel - Creating and Curating with Ann Nocenti
Listen: Apple | Website
Got a comedy podcast recommendation? Drop us a line at comedypodcasts@vulture.com.