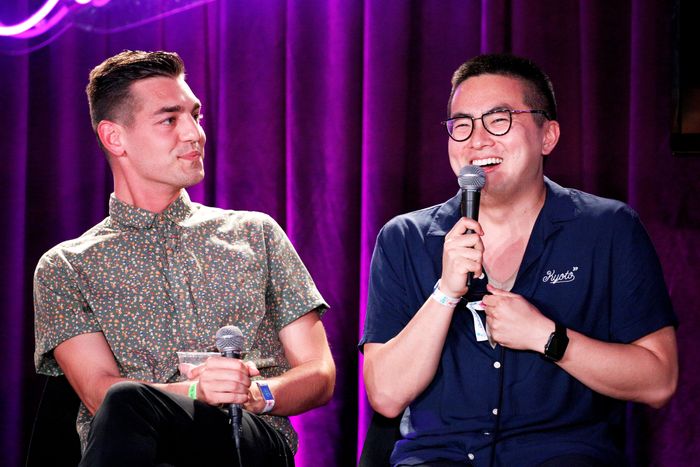 Matt Rogers and Bowen Yang.
Photo: FilmMagic/Getty Images
The comedy podcast universe is ever expanding, not unlike the universe universe. We're here to make it a bit smaller, a bit more manageable. There are a lot of great shows and each one has a lot of great episodes, so we want to highlight the exceptional, the noteworthy. Each week, our crack team of podcast enthusiasts and specialists and especially enthusiastic people will pick their favorites. We hope to have your ears permanently plugged with the best in aural comedy.
Las Culturistas — Seek Culture 2 pt. 1 (With Catherine Cohen and Pat Regan)
In what many people are calling the Avengers: Infinity War of podcasts, the hosts of La Culturistas and Seek Treatment have joined forces once again to bring us another installment of Seek Culture. For those of you keeping track of this ambitious crossover event, that's — count 'em — Matt Rogers, Bowen Yang, Catherine Cohen, and Pat Regan all together on one episode talking all things boys, sex, fucking data and love, and culture. Before getting into listener emails and giving advice, the four fill each other in on what diseases they're dealing with. Not to be alarmed — by "diseases" they mean diagnoses like schedule anxiety, feeling too much, and being horny all the time. And, just like what I would imagine happens in an actual Avengers movie, they're tying up loose ends and making amends for a previous installment. As if that wasn't enough of a treat, there's a part two coming out on Friday in the Seek Treatment feed. —Leigh Cesiro
Listen: Spotify | Apple | Website
Bad Boys Pod — Jon Gosselin, Mama June's Exes, and Mike "the Situation" Sorrentino
Every week on the Bad Boys Pod, comedy writers Zoë Klar and Julia Davidovich dive deep into the musty world of bad boys they love to hate. And while they've covered a wide range of odious guys — from proto-fuccbois like David Blaine to society-wrecking tech gods like Mark Zuckerberg — this week's episode is a Bad Boy Blitz on some of the most rotten reality-TV men of the last decade. And you know it's a real People's Choice Award gift bag of toxic males when Mike "the Situation" Sorrentino is easily the most likable. The former Jersey Shore star's run-of-the-mill troubles of tax evasion (with his brother) and assault charges (against his brother) seem downright adorable compared to the sordid behavior going on with Mama June's stable of bad boys. Before listening, I was only aware of the Honey Boo Boo matriarch's much-publicized dalliance with a registered sex offender. But according to Zoë and Julia, Mama June has dated an all-star team of men behaving badly, with the most recent beau landing her in jail for crack possession. Let's hope she rids herself of that toxicity in a way that Jon & Kate Plus 8's Jon Gosselin is attempting to do. When the world last left the exhausted father of twins and sextuplets, he had traded in the suburban nightmare of his own making for a life of DJing Vegas pool parties in an all–Ed Hardy wardrobe. Now? He's in a committed relationship and has custody of 25 percent of his kids, but he's still DJing, albeit in small-town Pennsylvania bars. It just goes to show that you can take the studded earrings out of the bad boy, but the holes in that bad boy's ears will never properly heal. —Pablo Goldstein
Listen: Spotify | Apple | Website
Mall Talk — Gadzooks With Ever Mainard
In the year 2019, finding a thriving mall can prove challenging. That, however, won't deter comedians Emily Faye and Paige Weldon from declaring, "Hanging out at the mall shouldn't stop at adulthood." As the hosts of Mall Talk, which centers on this declaration, Faye and Weldon are part enthusiastic mall-goers and part mall historians who have dedicated their podcast to "mall memories from their youth, current-day mall-going habits, and classic stores." This week, they're joined by Ever Mainard (The Feels, Paddleton) who reminisces about Gadzooks, a "store that wasn't quite like Spencer's but kinda was like Spencer's," and getting her JNCO jeans fix. They also discuss the Bath & Body Works craze, which lent itself well to Christmas-gift shopping, or getting "a basket of soaps for this person I don't understand." As for present-day topics, Weldon offers an update on a specific Hollister's "natural transition" to a laser-tag place, noting that the Southern California–inspired chain has always been dark enough for that pastime. It often feels like the duo is single-handedly keeping these former bastions of commerce open (Faye discloses that she's been to the mall six times since the last podcast recording), making them the perfect pair to guide listeners through weekly mall memories and modern-day mall reports. —Becca James
Listen: Spotify | Apple | Website
The David Feldman Show — Lizz Winstead and Mark Breslin
Stand-up comedian and comedy writer David Feldman has brought his The David Feldman Show through many changes over the years that his podcast has been available, including a version in the early going that was in the style of an old radio comedy à la Jack Benny. Nowadays, episodes may drop two or three in a week and run anywhere from two to three or more hours. Case in point is episode 1,047, which hit this past Monday with a running time of four hours, ten minutes. He's leaning heavily on his political-comedy roots these days, which help to propel some pretty heavyweight, liberal-minded conversations with his guests. First up in this episode is Lizz Winstead, a not-sung-enough figure in comedy. Not only did she co-create Comedy Central's The Daily Show and the sadly departed Air America, but she's now the powerhouse behind Abortion Access Front. She and Feldman pull no punches when discussing … well, anything, but particularly women's rights. Another comedy figurehead is Mark Breslin, founder of Canada's Yuk Yuk's comedy-club chain. He gives his views of U.S. politics through the lens of a neighborly observer and tries to convince the host that the ideal presidential candidate for 2020 is Joe Biden … with conditions. That's the first couple of hours of the show. Rounding it out is Howie Klein, creator of the Down With Tyranny blog and founder of the Blue America PAC, and a couple of straight-up comics — Joe DeVito and Aaron Berg — who chat between the business of performing in front of today's crowds and swapping jokes with Feldman. This is more of a five-course meal rather than a simple podcast. —Marc Hershon
Listen: Spotify | Apple | Website
Paired — Terrance's Tablet
Constantly short-circuiting, comedian Liz Anderson's new podcast features her embodying smart devices that betray their owners' psyches by broadcasting a digest of their daily commands. Paired rises above the ranks of other AI-based micro-podcasts for its tone — sometimes stream of consciousness, more absurdist, and ritually dedicated to the rule of three. Terrance, the newly promoted senior manager at a Pilot gas station, is the focus of her third episode. His tablet dutifully reads off his motivational morning "Take Flight Tuesday" email to his staff, an acquaintance's congratulations on the new role, and all the time killers that a middle executive like Terrance would succumb to during the course of the workday. His son, Bevin, gets suspended from school alongside his friend Devon for two long months for pushing another kid into the pool from It Follows, and Terrance takes a quiz to find out his ideal bumper sticker — Calvin peeing on Megatron — by declaring whether, for example, he possesses fond memories of Wisconsin Dells or wants to dunk on Star Trek (specifically Deep Space Nine). Often clocking in under ten minutes, Paired is a unique slice-of-life podcast for a stupidly digital world. —Noah Jacobs
Listen: Spotify | Apple | Website
Other Podcasts We're Listening To:
Hollywood Handbook — Stephen Malkmus, Our Pavement Friend
Listen: Spotify | Apple | Website
The Need to Fail — Mitra Jouhari
Listen: Spotify | Apple | Website
Who's Your God? — Doug Stanhope
Listen: Apple | Website
Blink-155 — What's My Age Again? feat. John Levenstein
Listen: Spotify | Apple | Website
You Up With Nikki Glaser — Need to Leave
Listen: Spotify | Apple
Just Between Us — Toxic Friends, Home Schooling, and Imposter Syndrome
Listen: Spotify | Apple | Website
Turning This Car Around — The Island of Doctor Moreau
Listen: Apple | Website
Adulting — Do I Have to Wash New Underpants Before I Wear Them? feat. Nore Davis, Sara Schaefer, and Ben Sinclair
Listen: Spotify | Apple | Website
Got a comedy podcast recommendation? Drop us a line at comedypodcasts@vulture.com.