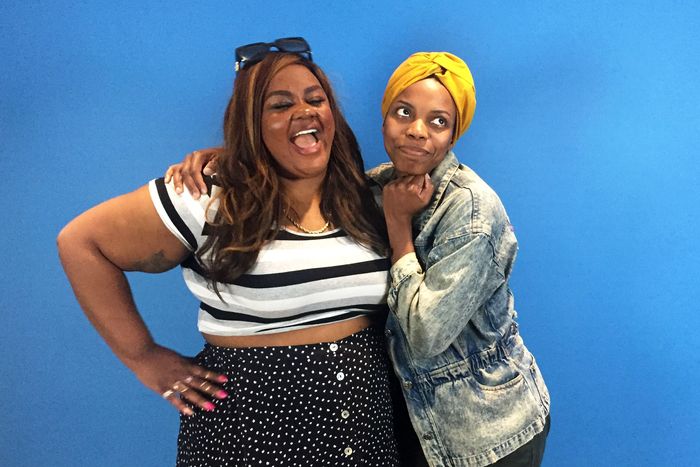 Nicole Byer and Sasheer Zamata.
Photo: Earwolf
The comedy podcast universe is ever expanding, not unlike the universe universe. We're here to make it a bit smaller, a bit more manageable. There are a lot of great shows and each one has a lot of great episodes, so we want to highlight the exceptional, the noteworthy. Each week, our crack team of podcast enthusiasts and specialists and especially enthusiastic people will pick their favorites. We hope to have your ears permanently plugged with the best in aural comedy.
Best Friends With Nicole Byer and Sasheer Zamata — Sasheer Explains the Brave Little Toaster
Everyone knows Oprah and Gayle are America's undisputed best set of best friends. But hosts of the new podcast Best Friends and real-life best friends Nicole Byer and Sasheer Zamata are going to give them a real run for their money. Only two episodes in, it's already pretty clear that just like Gayle and Oprah, Nicole and Sasheer have the kind of friendship that's going to make people jealous. This week, they're talking about things like tactics for dealing with anxiety, pole dancing, the distinction between fruit snacks and candy, and whether or not they're going to get matching caskets. You know, typical best-friend things. Listeners of Why Won't You Date Me?, Nicole Byer's other podcast, will already know about her plans to get a purple casket with flames on it. So, spoiler alert, no — they won't be getting matching caskets. And, lucky for us, they answer listener friendship-based questions and give advice. Plus, Sasheer recounts the plot of the movie The Brave Little Toaster, and Nicole tells a story about a weekend in Florida with another comedian who was so awful that he made her consider swimming home to L.A. —Leigh Cesiro
Listen: Spotify | Apple | Website
Hills I'd Die On — Thanksgiving Stinks: Mike Schur
One of the newest players in the debate-podcast game comes from writer Taylor Cox (Abby's). Hills I'd Die On (no relation to Hysteria's popular segment) welcomes the sitcom G.O.A.T. Mike Schur in just its third episode to tear down the most overrated of holidays, Thanksgiving. A Thanksgiving episode in mid-June may sound ill-timed, but Schur's suggestions to improve it justify the early release. Part of what made The Good Place's season three arc so compelling was the argument that in today's world, something "bad" can be traced from anything "good," and Schur uses the same logic here. Genocide, the NFL, and cranberries make a compelling case for handing Thanksgiving serious reevaluation. Cox manages to put up a solid effort defending leftovers and the parade, but thankfully passes on genocide. Things close out with a recurring segment where she pitches a cornucopia of ideas to convince her guest to rethink their stance. A fun format, solid guest roster (so far), and considerate approximately 40-minute run time have pushed Hills I'd Die On off to a strong start. —Mark Kramer
This Sounds Serious — Subculture
Last year, the first season of This Sounds Serious introduced us to investigative podcaster Gwen Radford and the amazingly well done not-real-crime genre from the comic genius of Kelly&Kelly Studios. She got to the bottom of the case of Daniel Bronstadt, a guy who killed his identical twin brother and switched places with him. Now Gwen is back for a second season of chasing down the people behind the most intriguing 911 calls she's found. This week's drop is the fourth episode in the story of "Missing Melissa," labeled as "the country's most missing person." The first few episodes mostly deal with a 36-hour hostage situation in a bank in the tiny Oregon town of Tom Day by a guy named Jimmy Kline. It's very convoluted, but Kline demands the arrest of the person he claims killed his girlfriend — the same Melissa Turner who disappeared from her home in Idaho nine days before. This episode finds Gwen diving deep into an internet subculture that Jimmy and Melissa were both into of people that are into scents. Turns out Jimmy had a wide following of his video series reviewing incense … and Melissa was one of his biggest fans. But our intrepid reporter's slog through this seamy, pungent world brings her into contact with a variety of weird characters. Much like season one, the writing here is razor-sharp, the characterizations hilariously spot-on, and the whole thing is a delicious spoof of the true-crime podcast genre. With each episode a half-hour or less, you can practically inhale this series. —Marc Hershon
Listen: Spotify | Apple | Website
The BroadCast Podcast — Zip, Zap, Zonk With Mo Welch
Take your run-of-the-mill podcast, add two broads, and you have The BroadCast. This week hosts Erica Tamposi and Emma Sauerwein are joined by a third broad, stand-up comic and author of How to Die Alone Mo Welch. Usually the broads take a guest you've heard before and ask them questions you definitely haven't, and the guest's level of "game" shapes the ensuing conversation. They're trying to take their guest by surprise rather than impress them — it's a little like watching sports, but funny. Literal sports come up a lot too since Tamposi and Sauerwein are aficionados who have worked at the NFL Network. Guests do cold reads of ads for everyday objects or general concepts, which Welch pulls off with the appropriate level of deadpan reserve, and the broads spend the rest of the time breaking down the unfortunate resurgence of one-piece bathing suits, how fucked up it is to have sex with a man in order to get pregnant, and the appropriate number of ravioli to bring to an adult baptism. —Kate Doyle
Listen: Spotify | Apple | Website
Gleewind — Maybe One of These Days You'll Find a Way to Create Teaching Moments without Ruining My Life
In the canon of Fox auteur Ryan Murphy, Glee is a gold star. The musical comedy-drama burst onto the scene in the mid-aughts. By the end of its six-season run in 2015, it was one of the most tweeted-about TV shows, thanks in large part to the show's devoted fan base, the "Gleeks." Now Michael Swan and Jorge Molina have carried that fandom across mediums into their new podcast Gleewind. Following the fictitious William McKinley High School's glee club, the New Directions, as they navigate the show choir competition network and deal with various social issues, the hosts recap "every musical number, every stunt-cast guest star, [and] every Rachel Berry tantrum" two episodes at a time. Swan and Molina have a seemingly endless well of Glee knowledge and offer smart takes, moving from critical analysis to comedic asides with ease. High notes include the hosts' hilarious Black Swan–like rewrite where glee club director Mr. Schuester breaks all the kids' legs and an equally funny conspiracy theory involving Rachel Berry and a particular anonymous phone call. Bookended by opening anecdotes and closing games, Gleewind is a well-planned trip down memory lane via a well-produced podcast. —Becca James
Other Podcasts We're Listening To:
Doughboys — Ben & Jerry's With the Sloppy Boys
Listen: Spotify | Apple | Website
Bad Science — PUMPING IRON With Jackie Tohn
Listen: Spotify | Apple | Website
The Last Laugh — Mindy Kaling Grows Up
Listen: Spotify | Apple
WTF — Jamie Denbo
Listen: Spotify | Apple | Website
Why Mommy Drinks — Lennon Parham: Target Is My Church
Listen: Spotify | Apple | Website
Here's the Situation — Sense and Census-bility
Listen: Apple | Website
Got a comedy podcast recommendation? Drop us a line at comedypodcasts@vulture.com.