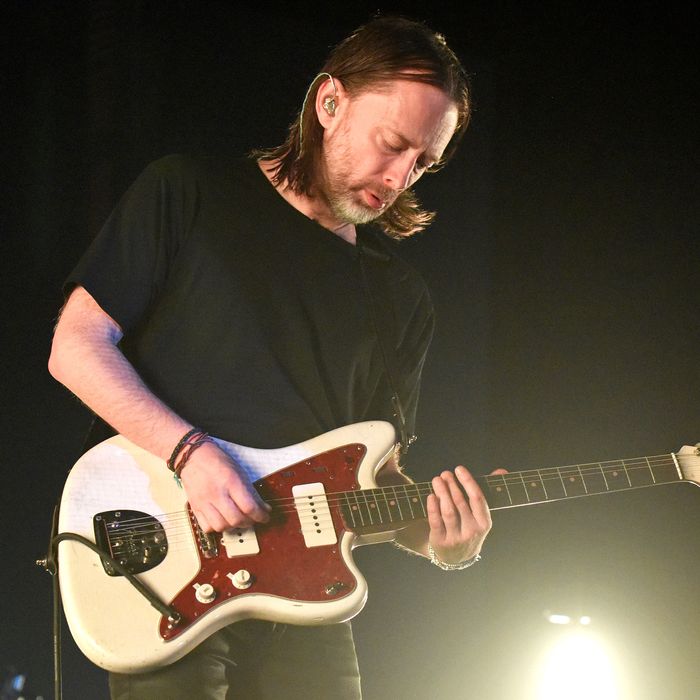 ANIMA
, his third solo album, is a somnambulant trek into the heart of our modern darkness.
Photo: Tim Mosenfelder/Getty Images
Thom Yorke writes songs the way detectives solve mysteries. A recorded version is a working theory. The first one is never the last. The puzzle can take weeks to work out, or it can take years. The eagle-eyed Radiohead fan has often heard much of the new album by the time of release, having lurked fan sites and YouTube show footage in the years prior to release. That the band can be full of surprises in spite of a protracted and sort of public songwriting process is the mark of restlessness and excellence. If you had time to sift through the gazillion-hour OK Computer studio sessions released to combat a leak this month, you saw a group of writers and players stepping precariously into its greatness — outtake by spirited, quirky outtake. They excel by pushing themselves beyond what seems wise or possible. They resist formulas to avoid repetition. Nervous motion leads the way. "Once you've learned to use a drum machine, or learned to write in a particular way," Yorke told Crack Magazine in a recent interview, "the temptation is to go back there, because you know it works. But the point is, if you've discovered it works, it no longer works."
Yorke's anxieties are a guiding light for Radiohead and the various projects he pursues outside of it. He's been cataloguing the current state of kleptocracy and paranoid technophilia for the last 25 summers. His songs are nightmares, journeys into dark places, like Hellraiser or Dante's Inferno. He muses on how to move in times of disorder, and how to find love in them. Yorke's tug-of-war between protesting corrupted systems and pursuing happiness in spite of them is especially vibrant and prescient in times where cultural and political progress begin to waver. He seems at ease portraying calamity the way Bob Dylan excels at songs about trains, and Bruce Springsteen loves a highway. 2019, in all its ambient terror, is high time for Thom Yorke to weigh in. ANIMA, his third solo album, is a somnambulant trek into the heart of our modern darkness. The accompanying "one-reeler" of the same name — directed by Paul Thomas Anderson, who last worked with Yorke on the video for Radiohead's "Daydreaming" — is an escape mission steeped in the ceaseless cycles of cities, like Carol Reed's The Third Man in miniature.
ANIMA is the fruit of a shift in Thom Yorke's creative process. Unlike 2006's The Eraser and 2014's Tomorrow's Modern Boxes, which felt almost recalcitrant in their embrace of claustrophobic synth textures, the new album was built from bits of melodies and rhythms Yorke would send to his longtime collaborator Nigel Godrich, who fashioned them into loops he would bounce back to the singer-songwriter to be fleshed out further. The songs represent some of the most rich and confident electronic music released under his name. From the pulsing melodies of "Traffic" through the driving closer "Runwayaway," this is an album about dizzying forward motion. The seven-minute "Twist" is a white-knuckle race through discomfiting melodies and anxious word fragments. "Not the News" is a funhouse ride through alien voice notes and skittering synth bleeps that gets swallowed by a harrowing string arrangement in the middle. Like a precarious drive down a waterside road slowly flooding in a storm, these songs map out a way forward that adapts on the fly as the terrain changes, and Yorke tries to make sense of the maelstrom.
The lyrics here are littered with images of cars, trains, bikes, and shuffling feet. The thing Yorke is escaping is never named, but the array of knives, axes, and broken objects slipping in and out of frame suggests violence at a minimum. "I have to find a way in the dark," he sings in "I Am a Very Rude Person." "I have to take a knife to your heart." "Last I Heard (… He Was Circling the Drain)" gets washed away in the brackish gutter water of a city street. The opening couplet of "The Axe" — "Goddamn machinery / Why won't you speak to me?" — is a humored return to the themes of technophobia and anomie that have haunted Yorke's music since OK Computer's sad-robot missives. "Axe" is jarring because it is the only time the singer tips his hand. He is otherwise content to let the listener fill in the blanks on their own. ANIMA sounds like science fiction or horror — the cinematic scope of "Last I Heard" is apropos for an artist whose last big project was scoring a scary movie — but it avoids those genres' pointed messaging about morality and depravity. In a summer already full of chilling news and images, though, you might suspect that the monster setting the protagonists of these songs on the run is us.
The centerpiece of the album is a song Radiohead fans have been buzzing about for over a decade. "Dawn Chorus," a title the fan community has long attached to a two-minute jam played during the In Rainbows tour that would later become the name of the band's LLC in time for A Moon Shaped Pool, appears here in stately form. Through stuttering keys and a half-spoken, half-whispered vocal, Yorke uses short, evocative sentences to paint a picture of a person coming to terms with some unspoken personal upheaval. "Dawn Chorus" sounds like waking up from a dream of a person you miss and summoning the courage to get up and move on, like the internal dialogue we have at the top of a morning where we'd rather sulk than stand. It's a ray of hope in the middle of an album of breakneck chase sequences and frenetic metropolitan rhythms, a sliver of sunlight in graying skies.
It is on "Dawn Chorus" that Paul Thomas Anderson's ANIMA one-reeler pivots from jittery, surreal dance sequences to a moment's respite, as Yorke picks himself up off the ground in an alleyway and catches the person he's been chasing since the opening train ride, set to "Not the News." The mark is Italian actress Danaja Roncione, Yorke's partner since 2017. The couple links for a carefree dance that stands in stark contrast to the otherwise somber mood of the proceeding. (It is here that the Jungian concept the album invokes in its title jumps out; ANIMA is almost certainly a dream, and Roncione is the comforting feminine presence guiding our main character through it.) Watching rock and roll's resident doomsayer settle into comfort with someone he cares about is as gratifying of a break in character as the freeform dance freakout in the video for "Lotus Flower" from The King of Limbs. Thom Yorke knows he cuts a spooky figure in music and in the international dialogue about climate change. He can be that guy and also be a guy giggling in the street with a lover. ANIMA — in its war of alien synth sounds and intoxicating rhythms, of fear and love — is a message about finding a way to cope in the world before it's too late.