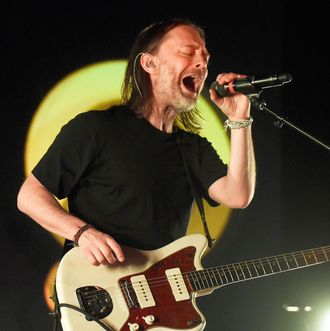 Photo: Tim Mosenfelder/Getty Images
Thom Yorke's much-teased solo album finally has a release date and track list. The Radiohead singer and reluctant Rock Hall of Famer's third album outside of the band is called Anima and will be available digitally on June 27. Physical copies go on sale on July 19. Yorke's album has been preceded by a lot of confusion, but there'll be a little bit of help decoding it from Paul Thomas Anderson, who has directed a "one-reeler" (also called Anima) set to three of Anima's songs. Yorke himself stars in the short musical film. The trailer does make it seem like a university drama department's New Age production of a Samuel Beckett one act, but between PTA and Thom Yorke, it's bound to be a compelling 12 minutes. Anima the short will be released on June 26 in select theaters and June 27 on Netflix.
Thom Yorke has been mysteriously teasing Anima across London. Last night, huge projections showed up on landmarks including Big Ben and the Tate Modern asking questions like, "Do you have trouble remembering your dreams?" and advertising a Dream Camera from a company called (dun, dun, dun) Anima. Earlier this month, similar ads popped up on the London Underground, with a phone number you could call for more info. When people called, they just heard a strange sound that was later identified as an unreleased track called "Not the News." It turns out that "Not the News" will be featured on Anima. (As is a song called "Dawn Chorus," a throwback to Radiohead's last release cycle.) And we thought Taylor Swift made her fans work for information. Check out the full track list for Anima and the one-reeler trailer below.
1. "Traffic"
2. "Last I Heard (…He Was Circling the Drain)"
3. "Twist"
4. "Dawn Chorus"
5. "I Am a Very Rude Person"
6. "Not the News"
7. "The Axe"
8. "Impossible Knots"
9. "Runwayaway"
10. "Ladies and Gentlemen (Thank You for Coming)" (exclusive to vinyl)