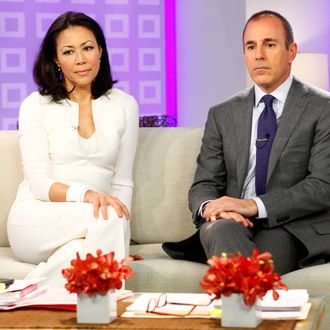 Photo: Peter Kramer/NBC NewsWire via Getty Images
Today has seemingly decided to take the Soviet Russia method of erasing people from various media. In celebration of the morning show's momentous 25th anniversary at Studio 1A, Today released a retrospective video on its social media channels that features the likes of Kathie Lee Gifford, Hoda Kotb, Savannah Guthrie, and Al Roker reminiscing about their careers — as well as clips from some of the show's most memorable moments. Notably absent from the video? Matt Lauer and Ann Curry, whose bitter feud generated a fair share of headline news before they both departed the show for very different reasons. As you may likely recall, Lauer was fired from Today in late 2017 after being accused of sexually harassing multiple women at NBC, claims he has continued to deny. Curry, however, was forced out of Today's co-anchor job in 2011, due to Lauer "openly complaining" about her performance.
More recently, Curry revealed she had reported Lauer's inappropriate behavior to NBC back in 2012, after a woman working for the network told Curry that Lauer sexually propositioned her. "A woman approached me and asked me tearfully if I could help her. She was afraid of losing her job. I believed her," Curry explained. "I told management they had a problem and they needed to keep an eye on him and how he deals with women." Curry added that the network didn't proceed with any investigation, although NBC disputed her account. Lauer, meanwhile, is doing a lot of solo boating.