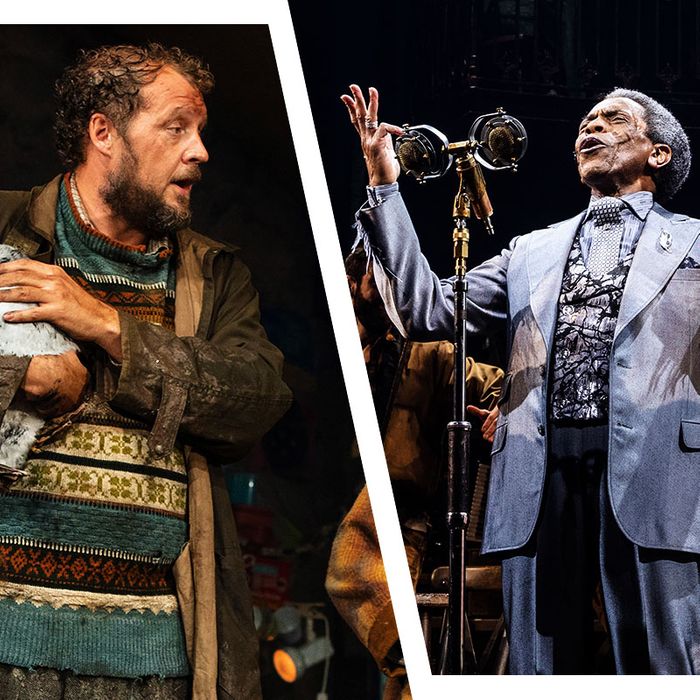 Photo: Joan Marcus, Matthew Murphy
On Sunday June 9, those who care about theater and aren't busy with the season premiere of Big Little Lies will be watching host James Corden and the best of Broadway congratulate each other at the Tony Awards. At the end of a booming Broadway season that included a surprising number of plays, as well as a gaggle of splashy musicals and imports from the downtown scene, we've got a slate of nominees with an interesting variety of industry stalwarts and newcomers. As all the different shows try to court the whims of the 800-plus industry professionals that vote on the awards, I'm here to break down what theater fans and EGOT speculators want to know: Who is going to win? Enjoy the best guesses on the winners all the major Tony categories, and then come back and make fun of them for being wrong later.
BEST PLAY
Choir Boy
The Ferryman
Gary: A Sequel to Titus Andronicus
Ink
What the Constitution Means to Me
The biggest surprise in this category came before the ceremony, as the nominating committee left out Aaron Sorkin's adaptation of To Kill a Mockingbird. A big, starry hit based on a beloved American novel, Mockingbird looked like a shoo-in for a nomination and likely winner. But maybe because there were so many other plays this season, and because Mockingbird wasn't an entirely new work, and because they were turned off by producer Scott Rudin's litigiousness, the committee left it out. That leaves The Ferryman, Jez Butterworth's acclaimed Irish drama, already lauded in London, as the front-runner, with Heidi Schreck's political self-reflection, What the Constitution Means to Me, as an outside favorite. Not enough has been said about Choir Boy, but it's already closed, which hinders its chances.
Prediction: Schreck's play is both personal and thrillingly of-the-moment, but it feels like voters may default to The Ferryman, which looks, smells, and honks more like a traditional, epic play.
BEST MUSICAL
Ain't Too Proud — The Life and Times of the Temptations
Beetlejuice
Hadestown
The Prom
Tootsie
The race here gives a pretty good snapshot of where things stand with musicals on Broadway: There's Tootsie, a big movie-to-musical adaptation; The Prom, a big-hearted, if conventional, comedy full of theater in-jokes; and Hadestown, a folk spin on Greek mythology that, if anything, seems too sui generis to have ended up on Broadway in the first place. (Beetlejuice, funnier than it's gotten credit for, and Ain't Too Proud, which has an incredible cast but is very much the bio-musical you expect it to be, seem along for the ride at this point.) Tony voters I've talked to tended to overlook Tootsie's cringeworthy approach to sex and gender in favor of praising it as an old-fashioned musical comedy, though they're also quick admire the inventiveness of Hadestown, even if the story about hell has left some a little cold. The race is between those two, with The Prom as a dark house for anyone who wants a direct political statement, since it tackles the capital-I issue of homophobia head-on (and won the heart of Ryan Murphy).
Prediction: The fates can swing in any direction, but with 14 nominations and grosses that keep climbing, Hadestown feels like the leader.
BEST REVIVAL OF A PLAY
Arthur Miller's All My Sons
The Boys in the Band
Burn This
Torch Song
The Waverly Gallery
Continuing along in this play-heavy season, we have a full list of revivals. There's the Roundabout's All My Sons with Annette Bening and Tracy Letts, a starry production that got warm reviews almost everywhere but, crucially, the Times (and also from us, not that we influence Tony voters as much); Ryan Murphy's The Boys in the Band, well on its way to becoming a movie; Burn This, anchored by the immense Adam Driver; Torch Song, led by Michael Urie, which didn't manage to turn positive reviews into box office and has since closed; and the Elaine May showcase that is Kenneth Lonergan's The Waverly Gallery.
Prediction: I've talked to Tony voters enthusiastic about The Boys in the Band, which could pull of a win, but The Waverly Gallery's got the clout and star turn to have a more secure hold on the category.
BEST REVIVAL OF A MUSICAL
Kiss Me, Kate
Rodgers & Hammerstein's Oklahoma!
Yet another overstuffed category, there are just so many choices! Not really, but the choice voters make will be pretty telling. On the one hand, there's the Scott Ellis's revised-yet-traditional version of Kiss Me, Kate; on the other, there's Daniel Fish's radically reimagined version of Oklahoma!. Oklahoma! has raked in praise for drawing out the darkness and violence embedded in the original work (and also being very sexy). It's alienated plenty of theatergoers and Tony voters, either for being too in-your-face with the political angle on the material or, as some have told me, feeling like a student work, less fun to watch than to talk about (personally, I don't see how you can't love a modern-dance dream ballet, but I don't get a vote).
Prediction: Famous last words, but it's hard to imagine a large enough contingent voting against Oklahoma!, so the Tony goes to, sing it with me, O! K! L! A! H! O! M! A! That Fucks!
BEST PERFORMANCE BY AN ACTOR IN A LEADING ROLE IN A PLAY
Paddy Considine, The Ferryman
Bryan Cranston, Network
Jeff Daniels, To Kill a Mockingbird
Adam Driver, Burn This
Jeremy Pope, Choir Boy
The Tonys love a movie star who touches down in New York for a bit, and while this year they have plenty of them to reward, none shine as brightly as Bryan Cranston staring down Network's many video cameras. Cranston is, by consensus, far better than his show, and has carried it to being a hit. His only big obstacle: Jeff Daniels as Aaron Sorkin's more doubting version of Atticus Finch. If voters are looking for a way to reward Mockingbird, they could rally around him here.
Prediction: Bryan Cranston is mad as hell and going to take it. (A second Tony).
BEST PERFORMANCE BY AN ACTRESS IN A LEADING ROLE IN A PLAY
Annette Bening, Arthur Miller's All My Sons
Laura Donnelly, The Ferryman
Elaine May, The Waverly Gallery
Janet McTeer, Bernhardt/Hamlet
Laurie Metcalf, Hillary and Clinton
Heidi Schreck, What the Constitution Means to Me
If the What the Constitution Means to Me love comes together in full force, Schreck's performance (and it really is a performance, which was nice to see the nominating committee notice) at the center of her play could get rewarded. If people are still mad about 2016, they might like the chance to vote for Laurie Metcalf's spiky Hillary. But really, Elaine May was on Broadway this season and Elaine May doesn't have a Tony yet, and people are not going to miss the opportunity to give a Tony to Elaine May.
Prediction: Elaine May, even Laurie Metcalf agrees.
BEST PERFORMANCE BY AN ACTOR IN A LEADING ROLE IN A MUSICAL
Brooks Ashmanskas, The Prom
Derrick Baskin, Ain't Too Proud — The Life and Times of the Temptations
Alex Brightman, Beetlejuice
Damon Daunno, Rodgers & Hammerstein's Oklahoma!
Santino Fontana, Tootsie
Even amid Alex Brightman's borscht-belt-influenced and bronchitis-voiced Beetlejuice, Brooks Ashmanskas's camp-yet-melancholy Broadway star (the most viable runner-up), and Damon Daunno's sexy and sociopathic Curly, Santino Fontana will stand out to voters as the actor simply doing the most work in the most obvious way. He sings in two registers as Michael Dorsey and his female persona Dorothy Michaels, and has to sell the musical's comedy, too.
Prediction: Fontana Is "Unstoppable," to quote a song from Tootsie with a name I definitely did not have to look up.
BEST PERFORMANCE BY AN ACTRESS IN A LEADING ROLE IN A MUSICAL
Stephanie J. Block, The Cher Show
Caitlin Kinnunen, The Prom
Beth Leavel, The Prom
Eva Noblezada, Hadestown
Kelli O'Hara, Kiss Me, Kate
The choices here boil down to a collection of Broadway veterans (Block, Leavel, and O'Hara, all playing characters who happen to be stage veterans) up against two young stars (Kinnunen and Noblezada, as a misfit lesbian teen and the doomed Eurydice, respectively). As the fictional Dee Dee Allen and Lilli Vanessi, Leavel and O'Hara both get enviable star turns, but nothing quite stands up to getting to belt "You Haven't Seen the Last of Me" from Burlesque as Cher (yes, this does happen in The Cher Show). Block is also the only veteran in the category who doesn't have a Tony yet, despite a Broadway career that includes everything from being replaced by Idina Menzel in the development of Wicked (and then doing the first tour) to breaking down in Falsettos.
Prediction: There are three Chers in The Cher Show, but there's only one Stephanie J. Block, who's going to win.
BEST PERFORMANCE BY AN ACTOR IN A FEATURED ROLE IN A PLAY
Bertie Carvel, Ink
Robin de Jesús, The Boys in the Band
Gideon Glick, To Kill a Mockingbird
Brandon Uranowitz, Burn This
Benjamin Walker, Arthur Miller's All My Sons
There are a slew of appealing performances to choose from here, including Benjamin Walker's tortured veteran, Brandon Uranowitz's wry and fey roommate, Gideon Glick's proto–Truman Capote version of Dill, and Robin de Jesús as the heart and much of the humor of The Boys in the Band. But as Rupert Murdoch in Ink, Bertie Carvel is playing a big name bigly, to borrow the wrong famous conservative's phrase, and as pretty much the second lead of the play.
Prediction: I can imagine voters having trouble resisting a way to vote simultaneously for and against Murdoch, so Bertie Carvel.
BEST PERFORMANCE BY AN ACTRESS IN A FEATURED ROLE IN A PLAY
Fionnula Flanagan, The Ferryman
Celia Keenan-Bolger, To Kill a Mockingbird
Kristine Nielsen, Gary: A Sequel to Titus Andronicus
Julie White, Gary: A Sequel to Titus Andronicus
Ruth Wilson, King Lear
Respect to the Tonys for nominating the two actresses who switched around roles after Andrea Martin's injury pulled her out of Gary and singling out Ruth Wilson as the bright spot in a muddled King Lear, but the category belongs to Celia Keenan-Bolger's Scout. There may be a little fraud at work in not calling Scout the show's lead, but the 41-year-old Keenan-Bolger plays a convincing kid, and lends Mockingbird most of its heart in the process.
Prediction: Scout Finch, your Tony is waiting.
BEST PERFORMANCE BY AN ACTOR IN A FEATURED ROLE IN A MUSICAL
André De Shields, Hadestown
Andy Grotelueschen, Tootsie
Patrick Page, Hadestown
Jeremy Pope, Ain't Too Proud — The Life and Times of the Temptations
Ephraim Sykes, Ain't Too Proud — The Life and Times of the Temptations
Despite the pyrotechnics of the Temptations (including Jeremy Pope, appropriately nominated twice) and Andy Grotelueschen as a repurposed version of the Bill Murray character in Tootsie, this category boils down to the two gods of Hadestown. As Hades, Patrick Page accesses an earth-shaking bass and forms half of a couple with Amber Gray's Persephone that's really the emotional core of the show. As Hermes, André De Shields narrates and comments on the action with stylistic wit and moving sympathy.
Prediction: De Shields is a Broadway god in his own right (he was the original Wiz in The Wiz) and yet doesn't have a Tony, which should change.
BEST ORIGINAL SCORE (MUSIC AND/OR LYRICS) WRITTEN FOR THE THEATRE
Be More Chill, Music & Lyrics: Joe Iconis
Beetlejuice, Music & Lyrics: Eddie Perfect
Hadestown, Music & Lyrics: Anaïs Mitchell
The Prom, Music: Matthew Sklar Lyrics: Chad Beguelin
To Kill a Mockingbird, Music: Adam Guettel
Tootsie, Music & Lyrics: David Yazbek
We've got a replay of much of the Best Musical race here, plus the surprise addition of Adam Guettel's Mockingbird score. Tootsie and The Prom both offer varying degrees of lyrical and musical cleverness, but Anaïs Mitchell's beautifully wrought work, which she has continually retooled over the years, makes Hadestown stand above the pack.
Prediction: Anaïs Mitchell, your Tony's coming, wait for it.
BEST PERFORMANCE BY AN ACTRESS IN A FEATURED ROLE IN A MUSICAL
Lilli Cooper, Tootsie
Amber Gray, Hadestown
Sarah Stiles, Tootsie
Ali Stroker, Rodgers & Hammerstein's Oklahoma!
Mary Testa, Rodgers & Hammerstein's Oklahoma!
Why is it eternally so hard to choose a winner in this awards-show category? (Oh, right, because I'm gay.) Anyway, this year there's two representatives from Tootsie: Lilli Cooper's version of the Jessica Lange character in the movie, who's really more of a lead in the show, and Sarah Stiles's scene-stealing version of Teri Garr's character, the more likely winner of this pair. Plus, two representatives from Oklahoma!: Mary Testa's version of Aunt Eller as a dispenser of frontier justice, and Ali Stroker's sexy Ado Annie, who dances in a wheelchair and is the more likely winner of this pair. Finally, we have Amber Gray, as Hadestown's manic, often drunk version of Persephone, who, in the second act, gives the show much of its emotional oomph. Gray and Stroker's performances, both incredible, make them two front-runners, but it's hard to know how the vote will break between them.
Prediction: If we can't physically divide the trophy in half and parcel it out Mean Girls–style, Ali Stroker, because her "I Cain't Say No" really does light the room on fire.
BEST BOOK OF A MUSICAL
Ain't Too Proud — The Life and Times of the Temptations, Dominique Morisseau
Beetlejuice, Scott Brown & Anthony King
Hadestown, Anaïs Mitchell
The Prom, Bob Martin & Chad Beguelin
Tootsie, Robert Horn
Among the positive reactions to Tootsie, there's a through line that if the music's not outstanding, at least the jokes are. There's also plenty of (if not more) humor in Beetlejuice (including a wry Hello, Dolly! joke) and the hilarious The Prom. Plus, the work Dominique Morisseau put into shaping the history of the Ship of Theseus that is the Temptations shouldn't be discounted — nor should Anaïs Mitchell's delicate, rhyming construction of Hadestown. But if we're going on predictions alone, Tootsie's got the foothold here, especially among those looking for an old-fashioned comedy.
Prediction: Like it or not, here comes Tootsie.
BEST DIRECTION OF A PLAY
Rupert Goold, Ink
Sam Mendes, The Ferryman
Bartlett Sher, To Kill a Mockingbird
Ivo van Hove, Network
George C. Wolfe, Gary: A Sequel to Titus Andronicus
Network has a whirligig of cameras, Gary has a mess of bodies and dicks, Ink has a chaotic newsroom, To Kill a Mockingbird has the courtroom drama, but in magnitude alone, the scale of The Ferryman wins out. Sam Mendes, returning to Broadway after exile in Bond movies, choreographed the action among an extended family in a farmhouse, including their babies, and even livestock.
Prediction: The Ferryman is, above all else, Sam Mendes's achievement, and he'll win for it.
BEST DIRECTION OF A MUSICAL
Rachel Chavkin, Hadestown
Scott Ellis, Tootsie
Daniel Fish, Rodgers & Hammerstein's Oklahoma!
Des McAnuff, Ain't Too Proud — The Life and Times of the Temptations
Casey Nicholaw, The Prom
As in many other categories this season, this award breaks down between old hands – McAnuff, Nicholaw, and Ellis, who also directed Kiss Me, Kate – and newer, downtown imports. Here, the newcomers have the advantage. Daniel Fish rewired Oklahoma!, while Rachel Chavkin developed Hadestown over the course of years. Both are singular achievements, and both directors bear much of the responsibility for getting them there.
Prediction: Hadestown is slightly more of a crowd-pleaser than Oklahoma!, and Rachel Chavkin was overlooked for her Great Comet, so we'll give her the edge.