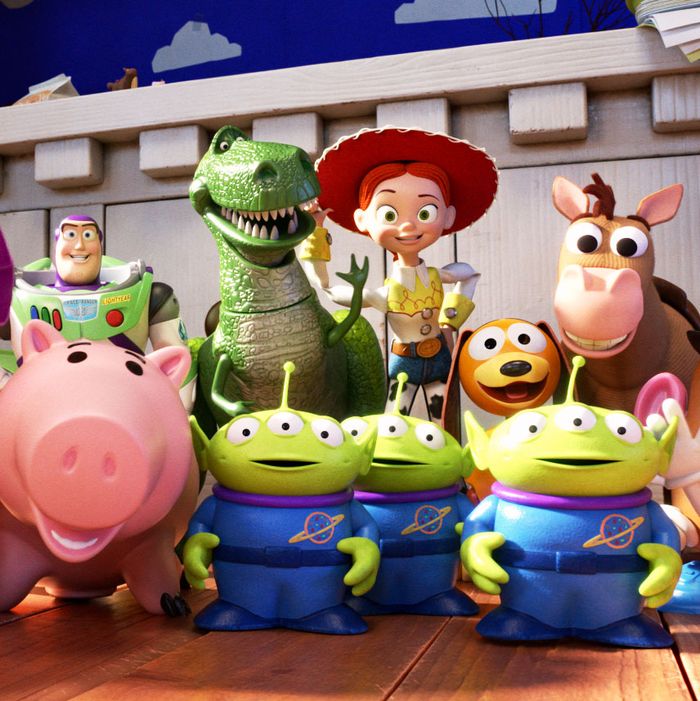 Are we headed toward a new generation of
Toy Story
?
Photo: Disney/Pixar
Arriving almost nine years to the day since the last installment of the blockbuster Pixar movie series, it would be fair to call Toy Story 4 the sequel that wasn't supposed to exist. Woody, Buzz, & Co.'s last theatrical outing — the one that left audiences weeping in the aisles of the multiplex — reached a kind of perfect conclusion. At the end of a three-pack of parables on friendship, loss, existential despair, and the inevitability of change, Andy's beloved toy protagonists got their great new beginning: They were handed down to a fresh kid owner, presumably to carry on their mission of maintaining the sanctity of childhood ad infinitum.
But a funny thing happened on the way to the trilogy's happy Hollywood ending. According to a source close to Pixar (who spoke to Vulture on condition of anonymity because said person was not authorized to publicly comment about the company), Pixar's former chief creative officer John Lasseter had begun composing a "love story" intended to reunite Sheriff Woody (voiced by Tom Hanks in all the films) and Bo Peep (voiced by Annie Potts, whose character was notably absent from Toy Story 3) before postproduction on the third film had even wrapped.
To do so, Lasseter — who co-wrote and directed the first two Toy Stories, and co-wrote and executive produced the third — enlisted the help of fellow top Pixar creative Andrew Stanton (the writer-director of such animated hits as Wall-E and Finding Nemo, as well as co-writer on all the Toy Story films). The two kept their collaboration secret until they "hashed out" the broad outlines of a screenplay, surprising senior Pixar executives who were unaware that another Toy Story movie was in development. (Lasseter and Stanton share Toy Story 4 screenwriting credit with six other writers, including Rashida Jones and Will McCormack.) "John Lasseter pushed it into being because he wanted to direct the love story," our source says.
Now, nearly a decade later — with Lasseter replaced in the director's chair by first-time feature filmmaker Josh Cooley — Toy Story 4 rocketed to the top of the North American box-office chart with $118 million in its opening weekend. The result came in under expectations set by Disney, however, which guessed that the computer-animated stalwart would bring in at least $140 million in its first few days. But the film has proved more successful than its fellow 2019 blockbusters; it's one of only three movies this year to pass the $100 million mark. Globally, the animated film made a whopping $238 million.
That kind of success — impressive, though not quite as impressive as Disney would like — is noteworthy, considering a very different Toy Story hit screens way back in 1995. Marking Pixar's foray into the feature-length movie business, the first in the series set the company's bar for cinematic excellence with a $60.4 million opening weekend that bloomed into a $395 million gross over time. To date, Pixar's 21 feature films have combined to earn $13.3 billion worldwide, according to data supplied by Comscore.
"For a franchise to resonate so strongly after so many years is a real testament to the writing, obviously the voice performances, and the characters," Comscore senior media analyst Paul Dergarabedian says. "But it's not just about Toy Story. It's about Pixar. This is an incredible performance by a brand that has become synonymous in the public imagination with quality. If they had done Toy Story 4 a year after the third one, that would have felt a little strange. This many years later, people are cool with whatever direction Pixar wants to go with these characters."
Toy Story 4 arrives as something of a swan song for Lasseter. Until November 2017, the rainmaking writer-director-producer pulled quadruple duty, functioning as chief creative officer for Walt Disney Animation Studios and Disneytoon Studios (in addition to serving as the most forward face of Pixar). He also managed to executive produce many of the top-grossing animated movies of all time: 2013's Frozen, Finding Dory (2016), and Incredibles 2 (2018) among them. But following numerous allegations of sexual misconduct — Lasseter has been accused of kissing, hugging, and grabbing female co-workers, making unwanted sexual advances, and crudely commenting on women's physical attributes — he admitted unspecified "missteps," took a six-month "sabbatical" from Disney, then left the company in June 2018 when his contract expired. In January, the executive was named head of Skydance Animation, a division of David Ellison's Skydance Media, which has a $350 million war chest to co-produce and co-finance films with Paramount Pictures. (Reached through a Skydance spokesperson, Lasseter declined to comment for this article.)
So what of Toy Story's future? At a time of widespread franchise fatigue, when many of this summer's sequels and reboots — including Men in Black: International, Godzilla: King of Monsters, Dark Phoenix, and Shaft — all underperformed at the box office and overall ticket sales are down by around 9 percent from this time last year, does TS4's box-office performance and 98 percent "Freshness" rating on Rottentomatoes.com signal that a fifth film could be on the horizon, with or without Lasseter?
Unlike most studio divisions, Pixar has never rushed to sequelize its films in obligatory pursuit of a cash grab. (Exhibit A: the 14-year gap between Incredibles and Incredibles 2.) But Toy Story's continued global popularity certainly has the potential to change that calculus. For now, it's best not to expect anything anytime soon. According to our source, Pixar isn't closing the door on the franchise, but it might look a little different should it resurrect itself once more — a prediction the plot of the fourth movie and its introduction of new characters supports.
"With John gone and Andrew [Stanton] on to other things, I'm not sure who the champion is," the person says. "Now what I can see happening is a new chapter involving entirely new toys. But either way, they're not talking about it at the studio."