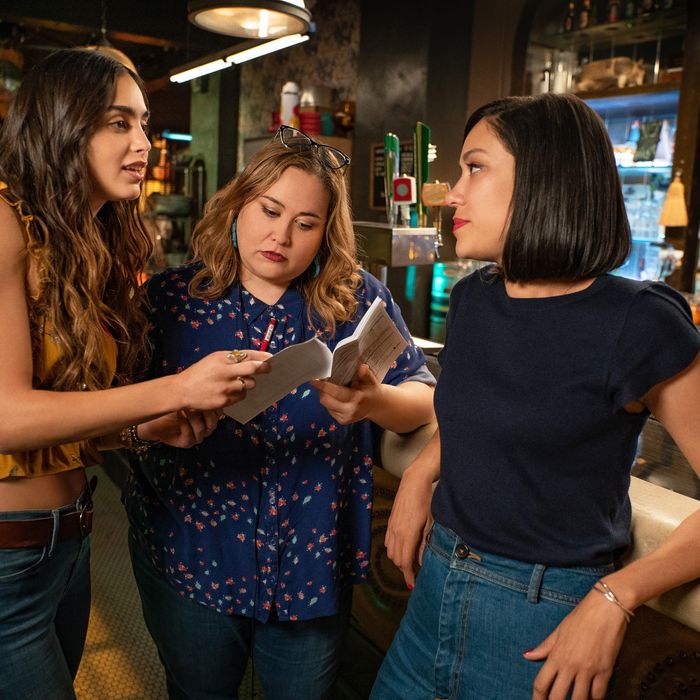 Melissa Barrera, showrunner Tanya Saracho, and Mishel Prada on the
Vida
set.
Photo: Kat Marcinowski/Starz
Vida creator and showrunner Tanya Saracho is acutely aware of her short television career's unusual trajectory. Often, when talking about Vida, her eyes widen as if she can't quite believe a TV show exists that she conjured from her heart and soul. She was such a novice that in the beginning, she needed reminders about executive tasks, like approving the show's expenses. "I approve the budget?" she recalls asking her Starz bosses. "It was like that! But you buck up. People like us just buck up. We figure it out."
The strategy has served her well since she began commuting to Los Angeles from Chicago seven years ago to become a screenwriter. After she was hired as the "diversity writer" (paid by the network, not the production) on Devious Maids, Saracho worked on Looking, Girls, and How to Get Away With Murder. (She moved to Hollywood permanently about four years ago.) The first Latina showrunner on premium cable, Saracho signed a three-year overall development deal at Starz in February, removing all self-doubt that her TV career is a mirage. Last month, Starz renewed Vida for a third season.
Saracho, 43, was born in Sinaloa, Mexico, and moved with her family to the Texas border town of McAllen when she was in middle school. As an award-winning playwright in Chicago for 14 years, she wrote 16 plays, including Mala Hierba and Fade, and directed 14 of them. But she felt unsure about her TV career until former Starz executive Marta Fernandez reached out about wanting to meet with her in 2016. Saracho, who is as high energy as she is unassuming, figured she was at a job interview for a writing position. When Fernandez offered her the job to create and run the show that would become Vida, she was floored. "You're talking to someone who didn't even know what Final Draft was when she got to L.A.," Saracho said. "Me? Run a show?"
Three years later, and two seasons in the can, Saracho has used her incredulity to fuel every decision she's made building the story of Mexican-American sisters, Emma (Mishel Prada) and Lyn (Melissa Barrera) and the East L.A. neighborhood they return to as adults after their mother dies. In her mind, Saracho's paying forward the chance that Starz took on her. That, coupled with some disappointing experiences in writer's rooms where she felt treated like a token, inspired her mandate of inclusivity across the board in all of her work. The writers she hired for Vida and Brujas (a pilot she wrote that has not been picked up yet) are all Latinx; Vida's crew is majority Latinx, queer, and/or female-identifying, perspectives that are front and center in a show about a Mexican-American mother-daughter relationship fraught by shame surrounding each woman's queerness.
This season, Saracho pushed that mandate further by deciding to only hire Latina directors to helm the ten episodes. Of the five directors, one had directed an episode of Vida last season, another had directed an episode of HBO's Room 104 that hasn't aired yet, and the others had never directed episodic television — including Saracho, who directed the season-two finale.
"This is a Latinx female-gaze show, so I wanted to experiment and see what would happen if we got to handle all the stories," Saracho said. "When you see the sex scene in that tiny bathroom in the finale, it really made a difference that there was so much queerness and so much brownness putting that together. You can't fake that. We have skin in the game in a different way, and we care about the accuracy and authenticity of it." In the scene, Emma (Prada) allows herself to be vulnerable sexually for the first time in the series with her new lover Nico (Roberta Colindrez). The bar bathroom adds to the feeling of openness, as Nico has been trying to talk Emma into leaving the graffiti, or community art as she sees it, intact during renovations and Emma has wanted to paint over it.
"Starz took a risk on me. That's a lot of money they give you to make a TV show and that was a risk, so I need to take a risk, too," Saracho explained. "It's super-important because we have not had the access to these opportunities. It is my responsibility to hold the door open, not just from the goodness of my heart but because you need that cultural accuracy."
In the two years since the conversations about inclusivity and representation behind and in front of the camera gained momentum in Hollywood, producers such as Ava DuVernay, Ryan Murphy, and Mark and Jay Duplass have made long-term commitments to hire more women and people of color for key jobs. But an inclusion report by the Directors Guild of America for the 2017–18 season revealed there have been some gains for women, but not for people of color. Women directed 1,087 episodes, a 14 percent increase from the prior year, but the number of episodes directed by people of color — 1,017 — went up by only one percent. Minority women directed 261 episodes. One of them was filmmaker Catalina Aguilar Mastretta, who directed the fifth episode of Vida's first season and returned for the second season.
"Tanya's in a position of power, and she's empowering other people that are like her. That is easier said than done in many ways," said Mastretta, who recently directed the pilot of a show she created for Amazon. "It's not easy to say, 'I need a person of color for this,' because you have deadlines to meet, and you have a lot of concerns about experience, and executives to appease, and a lot of things to consider. It's easy to go back to what feels familiar to other people, but you have to say, 'What feels familiar to me is important because it's gonna feel familiar to our audience.'"
Saracho, who is vowing to either hire the same Latinx directors, depending on availability, or find new ones for the third season, didn't know Mastretta before she hired her. In fact, Saracho only knew one of the other three Latina directors she picked: indie filmmaker Nancy Mejia, a writer on Vida. To find untapped talent, Saracho used her personal and business networks, extra steps that other executives in charge of hiring sometimes aren't willing to take.
"When they haven't found the people, it's because they haven't looked," Saracho said. "Looking is not just going to our agent. Sometimes you do have to search. Like, they sent me this Russian-born woman who spent three years in Mexico. They can put a stamp on anyone, but I'm really looking for that cultural shorthand. You have to do a little extra work for the directors and a little extra work with the network, but if we're all willing to take the risk together, and I'm accountable for it, it works. Just make us a little extra responsible. It's an investment."
Unlike in feature films where directors are in charge of an entire production, episodic TV directors dive into shows with established aesthetics, cast, and crews and must work within the scope of the showrunner's vision. This can be a tough adjustment, especially for indie filmmakers who create their own stories and have control over their entire productions. Knowing this, Saracho said she didn't mind spending extra time on set to guide the first-time directors because she had been there herself. When Fernandez suggested she direct the finale, Saracho thought she meant for a future season. In her mind, she needed to go through the AFI Directing Workshop for Women, or a similar program, to be worthy of the job even though she had directed 14 plays and her imprint is all over Vida.
"I was so anxious!" Saracho says. "I know what coverage we need and I know what we need to tell the story but I still was all, I'm gonna fuck up my own show! But I got so much help. I needed my hand held. And so if I need to be on set taking the extra time so these directors can do the best job on their first time out, I will do whatever hand-holding that needs to happen until they don't need it. This is how you build people up and it's how change happens."
Catalina Aguilar Mastretta (Episodes 1 and 2)
Like Saracho, Mastretta was born in Mexico but alternates living between there and Los Angeles and considers herself an immigrant. Known for writing and directing the 2015 film The Hours With You and the 2017 film Everybody Loves Somebody, Mastretta had not directed episodic television until Saracho hired her for the first season of Vida. Even though she had two films under her belt — Everybody Loves Somebody was especially well received — she knew that being hired for her first episodic TV gig would be harder than landing a small movie.
"A showrunner described it to me as you're on a moving train and you want to be able to swap conductors without worrying that the train is going to go off the rails," Mastretta said. "But, of course, there's also the unspoken, or sometimes spoken, barrier of Well, you're a girl and you're Mexican, how will you understand the thing we're trying to do?"

So Mastretta did her homework, shadowing directors on sets and completing diversity-training programs at Sony and Fox. She and Saracho met via their agents after they had heard about each other from actress Karla Souza, who worked with Saracho on How to Get Away With Murder and starred in Everybody Loves Somebody. Originally, Saracho hired Mastretta to direct four episodes, but Amazon picked up her bilingual rom-com pilot loosely based on Everybody Loves Somebody and Vida let her go. ("I had to let her off her contract because we need to have that show, too," Saracho said.)

Mastretta points to the show's "raw and free" visual style as a big appeal, and the opening scene she directed in the season premiere is a perfect example of that. In it, Lyn (Barrera) participates in a large group orgy, which was written as the "world's saddest orgy" in the script. Shot over half a day, and with the help of an intimacy consultant, Barrera and the background actors choreographed the scene before "any robes came off," said Mastretta of the first group sex scene she's directed. "To be honest, it feels very much like a stunt sequence when you're filming something like this," she said. "Everybody has to hit their mark in a specific way, and we have to make sure everyone knew their emotional states. At this point in her life, Lyn is ready to move past this kind of shallow experience. You want the audience to realize with Lyn that she's a little bit better than this."

Vida is the first Latinx-centered project that Mastretta identified with because it vastly differed from the violent cartel stories that typically came her way. "I always think, What in my work tells you that I would be great at directing this hyperviolent thing other than the fact that it's populated by Mexicans?" she said. "If they were white people, you wouldn't give this to the girl who had done a family dramedy. That would not occur to them because they share that experience. It becomes very difficult and grating to always be explaining that our experiences are unique and diverse within our own social groups."
Women, Mastretta believes, are the key to changing the representation issues plaguing Hollywood. "Even if women have not had the experience of immigration or being people of color in America, we have to identify with people that don't look like us all the time. Most of the books that we've read, most of the TV shows or movies that we've seen, are about white men. And, I have to say, they have touched me and taught me how to live in many ways, experiencing things through their emotions in real ways. So it is now our responsibility to put people that look like us on-screen so white men can identify with us. This is how we close the empathy gap."
Jenée LaMarque (Episodes 3, 4, 7, and 8)
LaMarque hates that her agent was right. For years, she had been trying to break into television directing and the advice he'd offer her was discouraging. "He said my first job would come from personal relationship," she recalled. This was frustrating because LaMarque had filmmaking experience. In 2012, she directed the Sundance short Spoonful, which she followed up with the feature The Pretty One from a Black List script she wrote in 2013. Four years later, she wrote and directed The Feels.
"It was sad, but then it was true," she said. "My first opportunity was definitely because of my close relationship with Mark Duplass. He had been tracking my career, and we had been close for a long time, and with Room 104, he and Jay were making an effort to hire women for at least half the episodes. So I was a natural fit."
Although Room 104 is technically LaMarque's first TV directing gig — she also co-wrote the episode — it hasn't aired yet, so her Vida episodes are her first directing samples. Duplass had a hand in that job as well, since he recommended her to Vida executive producer Stephanie Langhoff, who used to run his company. But then came the surprise: Three days into shooting the two episodes she was hired to direct, Saracho asked LaMarque to helm two additional episodes that Mastretta was no longer able to handle. "I felt so excited and overwhelmed," LaMarque said. "Being at Vida was so rad. At my first concept meeting, there were literally no men at the table."
The daughter of a white woman and a Mexican man, LaMarque says she connects with Vida's exploration of identity. She was raised in suburban Claremont, about 35 miles east of downtown Los Angeles, and was a child actor. She moved to Los Angeles thinking she wanted to continue to perform, but quickly discovered she wanted to write and direct while studying at AFI. "When you see me, I think you could think that I am white or you might also tell that I'm Latina," she said. "It's always been a thing. I'm never quite all of one thing, and that's informed my work, which is a lot about identity and who you are and where you fit in."
LaMarque directed the season's two biggest set pieces: a wedding in the third episode and the warehouse party in the eighth episode. Shot over three days, the gay vaquero wedding, hosted by a drag queen, made everyone emotional behind the scenes. "Just seeing this beautiful queer brown wedding, we all got kind of choked up when we saw the guys walk down the aisle," LaMarque said. During the reception, Emma gets into a fight with lesbians who call her "baby queer" and accuse her of "passing" and she ends up breaking up with Cruz (Maria Elena Laas). But she also meets Nico (Roberta Colindrez), a biker who becomes her first true friend. Saracho says she imagined Nico as her personal "dream girl," a detail not lost on LaMarque. "Over at video village, everyone's just kinda checking Nico out. So cute!" she said laughing.
"Jenée's such a jolly person," Prada said. "She's just really happy, and she cares a lot about the evolution of the characters and understanding where they're going. We had a lot of fun on her episodes. I mean, that [warehouse] party. Wasn't that cool? To get to see that on TV was like, What?"
The warehouse-party sequence — in which Emma and Nico scout for bar talent, while Lyn and Marcos (Tonatiuh) check out L.A.-based musician San Cha — was an "undertaking," as LaMarque recalls. "It was an empty warehouse, and we created everything out of nothing in that space, but we had so much fun," she said of the four-day shoot there.
As imagined by Vida writer Esti Giordani (Transparent), the warehouse included an area called "The Clit Pit," which was designed as the female reproductive system. The event had a carnival air to it with dozens of background artists in extravagant costumes milling about. "If you had been there, it was like Disneyland," Barrera said. "It was one of my two favorite scenes to shoot of the whole season. Having all the extras with all their crazy costumes and makeup and hair, and Emma having deep conversations in the fallopian tubes, me peeing in the sink, it was just a ritual of cool things."
Credit LaMarque for the action in the fallopian tubes, an intense fight between Emma and Nico that was supposed to take place in the ovaries. "Now that I think about it, it's so stupid," Saracho said. "The ovaries were going to be swings, and they were gonna be having this fight while swinging, but Ava pointed out that it was going to be a nightmare to edit because of continuity. Jenée came up with doing it inside the fallopian tube and have them crawling, so it would still be odd but controllable."
LaMarque is now writing and directing two more episodes of Room 104 for its fourth season. "I don't think it's as hard as people portray to find talented women. There's a ton of us!" she said. "I try to take an empowered view of it and figure out what I can do. I can get really down sometimes about male peers that aren't experienced as me moving more quickly through their careers. But I just try to put myself forth, and believe in myself more, so I can move forward through the systems that are in place that aren't necessarily meant to be pushing me forward."
Gandja Monteiro (Episodes 5 and 6)
Until Gandja Monteiro arrived on the Vida set, she had felt alone on her creative journey. She graduated from New York University's Tisch School of the Arts, where she wrote and directed Almost Every Day, a narrative short that was nominated for a jury award at the Tribeca Film Festival in 2009 and was shortlisted for an Academy Award. But then nothing happened. "I didn't realize there was a glass ceiling," Monteiro said. "NYU doesn't necessarily teach you that much about the industry per se."
Born in Manhattan but raised in Brazil, until she moved to the Lower East Side with her mother and brother when she was 8, Monteiro witnessed the area become the "quintessential gentrified neighborhood," which connected her immediately to the story Saracho is telling in Vida. "A neighborhood gets cleaned up and made a little bit safer, but where does the culture that inspired that neighborhood, the raw talent, the multiculturalism — and I'm talking specifically about the Lower East Side — go?" she said. "When you homogenize it and make it available to a specific class of people, it loses the very thing that makes it special. But then there's a deeper, more complicated thing for me, because now I live in L.A. in Echo Park and I'm considered the gentrifier."
That's not the only contradiction Monteiro carries inside. "The hardest thing to explain is that as I've gotten older, I've become much more Latin," she said. "Brazilians have a very murky relationship with being Latino because Brazil is a Portuguese-speaking country. It's not a Hispanic country, but, because I grew up in New York, I always considered myself more Latin American than Brazilian."
To make a living after graduating, Monteiro directed music videos in Brazil, fashion films in Los Angeles, and a few years ago began directing commercials, always hoping the opportunity to direct feature films or TV shows would arise. She had never met Saracho but knew of her through actors and filmmaking friends, including Vida writer Nancy C. Mejía, who mentioned to her that Vida was hiring Latina directors. Monteiro hadn't seen the show but read the pilot script and immediately reacted, "Holy shit! This is so close to home." Saracho loved Monteiro's samples, especially a music video she shot in Brazilian favelas, and hired her.
Monteiro directed the explosive scene in the sixth episode in which Emma discovers Lyn's been lying to her and defrauding their deceased mother. "That one was really hard to come down from in between takes, but Gandja never gets stressed out," Prada said. "She thrives in a lot of interesting shots and different angles, and it was fun to bring that to light in a way. She has a very strong creative vision."
Monteiro is now developing a TV show with a friend of hers and was hired recently to direct a horror film that is part of an anthology series MGM and Orion Pictures is producing. Although those opportunities did not arise from her work on Vida, she has received more invitations for meetings with Hollywood companies since she worked on the series in the fall. "To be honest, getting your second gig is just as hard as getting your first," she said. "It's funny because I feel like the industry's in a transitional moment and I'm in a transitional moment. It makes me think of all the directors, all the amazing women who didn't get the opportunity to go to these meetings. Change is manifesting in a real way."
Nancy C. Mejía (Episode 9)
Mejía didn't set out to be a TV writer or director. But when Saracho was staffing the first season's writers' room, she asked the National Association of Latino Independent Producers to send her scripts so she could read the work of writers she didn't know. Mejía didn't have representation and her contact information wasn't on the script, so Saracho found her on Facebook and asked, "Do you want to work for TV?"
At the time, Mejía had directed shorts and had written feature scripts and sample TV scripts but considered herself a "rookie." They met, hit it off, and within the week, Mejía was staffed as a writer on Vida. "TV just seemed like a gauntlet to me. I didn't think it was accessible."
When she started working at Vida, Mejía had just completed the AFI Directing Workshop for Women, a key decision for her career since she didn't go to film school. "I had the same sample I always had, but I did feel that after AFI, people took me more seriously as a storyteller and a filmmaker as opposed to someone who just did shorts independently," she said. "Very early on, Starz was very supportive and approached me and said they'd pay me to shadow, so I shadowed [director] Rose Troche in season one. When they felt comfortable, they told me I'd be directing in season two."
The daughter of Salvadoran immigrants, Mejía was born and raised in Los Angeles. She applied to every single local film school but didn't get in, so she studied theater and women's studies instead. "Just because I grew up not far from the Hollywood sign doesn't mean I have more access. I could not get into film school, so I just tried to hustle and find my own way."
Directors on Vida have five days to prep and five days to shoot the half-hour episodes. Although that can seem like a tough workload, for Mejía it was bliss compared to filming shorts. "I didn't have to worry about raising money, or where the porta potties are, you know what I mean? I'd get to set and everything's professionally done and I just got to experience directing. I'm hooked!"
Aware of the significance of the opportunity, Mejía says she overprepared for her directorial debut, even meeting with the show's editors to pick their brains about common mistakes they see, ideas for transitions, and other technical questions. Because there is not a lot of time for rehearsing on set, Mejía also visited the cast in their dressing rooms to discuss how they wanted to approach their scenes.
"I don't need a director to come in and tell me that you walk to this point and then you walk out the door," Barrera said. "But when a director's actually interested in the emotional journey of a character, that's when you wanna work with this person. And that's what Nancy did."
The sex scene in the ninth episode — in which Emma uses the bar's handyman Baco (Raúl Castillo) for sex in her office — was Mejía's first as a director, and she wanted to make sure she did right by the actors. "Obviously, there's been the objectification of women on TV since the beginning of time and so it's in our trust and it's different," she said. "We are trying to change the narrative and take that back."

After the first season, Mejía landed a manager, and that has led to many meetings in Hollywood, including the possibility of adapting a book into a feature. She is now writing on The L Word: Generation Q. "I'm definitely getting more opportunities to write, but it's still so hard to get the second episode to direct. I don't feel women directors are given the same benefit of the doubt as their male counterparts. You constantly hear, 'You can shadow.' I feel like you're always seen as an apprentice. And I realize I've just started. I've only directed one episode of TV, but it's still a grind. It's still a hustle."
Whether it's through shame or inspiration, Mejía thinks it's important for women and people of color to hold the industry accountable. "It's more about the optics now," she said. "I feel like people want to be able to say that they hired writers of color or women or queers. I've gotten a lot of meetings, a lot of people want to work with me, but the challenge I'm seeing is: Are they going to listen to me? Or am I gonna be complicit in this narrative of people feeling like they're doing the right thing and being progressive? Regardless, it's a step in the right direction. I personally believe that I don't care how I got my foot in the door. Once I'm there, I'm not gonna get out."