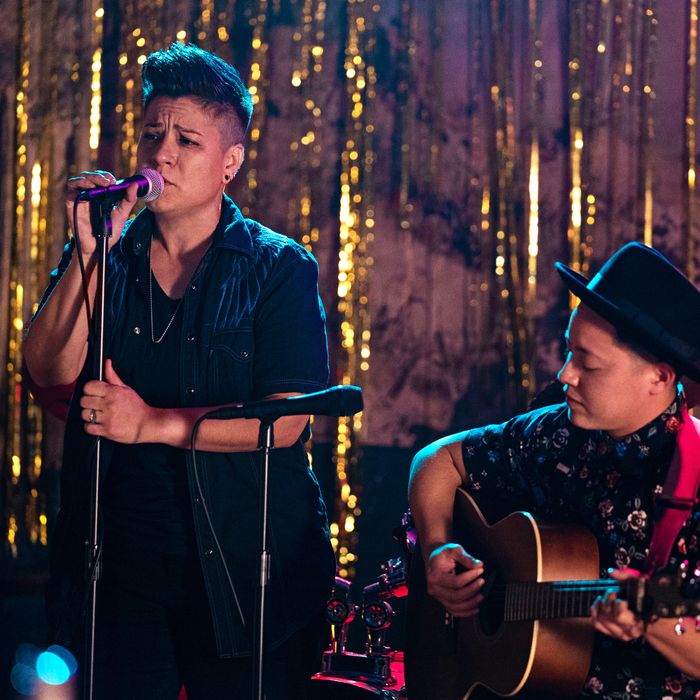 Photo: Kat Marcinowski/Starz
The eighth episode of Vida's second season opens with a punch as the bar's mariachi mural is painted over and replaced by a painted beer ad, and Eddy (Ser Anzoategui) stares at the new, gentrified artwork in disbelief. No one speaks, but no one has to. The song playing, FEM'd's empowering bilingual anthem "Me Llamo Yo" (My Name Is Me), voices the culture clash in the neighborhood and gets the blood pumping with its dance beats. "Salgo a la esquina, y tu me discriminas / Why, why, why, why, why, you calling me 'white-tina'?"
In the series, community activists fighting gentefication — upwardly mobile Latinx moving back and investing in their neighborhoods, pushing out the working class — have called Vida protagonists Emma (Mishel Prada) and Lyn (Melissa Barrera) "white-tinas." The lyrics, by Dahlia Lagos and Daniela Blau, address how the Mexican-American sisters feel as they try to rebuild their deceased mother's neighborhood bar and run her apartment building while staying financially afloat themselves. It's the same type of resistance creator and showrunner Tanya Saracho faced while filming the first season in Los Angeles's Boyle Heights neighborhood, where she encountered pushback and name-calling from the community. "They called me 'white-tina' and 'coconut,' and I'd never heard that before, but it's real so it's in the show," Saracho said.
Vida's second season is even more visceral and intimate than the first, and much of that is due to its provocative and eclectic soundtrack, which includes six original songs written for the show by several Los Angeles–based Latinx artists, including "Me Llamo Yo." Through a partnership with Pulse Studios, 11 songwriters and producers from Latin, pop, and indie music spaces created songs for specific scenes, working in a three-day songwriting boot camp with Saracho, and further cemented the showrunner's commitment to hiring Latinx and queer artists to help her build the world of Vida. Beginning with two rules — "no guitars and no Mexican-restaurant music" — Saracho showed the artists rough cuts of scenes and described the themes she wanted the music to evoke, for example, flirtatiousness or something more serious or dark. "We'd talk about it and then they'd stay up till 2 or 3 a.m. — you know musicians don't sleep — and come back with these amazing songs," Saracho said.
Because Vida's first-season soundtrack had resonated with hits like "Tigre" by Jarina De Marco, a Pulse artist, Starz's vice-president of business and creative affairs for music Janine Scalise Boyd approached Saracho and music supervisor Brienne Rose about working with Pulse artists to create original music. (The soundtrack is available on all digital music platforms.)
"It's very different from having a composer because you're not creating music that's scored for the scene, but you're creating a song that really elevates the scene, and that's really an incredible thing," Rose said. "We encouraged them to take the reins in terms of the lyrics because we didn't want anything that was too on the nose or to describe what is happening. We wanted to capture some of those thematic elements without being too direct."
The exception was "Me Llamo Yo" for which Saracho specifically asked the songwriters to include the terms white-tina, vendida (sellout), and coconut in the lyrics. In the end, she had to live without coconut, but the song soars without it. "I love it!" says Saracho. "When the music started appearing, it was unbelievable. Popular Latinx music is young and Americanized but very Latina. All these artists look like Vida, like they should all be in the show."
When the camp was held last fall, production was already underway, so the original songs appear in the second half of the season. "Flip It" by Digibich is heard in the sixth episode when Lyn is having sex with the councilman. "We affectionately called that 'Lyn Bags Rudy,'" Rose said. Kablito has two songs featured in the season: "Mi Locura," a dreamy electronic tune at the end of the seventh episode, when Lyn soaks in the tub, trying to wash away her sins, and the romantic folk song "Secretos" at the end of the eighth episode. The ninth episode ends with groovy EDM tune "Beginning of the End" by Sophia X and Jarina De Marco, as a depressed Emma is in bed alone and Lyn is celebrating at the bar with her friends. In the season finale, Lyn and her healer sage the bar to Shamana Mama's tribal chant "Semillita." The soundtrack also features songs by several other Latinx artists, including Carla Morrison, Pumarosa, and Love La Femme.
As the Hernandez sisters try to rebuild Vida the bar, Lyn gets the idea to start a live music series with local artists. The season's vibrancy and authenticity is reflected in the resulting live performances of their own music by artists such as San Cha, who entertains at the warehouse party in the eighth episode, and Maria del Pilar, a.k.a. Lady P of Los Abandoned, who sang "Heavy Lifting" in the sixth episode as Emma discovers Lyn's devastating secret.
And another surprise performer appears at the end of the fifth episode: A little tipsy and very happy to be finally bonding with her big sister, Lyn serenades Emma on her 30th birthday with an acoustic version of the Juanes hit "A Dios Le Pido" while playing a ukulele. "But it's drunk singing!" said Barrera, downplaying her talent in the sweet moment. "It's not supposed to be good. But it was funny. It was a great scene to shoot. Mish and I had a lot of fun with that, and it was a good little thing to whip out and be like, Oh, Lyn has a secret talent!"
The season ends with a bang, with three live musical performances at the bar by Dominican-born De Marco, who also wrote songs at the writing camp. "Jarina was such an important piece for us in season one," Rose said. "That was the first artist that Tanya and I really connected over and we just felt sounded like the show, so she has been a really wonderful guiding light in terms of style and just has a great sound for Vida. All of those performances were so much fun. It was really exciting because we tried to use the artists that felt authentic to these moments."