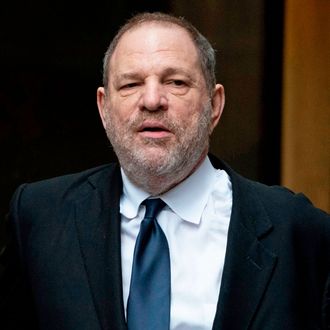 Harvey Weinstein.
Photo: Don Emmert/AFP/Getty Images
Two weeks after accounts of a possible $44 million settlement in the sexual misconduct case against Harvey Weinstein emerged, a lawyer representing the film producer's accusers assured reporters that "imminent news" was on the way.
"We think we're going to get a great resolution for the class," plaintiff's lawyer Elizabeth Fagen explained after a Manhattan federal court proceeding Tuesday regarding one of the sexual misconduct lawsuits facing Weinstein.
"We're hoping to have something to present to this [court] in the very near future," Fagen told Judge Alvin Hellerstein during this proceeding.
Sources previously told Vulture that Weinstein, accusers, and board members of his onetime company had tentatively brokered a deal with the New York State Attorney General's Office. News of this potential settlement was first published by The Wall Street Journal.  
The possible settlement related to some of the lawsuits brought against Weinstein following #MeToo, and the state attorney general's civil suit against the disgraced producer and his brother. This state attorney general's lawsuit alleges they violated "state and city laws barring gender discrimination, sexual harassment, sexual abuse and coercion" at their production company. Some creditors also seemed poised to get settlement money.
Not long after word of this possible settlement emerged, however, several Weinstein accusers said they would not take part.
"My lawsuit against#harveyweinstein is ongoing and I intend to take him to trial," actress Ashley Judd announced on Twitter.
Actress Wedil David, who alleged in court papers that Weinstein raped her, also refused an agreement.
In a statement, David's lawyers said, "Our client has steadfastly rejected the proposed deal. Sadly, rather than adequately compensate the rape and sexual assault victims of Harvey Weinstein who have pursued viable legal claims that have been brought within the statute of limitations, the proposed deal would provide millions of dollars to the ultra-wealthy directors of the Weinstein Company … and their big firm lawyers." The lawyers' statement also insisted: "Our client does not begrudge any victim who accepts a settlement that she finds acceptable. But she will not participate in a process that is fundamentally flawed and unfair."
Asked about Judd's stated rejection of this settlement, Fagen told reporters the actress's legal claims were "very different" than those of her clients, and that "she's always been outside" these settlement discussions.
Elior Shiloh, who has led Weinstein's civil defense, told reporters that Weinstein has been "involved" in settlement discussions. Shiloh also demurred when asked if insurance would pick up the tab for any settlement, or whether Weinstein would be on the hook.
Weinstein, who has long denied all allegations of nonconsensual sex, is scheduled to go on trial for alleged sexual assault this fall.