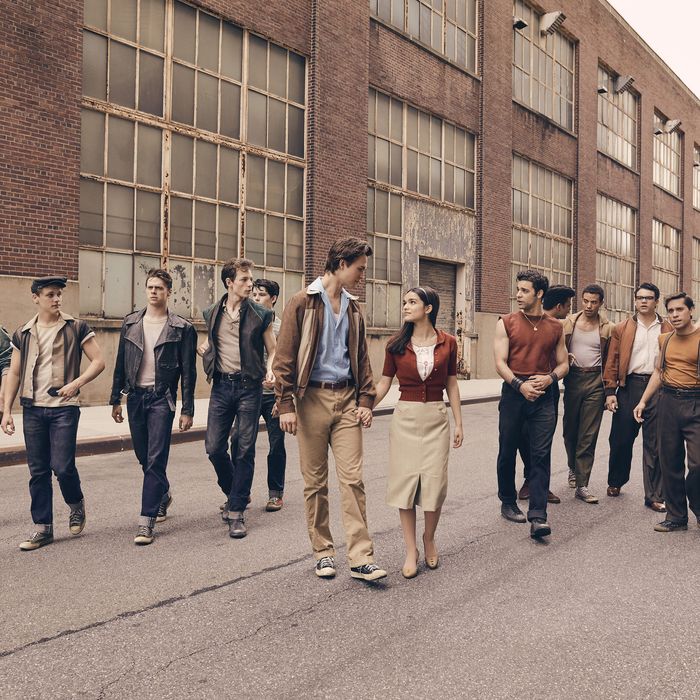 Photo: Twentieth Century Fox
We didn't get 17 shirtless selfies from Ansel Elgort to preface this announcement, but this morning we did get what is either a first look at Steven Spielberg's West Side Story or an advertorial for Everlane's next line of khaki clothing. Spielberg's long-in-the-works remake of the classic Leonard Bernstein, Stephen Sondheim, and Jerome Robbins movie musical stars Ansel Elgort and newcomer power-belter Rachel Zegler as the star-crossed Tony and Maria. In the photo above, we see the two of them, flanked by rival, well-manicured gangs of Jets and Sharks. From left to right, there are Jets members Anybodys (Ezra Menas), Mouthpiece (Ben Cook), Action (Sean Harrison Jones); Jets leader Riff (Mike Faist); Baby John (Patrick Higgins); Tony (Ansel Elgort) and Maria (Rachel Zegler); Maria's brother and Sharks leader Bernardo (David Alvarez); and Sharks members Quique (Julius Anthony Rubio), Chago (Ricardo Zayas), Chino (Josh Andrés Rivera), Braulio (Sebastian Serra), and Pipo (Carlos Sánchez Falú).
Tony Kushner is writing the script, while Rita Moreno, who won an Oscar for the original film version, is executive producing and playing an expanded and gender-flipped version of the character Doc. Produced by 20th Century Fox and distributed by Disney (because of that whole thing) West Side Story will premiere in theaters December 18, 2020. The rest of the cast includes Ariana DeBose as Anita, Ana Isabelle as Rosalia, Curtiss Cook as Abe, Corey Stoll as Lieutenant Schrank, and Brian d'Arcy James as Officer Krupke, who are not pictured because that would be just too much sex.