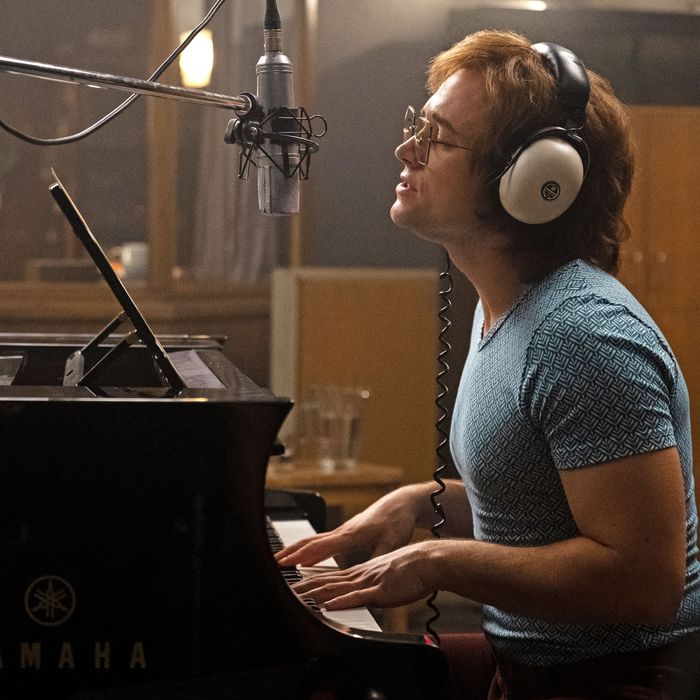 Taron Egerton in
Rocketman
Photo: David Appleby/Paramount Pictures
In late 2018, after Bohemian Rhapsody exceeded all financial expectations to become a global box-office hit (on its way to a staggering $903 million take worldwide), the director, producers, and studio executives behind Rocketman hit a "wobble." In the course of testing their R-rated musical — a hallucinatory trip through Elton John's life story — the filmmaking team began to wonder what a PG-13 version of their movie would look like. "We were testing it, going, 'Okay, is there a tamer version that can play just as well and satisfy audiences?'" recalls Wyck Godfrey, president of Paramount's motion picture group. "Internally, we looked at scenes, and what you would have to lose to make it PG-13."
"There was certainly a wobble," he says.
The wobble makes sense. Superficially, at least, the two movies — Rocketman and Bohemian Rhapsody — share more than a few glaring similarities. Both the Queen biopic and the Elton John musical are mid-budget Hollywood studio productions endeavoring to dramatize the lives of exuberant British rock stars. Both films show the subjects on the road to superstardom in the '70s, each grappling with their sexuality and addiction to drugs and booze. Both films are narratively propelled by the chart-topping songs that made the men into household names. And, in a bizarre, only-in-Hollywood twist, the movies even share a director; in late 2017, Dexter Fletcher stepped in to finish Bohemian Rhapsody when its original helmer Bryan Singer was fired. In the end, the Freddie Mercury–fronted saga yielded four Oscars earlier this year (including Best Actor for Rami Malek's portrayal of the band leader), so why wouldn't Paramount want to re-create that magic in another family-friendly biopic?
Namely because Rocketman, Fletcher makes clear, isn't a biopic. Speaking with Vulture shortly before his Taron Egerton–starring movie is set to hit theaters, the director reflects on the three weeks he spent shooting Bohemian Rhapsody and what he learned from the experience. "A biopic by its very nature is very hard to pull off," Fletcher explains. "Because you're hemmed in by facts. You're hemmed in by chronology and the details that a lot of people know."
"That's why I'm adamantly like, '[Rocketman is] not a biography,'" he adds. "It's a musical, and it's [John's] memories, and that means I'm freed from that burden."
While Bohemian Rhapsody took heat for sanitizing Mercury's queer sexuality and omitting his vast chemical appetites, the movie fits more neatly into a biographical picture box. It begins with a young version of its central character and ends with a title card memorializing his death; a multitude of familiar, historically significant events pop up in between. Rocketman, meanwhile, takes biographical moments from John's life and pulses them with a Moulin Rouge–esque dose of surreality. His iconic performance of "Rocket Man" at Dodgers Stadium becomes a musical set piece in which Egerton's John transforms into an actual rocket that shoots out into the sky. An orgy scene gleaned from John's own memories becomes a dramatization involving Egerton's floating body and a sea of writhing figures. Throughout the film, characters frequently interrupt their dialogue to break into elaborate song-and-dance numbers.
The project didn't always look like this. Rocketman began as a film in development at Disney in 2007, with John and his husband David Furnish serving as producers. The impressionistic fashion/celebrity photographer David LaChapelle was onboard to direct and he enlisted screenwriter Lee Hall (Billy Elliott, War Horse) to write a script. (LaChapelle had helmed a music video for John's single "This Train Don't Stop Here Anymore," featuring Justin Timberlake made up to look like the bespectacled "Honky Cat" singer). But over the next decade, LaChapelle dropped off, leaving John and Furnish to face studio executives lobbying to turn their R-rated vision PG-13. "Some studios wanted to tone down the sex and drugs," John recently wrote of his experience trying to develop the film in the Guardian. "But I just haven't led a PG-13 rated life."
Flash forward to 2013: The Greatest Showman filmmaker Michael Gracey was installed as director and Tom Hardy was announced in the role of John — the plan being for the Oscar-nominated British actor to lip-sync all the songs. But even with those core components in place, Rocketman languished at Focus Features until a fateful film cameo. In 2016, John agreed to portray a campy version of himself in the action-spy-comedy Kingsman: The Golden Circle and got to chatting with the movie's producer-writer-director, Matthew Vaughn. "I asked him what happened with Rocketman because it was announced they were making it four years earlier at Cannes," Vaughn says. "And he said, 'They're having problems with the R-rated piece of it. The warts-and-all.' [John] didn't want to do the Mamma Mia version of his life, let's put it that way."
"The rating was a real problem for a lot of people," Vaughn adds. "A real problem."
Vaughn is primarily known as a writer-director behind such hit movies as X-Men: First Class and Kingsman: The Secret Service. But his production company Marv Films also independently bankrolls films, including Layer Cake and the 2016 biopic Eddie the Eagle — which, not coincidentally, also stars Egerton and was directed by Fletcher. (Fletcher actually appears as an actor in Layer Cake.) Vaughn read Hall's script in a single sitting and called Furnish in the middle of the night to inform him that Rocketman was "green-lit." The producer's only reservation: He considered Hardy (then 38) too old to play John and was dead against an actor lip-syncing. Hardy's substitute, it turned out, was right in front of them on the Kingsman set; Egerton had even performed John's "I'm Still Standing" in the animated movie Sing.
At this point, Fletcher had been already been attached — and detached — to Sony's version of Bohemian Rhapsody; the R-rated project was terminated a week before preproduction. It moved over to Fox in 2016, where studio executives insisted on handing the reins over to Bryan Singer, whose X-Men films have combined to gross over $2.7 billion. Of course, by December 2017, with production about 85 percent complete, Singer was fired from Bohemian Rhapsody after reportedly clashing with Malek and taking long, unexplained absences from shooting. (Decades' worth of sexual-misconduct allegations caught up to Singer shortly after.) Fox Film vice-chair Emma Watts initially asked Vaughn to step in to direct the final weeks of filming, but he had another suggestion: Fletcher.
By now, Fletcher was deep in preproduction on Vaughn's Rocketman, a phantasmagorical musical that didn't shy away from depictions of sex or addiction. Even though he had intellectually and emotionally removed himself from the more modest Queen story, Vaughn was persuasive: "I said, 'This is a '70s-rock-star biopic boot camp. It was taking longer than expected to get the rights cleared up [for Rocketman], so I said, 'Look, just go off, make a bit of money, have some fun. Why not?'" (It helped that Malek personally entreated Fletcher, reportedly telling him, "We fucking need you, man. If you come to set and shit on the floor, you'll do a better job than this guy.") Fletcher ended up taking the gig, though his directing contributions are uncredited.
Fast-forward to November 2018: A Fletcher-polished Bohemian Rhapsody is minting money at the box office — "I was wrong saying, 'Nobody's going to want to watch a movie of a guy lip-syncing to Freddie,'" Vaughn recalls — and Rocketman is in the editing phase. That's when production hit its PG-13 "wobble."
"That's your knee-jerk reaction, of course," says Paramount's Godfrey, whose company agreed to take over Rocketman's financing from Marv. "You work in a big company and everyone's like, 'Look what that's doing. We should chase that.' By the way, it was a wobble that took place with the filmmakers and producers as well. But pretty quickly, we came back around to the fact that we committed and believed in this movie before we knew what Bohemian Rhapsody was going to do. It's always better to lead than to follow."
In contrast to the criticism lobbied against Bohemian Rhapsody, Rocketman eventually opened to positive reviews. Critics praised the film for showcasing a passionate scene in which John loses his virginity to his future manager John Reid (Richard Madden). "It was always clear that I needed to show this moment of intimacy for Elton at this period in his life because this movie is about loneliness and isolation. So to not have the moment when he has his first intimate contact with anybody would just go against what the film is doing," Fletcher says.
Shot on a $41 million budget, Rocketman took in a solid $25 million domestically over its opening weekend in theaters and has collected nearly $69.6 million globally to date. Gurus of gold are already speculating on whether Egerton's performance as John is worthy of Oscar consideration. Wobble or not, the filmmakers are collectively proud of their R-rated achievement. Looking back, Fletcher says filling in for Singer only further convinced him that his non-biopic approach to Rocketman "was the right one."
"You know what? I'm very, very happy that we've got such amazing reactions," Vaughn concludes. "And more importantly, we have Elton John loving the film. What more do we need?"
Update: an earlier version of this story incorrectly stated Rocketman began development at Disney in 2001. It began in 2007.