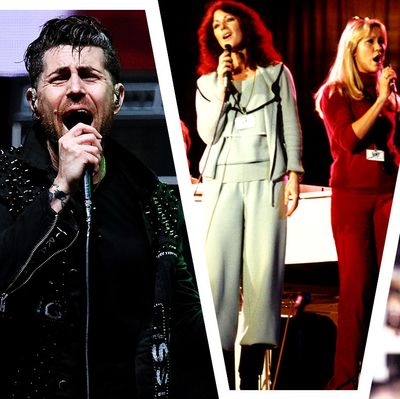 We've shown you ours; now show us yours.
Photo: Getty Images
Last week, Apple officially rang the death knell for its tried and true music flagship, iTunes, announcing that it will phase out the groundbreaking download empire with its next OS update. (Only Windows users will get to hold on to the relic.) It's the end of the era of digital music ownership as we know it. And as we prepare for iTunes's ascent to the great trash bin in the sky, let us remember it for what it truly was: a documented library of our most embarrassing music choices. Today we ask that, in loving (?) memory of iTunes, you enter the vault of your purchase history and go back to the one that started it all. What was your very first iTunes download? Was it a mishmash of songs as featured on The O.C. and Grey's Anatomy, a Who's Who of emo staples, or were you out here downloading, like, classic rock in 2005 like you knew someday someone would ask this question? Vulture would like to see the receipts. We've shown you ours; now show us yours.
AFI, "Miss Murder"
Date: May 22, 2006
If ever there was a window into my 16-year-old neuroses, this iTunes receipt is it. May 22, 2006, was, apparently, a wild one in which I went absolutely ham on iTunes, spending a whopping $14.85 on song purchases. I can only conclude that this was the result of a gift card received days prior, for my birthday, because, at the time, I was very much a broke teen not paying for music and still not totally sold on downloads as the primary way to collect music. (I recall several CDs were on my birthday list.) Anyway, to build my library, I purchased everything from the Academy Is … to Phantom Planet's "California" (RIP The O.C.) to recent Green Day B-sides to old Nirvana. These were confusing teen times, people. But it all started with AFI's "Miss Murder" because, in 2006, I was very much in a relationship with Davey Havok and, specifically, Davey Havok's eyeliner. Whether or not he knew we were involved is irrelevant. Fellow retired (but barely) scene kids will relate! —Dee Lockett
Air Supply, The Definitive Collection
Date: April 29, 2003
My iTunes purchase history says I spent a total of $22.70 buying three items on April 29, 2003 — one day after the iTunes Music Store opened its digital doors. I've zero recall of which of these three I downloaded first, but the purchase listed at the very bottom of my iTunes history page is … Air Supply's 1999 greatest-hits album The Definitive Collection. If you're done laughing now, let me say in my defense that I've been stuck in the 1980s since, well, the 1980s — so of course I would've bought something from the (greatest) decade. Also, it was very likely a bargain-oriented decision on my part: An 18-track album loaded with songs I already knew, for just $9.99? Of course I pressed "download" on that bad boy.
It's worth remembering that in 2003, with iTunes and the iPod still so new, it simply wouldn't have made sense (at least to me) to buy something on iTunes you already owned on CD, particularly since we Gen-Xers had already been burned when our cassettes and cassingles had been rendered obsolete by CDs. That's why most of my earliest memories of iTunes revolve around the hours I spent digitizing and electronically organizing the hundreds of CDs I'd bought at Tower Records or the Virgin Megastore. Early on, Apple's software was less about the instant gratification of downloading some new release and more about making the music I already loved much more accessible. We now take access to millions of songs and perfectly curated playlists for granted, but in 2003, the idea of a 100-song mixtape was pretty mind-blowing. By the way, the other two items I bought that first day: Bonnie Tyler's Holding Out for a Hero (a.k.a. the theme to the short-lived TV show Cover Up) and Beck's 2002 Sea Change album. Glad to see I wasn't completely averse to new music back then. —Joe Adalian
Frank Sinatra, "I've Got the World on a String"
Date: December 2004
What a world, what a life, I guess I'm a good Italian! —Devon Ivie
God help me, but it's ABBA. (Gold, the greatest-hits album.)
Also, it's the most-played thing in my iTunes library, by far, because it is first alphabetically and auto-starts when I'm not paying attention. —Chris Bonanos
A.R. Rahman, M.I.A., "O … Saya"
Date: December 27, 2008
2008 was a simpler time. Barack Obama was elected president. Vivienne and Knox Jolie-Pitt were born into a happy home. And the world's imagination was captured by a movie called Slumdog Millionaire, in which an Indian teen (played by [the extremely hot] Dev Patel) wins Who Wants to Be a Millionaire. The movie went on to win ten Oscars, including one for Best Soundtrack and one for Best Song. That song, "Jai Ho," was not the first song I purchased on iTunes. Instead, I purchased the soundtrack's "O … Saya," the song that eventually lost Best Song to "Jai Ho." In fact, I never purchased "Jai Ho," even when it was eventually covered by the Pussycat Dolls. Looking back, my purchase of "O … Saya" was the first harbinger of the doom to come, the first butterfly-effect misstep in a series of grand missteps that ushered us into our current, harrowing iteration of reality. I bought the Oscar-losing song on iTunes; eventually, Trump was elected; now iTunes itself has self-destructed. I'm so sorry. —Rachel Handler
The Decemberists, The Crane Wife
Björk, Volta
Date: April 24, 2007
The Crane Wife, by the Decemberists and Volta by Björk. I'm traditionally an album person, and was definitely more that way in 2007. I hate that Spotify doesn't privilege albums and surfaces the most popular songs right away. Both of these were kind of concept albums and you could say that this was around the time of the last gasp of the concept album, before digital really killed the practice of listening to albums all the way through. I do miss those days of grandiosity and novelistic structure, even if The Crane Wife feels pretty ridiculous in retrospect. Also, this shows what a Björk completist I was, that my first iTunes purchase turns out to have been maybe her eighth-best album. —Boris Kachka
Snow Patrol, "Chasing Cars"
Date: August 31, 2006
John Ottman, "Main Titles" (Superman Returns: Music From the Motion Picture)
Date: September 12, 2006
Shakira, "Ciega, Sordomuda"
Date: September 12, 2006
I know why the first three songs I purchased were on my radar: "Chasing Cars" had popped earlier that year after appearing on Grey's; Superman Returns had just been released that June; and I had recently watched with awe as a then-co-worker at ESPN the Magazine absolutely demolished Shakira's "Ciega, Sordomuda" during a karaoke outing. But why I decided, after ten-plus years of avid music piracy, to finally start buying music late in the summer of 2006, and to do so with these three songs — who knows, maybe it was the heat. —Neil Janowitz
Fall Out Boy, "Sugar We're Goin Down"
The Black Eyed Peas, "My Humps"
Rihanna, "Pon de Replay"
Date: December 22, 2005
My first iTunes song download is downright embarrassing, but please be kind. It was 2005, I was a fifth-grader, I hadn't even started middle school yet, and I somehow got my hands on an iPod shuffle. I'm pretty sure I got it for free because they were like $2 back then. In a horny manic state, apparently, I bought three songs at the exact same time: "Sugar, We're Goin Down" by Fall Out Boy; "My Humps" by the Black Eyed Peas; and "Pon de Replay" by Rihanna.
At least Rihanna was one of my firsts. —Clare Palo
Handel, Messiah
Broken Social Scene
Wicked Soundtrack
So the first three things I downloaded, all in 2005, are Handel's Messiah, Broken Social Scene, and the cast recording of Wicked.
I am very cool. —Kathryn VanArendonk
RuPaul, "Let's Turn the Night"
Date: May 6, 2010
Hi, it's me, the only person you know who has never owned an iPhone. But still, iTunes got me. This would've been the start of my second summer in NYC, and I was probably going out a lot and getting very excited for Pride Month, which I never truly experienced until I moved here. It was also the first time since college I was employed at a job that paid me enough that I could even think about actually buying music. Did I turn the night? Probably. Did I use iTunes again? Rarely. It was always slowing my computers down (I could only afford cheap PCs!), and I was still a music thief at heart. But then I got a Zune later that year and I loved that thing. So, for anyone whose heart is breaking over iTunes, let me assure you: You will always miss it. —Anne V. Clark
Joaquín Rodrigo, Concierto de Aranjuez
Date: November 25, 2005
Mine, embarrassingly, was a recording of the second movement of the Concierto de Aranjuez, which is a guitar concerto by Joaquín Rodrigo. I grew up playing the violin and was a big classical-music nerd, and I remember them playing that specific version on pledge drives for the local classical-music station. I guess I wanted to listen to it more often? I bought the version I have, by the Chamber Orchestra of Europe with John Eliot Gardiner and Julian Bream, on November 25, 2005, I assume with an iTunes gift card some family member had given me around Thanksgiving — it would've been a month before my 13th birthday. My other early iTunes purchases included a bunch more classical music, including for some reason "Danse Macabre," before I finally started buying actual songs in 2006. I went for such hits as "Singin' in the Rain," "Comedy Tonight," "Seventy Six Trombones," and for some reason, the Who's "Pinball Wizard." Ah, to be young and in the closet! –-Jackson McHenry
Deerhoof, Apple O'
It seems that in November of the year 2003, I, a young and apple-cheeked college freshman, felt rich enough to buy an entire album on iTunes — a major expense for someone who earned literally zero dollars a year! The album that cost me $10 that I definitely should have spent on food or a better haircut? Apple O' by Deerhoof, randomly! I sorta wish it was something a little more foundational to my life, but still, this definitely checks out — for Western Massachusetts indie kids who dressed like but hated Seth Cohen, arty noise rock bands were the height of all creative expression. And you know what, I just revisited the album while writing this, and it turns out it still rocks. I regret nothing! —Ray Rahman
Fall Out Boy, "Dance Dance"
Date: January 9, 2006
January 9, 2006 (three days after my 15th birthday), I bought my first iTunes song, "Dance Dance" by Fall Out Boy. Honestly, very reasonable for the "feelings" I had at that age. That same day, I then went on to purchase three more songs. Two of which are much more questionable. "Overdrive" by Katy Rose totally makes sense; it's the ending-credit song of Mean Girls and still a bop. "Hear My Name" by Armand Van Helden (radio edit for some reason) and "How We Do (Ultrasex)" by Mount Sims however are terrible techno dance (I think?) songs that are crazy repetitive and probably too sexual for someone like high-school me, who had dozens of after-school activities. None of which were physical in the slightest. —Devon Sherer
Beyoncé, "Ring the Alarm"
Beyoncé, "Irreplaceable"
All American Rejects, "Move Along"
The Pussycat Dolls, "Buttons"
There are so many things about my iTunes account that I'd forgotten — including and especially the glowing review of The Shawshank Redemption I wrote when I was 14, which I will not quote here — but my first iTunes purchases, honestly, were perfect. The year was 2006, I was 12 years old and had $4 to spare for music for the pink iPod Mini I'd gotten a month earlier for my birthday. I bought "Ring the Alarm" and "Irreplaceable" by Beyoncé; "Move Along" by the All-American Rejects; and — my very first internet purchase — "Buttons" by the Pussycat Dolls. I remember sitting at the family computer to purchase this song, and then siting at the same computer just a month later when I was being scolded for listening to a song with so much erotic mouth-breathing as I ask Snoop Dogg to "say what you gon' do to me." I promised my mom that I wouldn't listen to it ever again, but of course that was a lie. —Hunter Harris
B.o.B featuring Hayley Williams, "Airplanes"
I bought "Airplanes" by B.o.B, featuring Haley Williams, after hearing it on the ride home from school when I was 13. It was a big deal because my dad was staunchly anti-in-app-purchases even though I could pay him the 99 cents. I was good for it! It became the only thing I listened to for weeks, I learned every single word, and I have not listened to it since. But I could probably still rap it. —Zoe Haylock
The Darkness, "I Believe in a Thing Called Love"
Date: May 11, 2004
In the spring of 2004, 18-year-old me was sitting in front of my PowerBook on the second floor of the Carson dormitory building at the University of Oregon. A quick Google tells me it was a Tuesday, and since that computer never left its Ethernet connection in my room, I'm sure I was sitting between our window and my bed at my crummy built-in desk. And for some reason, probably two weeks out from the last finals of my freshman year of college, I decided to make my first digital music purchase "I Believe in a Thing Called Love" by the Darkness. I do remember being super nervous, either because I was using my parents' credit card or because it was my first ATM card linked to the account, and I shopped online rarely enough for it to still be kind of scary and thrilling. Honestly, the song choice makes sense. I loved this song 15 years ago. I still love it now. And I have sang the high parts at karaoke so, so many times since freshman year. And to Erin, my dear and wonderful first-ever roommate, I hope I didn't play it too many times, or too loudly. —Jordan Crucchiola
Radiohead, "Nude"
Date: 2008
When I was asked what was the first thing I bought on iTunes, I had a hunch. That's because I honestly didn't use the service much in my youth. In high school, I used Napster (come at me, Lars Ulrich) and Limewire and two other illegal things I've forgotten the name of, and then in college I used a campus wide torrent thing that, come to think of it, was also probably illegal. This is all to say, I assumed the first thing I downloaded on iTunes wasn't going to be a song exactly. No, as confirmed from an old email deep dive, it was parts of a song. Five parts exactly. That song was Radiohead's "Nude." For those who don't remember, in 2008, after releasing their best (to my ears - art is subjective) album, 2007's In Rainbows, Radiohead launched a contest asking people to remix their most ooo-oooo-oooooooo-y song "Nude." And to help, they sold the "stems" of the track on iTunes. So, I paid the $4.95 and sat in front of my Garage Band for a few hours. By hour four I realized I didn't know what I was doing. I believe I just put the vocal ahhhhh-ahhhhh-AHHHHHHHs that come at the end at the beginning and made a loop of the sound of a water droplet hitting the bottom of my sink. There was no second stab at it. I didn't send it in to win whatever the prize was – probably a vinyl copy of the album. And yet, for some reason, I didn't win the contest. I never listened to the stems again. The second thing I bought on iTunes was Ted Leo's like reggae remix of Spoon's "Don't You Ever," in case you couldn't tell this whole time I was white. —Jesse David Fox
The Submarines, "Brighter Discontent"
Date: December 6, 2006
Back in the day, I loved the TV show Nip/Tuck. And I mean loved. To the extent that the day I screened the season four finale, featuring a full cast lip synch to the Submarines' "Brighter Discontent," I grabbed my laptop and purchased the song on the spot. The show's music was one of the many things that resonated with me about this soapy plastic surgery series that had the power to move. I'd never heard this song before that night but I became a big fan of the Submarines as a result. The show went crazy (or crazier) in the end but its soundtrack stands the test of time. —Maria Elena Fernandez