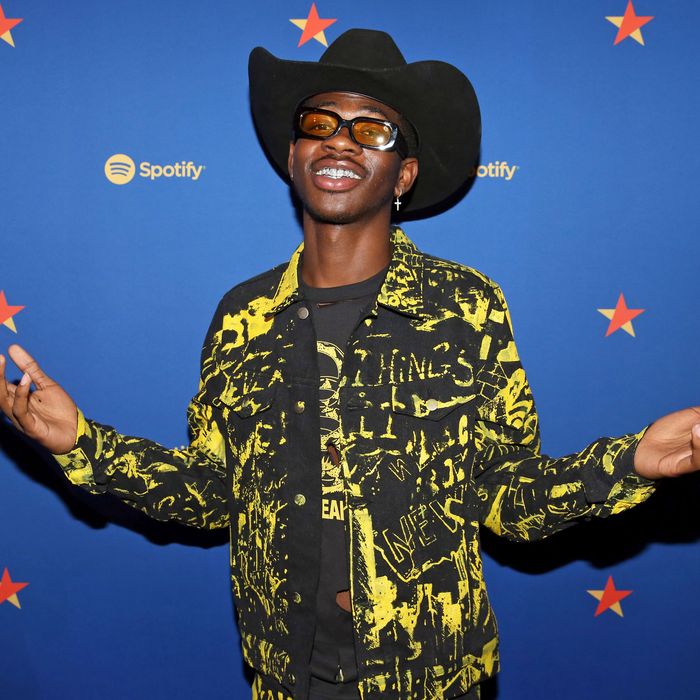 Will it be Taylor Swift? Shawn Mendes? Lil Nas X himself???
Photo: Terry Wyatt/Getty Images for Spotify
It's only June and Lil Nas X's "Old Town Road" could still end up being the song of the summer. By now, fans know how we all got here — the $30 beat, the gaming of SoundCloud's genre tagging, TikTok, the yee-haw agenda, the label deal, the Billboard controversy, the Billy Ray Cyrus cosign, etc. — but it still doesn't seem to make sense.
We're used to songs built on varying levels of gimmickry going from fun curiosities to inescapable successes. Then they quickly become the target of mass derision, and when the jokes about how overplayed the track is also get stale, the song disappears, destined to live on in ironic playlists and cable-TV decade retrospectives where B-list celebrities laugh and say, "Oh, that was so embarrassing" before singing the hook.
But, no, "Old Town Road" is still here — 12 weeks at No. 1 and counting — and while the freshness of it has worn off, few people seem to be sick of it. So why is this country-trap song such a lasting success, enough to block the likes of proven hitmakers Taylor Swift, Ed Sheeran, and Drake from No. 1, and how is it eventually going to get knocked off the Billboard Hot 100 throne? Some music history, science, and a few dashes of speculation may provide the answers about the hit we never saw coming — and staying — in 2019.
Strip away all the hype and lore surrounding "Old Town Road" and, like we saw with "Despacito" in 2017, it's a good pop tune. Perhaps not a masterpiece of songcraft, but all of its elements combine to form the type of earworm that won't drive you to drill a hole in your temple.
As the Telegraph explained in its scientific examination of "Let It Go" from Frozen, a song this catchy has a memorable, easily repeatable hook, broad appeal, and emotional complexity. With "Old Town Road," you get that in the "I'm gonna …" refrain and "can't nobody tell me nothing" chorus, plus the easy-to-repeat five- and six-syllable lines in the verses. The banjo-based trap beat mixed with the alternating country warbling and deadpan bars keep it interesting to the listener, but it's not chaotic to the point of grating on you. The melody is simple enough in its range of notes that anyone can hum or shout along to it, no matter how vocally challenged — that's part of the reason those elementary school kids went nuts over it.
Lyrically, the cowboy imagery and straightforward tale of hope and defiance set it apart from most of its pop-tune peers in that it's not all super-positive, "let's have fun, yay!" messaging. It has a relatable sentiment (though, of course, we hope no one's really connecting to "lean all in my bladder"). Plus, at under two minutes (or 40 seconds longer for the Billy Ray Cyrus remix) it's really short, so it never wears out its welcome and is optimal for multiple plays over the course of a party.
The other brilliant piece of pop engineering on the part of the 20-year-old rapper and his label was getting Cyrus. More than just a "fuck you" to Billboard for denying it a spot on the Hot Country chart, the veteran singer's presence makes it more palatable for genre diehards and the older crowd. Usually, hits like these getting co-opted by parents, grandparents, politicians, and marketers is a sign that the song is deader than Facebook, but going the all-ages route early on absolutely extended its lifespan. Had they discovered it only after it was No. 1 for a month or so, we probably wouldn't still be analyzing it right now.
Of course, "Old Town Road" will inevitably fall off. Lil Nas X might be able to disrupt the music industry and social media, but he can't disrupt the human brain. As studies have shown, we're wired to find joy in discovery and then comfort, but eventually, those returns diminish and we seek out something new to go through that cycle again. The music and lyrics of "Old Town Road," despite having all those easily digestible and memorable qualities, will eventually just not be enough to satisfy us at this level forever. But that's not the only reason why it can't last.
Record labels, even Lil Nas X's Columbia, know that the public will move on from a single sooner or later, hence all the calculated moves they'll make to get their acts atop the song and album charts. Sometimes, that will entail resorting to bundling, as we saw with DJ Khaled and his failed attempt to get to No. 1 by selling Father of Asahd along with energy drinks. Or the companies will go a more traditional route, like getting a song placement in a Trolls-like movie or soft-drink commercial, a proven strategy that leads to more plays on the radio, at sports games, as the buffer music for morning talk shows, etc.
Interestingly enough, Billie Eilish's "Bad Guy" was the closest chart competition to "Old Town Road" last week — on Spotify's June 20 chart, it had just over 5 million plays to Lil Nas X's 5.2 million — becoming more of a long-tail hit considering it came out almost three months ago. (This week, she's No. 3 on the Hot 100 with 43.8 million streams, up 13 percent, and 21,000 in digital sales.) At its heart, it's a dance song, a dark Lorde ditty perfect for parties and movie trailers, but most important it's something a little different, something fresh. Also playing a part in that success are record labels: Even though they're always looking for the next hit, they allow songs to build and linger on the charts longer than they did a decade ago, when they used to rely on singles as a means to sell albums, as opposed to now, when songs can just exist on their own. (Notably, "Bad Guy" is Eilish's biggest single yet, but it's also her debut album's fifth single; further playing the long game, her debut is now projected to challenge Lil Nas X's new 7 EP for No. 1 on this week's Billboard 200 some three months after she first topped that chart.)
This week, however, features two huge challengers: Taylor Swift's "You Need to Calm Down," which debuted at No. 2 on the Hot 100, and Shawn Mendes and Camila Cabello's red-hot "Señorita," with over 7 million global Spotify streams on June 24. (It will enter the charts next week.) Swift's single led the digital-sales songs chart with 79,000 copies sold, while "Old Town Road" had 59,000, a drop-off of 16 percent from the prior week. Lil Nas X also dropped 3 percent in radio impressions, with 95.8 million, good for third place, but maintained his streaming dominance even with a slight 8 percent dip from last week to 91.6 million streams (Taylor, by comparison, had 39 million).
Overall, Swift is the closest threat he's had in two months, according to Billboard: "'Road' outpaces 'Calm' by a less than two-to-one points lead on the Hot 100 (1.8 to 1), after eight weeks of 'Road' outperforming its closest weekly competition by such a wide margin." The only track to outdo its No. 2 competition by that point differential for a longer period was Whitney Houston's nine-week run with "I Will Always Love You" almost 30 years ago. All in all, the money's on Swift to overtake Lil Nas X, but Mendes and Cabello could be a surprise winner if it gets enough radio support. If either Swift or Mendes topple "Old Town Road," though, it'll be on their second attempt: "OTR" previously denied Swift a No. 1 for "ME!" and kept Mendes's recent solo single "If I Can't Have You" at bay; both peaked at No. 2.
In the immediate future, it's almost guaranteed that "Old Town Road" will stay up top now that Lil Nas X has released his debut EP, 7. Its second single, "Panini," which is comfortably in Spotify's Top 10 today with over 3 million streams, is more complex and moody than "Old Town Road" so it won't have the same broad, multigenerational appeal, and he already sidestepped any business-side controversy by giving Kurt Cobain a songwriting credit on it. While that's an interesting news tidbit on its own, it won't garner the same kind of press as the Billboard mess.
It remains to be seen how "Old Town Road" fans will respond to the EP and Lil Nas X's attempt to show people he's got real talent as opposed to being a yee haw–exploiting flash in the pan. Unless there's a shocking uptick in "Panini" sales and streams, he won't pull off Drake's 2018 feat of replacing himself at No. 1, which happened when "Nice for What" overtook "God's Plan" on the strength of 88,000 downloads and 60.4 million streams (and then "In My Feelings" overtook "Nice for What"). (Hell, even 2019 Drake hasn't matched 2018 Drake's numbers; his new single, "Money in the Grave," debuted this week at No. 8, and the Chris Brown song featuring Drake, "No Guidance," debuted at No. 9 last week.)
But Billboard predicts the streams of the EP will still be massive, and thus "Old Town Road" will get that many more plays, so it's not going away anytime soon. Chances are the other tracks on 7 won't find that incredible success or have the same staying power, if the initial unfavorable reviews and solid-but-not-groundbreaking Spotify numbers are any indication. Then again, this is Lil Nas X we're talking about — nobody saw all of this happening at any step of the way, so who's to say it won't happen again?