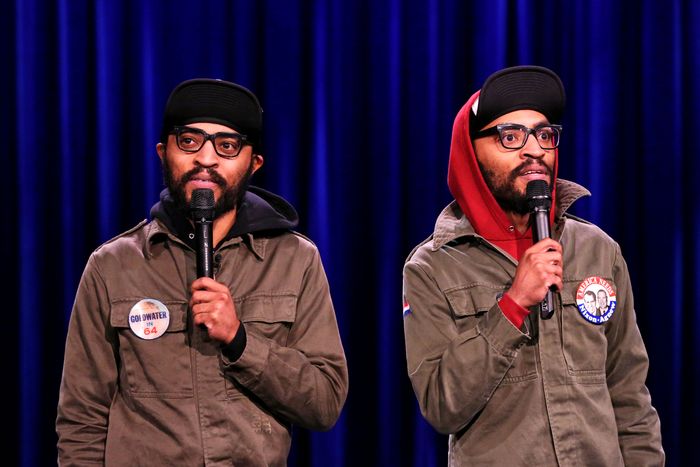 The Lucas Brothers.
Photo: NBC/NBCU Photo Bank via Getty Images
Go to a comedy show these days and you're likely to see something that was once reserved for concerts: fans holding up their phones, filming parts of the set. Go on Instagram later that night or the next morning, and you're likely to find those snippets, shared by the comedians themselves in their Stories, available for a 24-hour run of posterity.
For many comedians, mostly up-and-coming, it's an opportunity to connect with fans more directly, get or give a boost to a wider audience, log which parts of their sets are clicking with audiences or need more work, and simply make people laugh. Of course, like all social media, it can lead to feelings of inadequacy when good material only gets a handful of views and likes, and to that existential question, If I don't keep posting, will people remember I'm alive?, but mostly, they view it as an asset.
"There's a traditionalist route where you've got to protect your material at all costs and then there's this new way of thinking, which is like, 'Open up the process and let people see what you're doing,'" Keith Lucas, one half of the Lucas Brothers, tells Vulture. Adds Kenny Lucas, "There was a degree of suspicion or apprehension on the part of many comedians with regards to social media. I didn't trust that comedy can be conveyed in its proper context in such a fragmented, poorly shot way. And I was wrong."
The Lucas Brothers and many of their peers represent a surprising paradigm shift in the world of comedy, where many A-listers have been adamant that nobody use their phones during shows, either to distractedly text or record the act. Many comics don't want their sets out there for fear of spoiling future live shows or taped specials, and others want some room to fail, whether it's because they're trying out new concepts or telling some outrage-inducing jokes that will go viral.
Dave Chappelle was one of the earliest adopters of Yondr pouches, the small cases that magnetically lock audience members' mobile devices during shows. New York's famed Comedy Cellar and Gotham Comedy Club now use them. Ali Wong, Hannah Gadsby, and Kevin Hart are just a few others who've instituted Yondr policies. It's also a go-to move for comedians who are on the comeback trail after #MeToo scandals. Aziz Ansari had them during his shows in 2018, following an accusation of inappropriate behavior with a woman. Louis C.K. went even further: In the fallout from the leak of a set where he made fun of the Parkland school shooting survivors and nonbinary people, he instituted a copyright policy that prevented audience members from reproducing any parts of his act in "any form, media, or technology" without his prior consent.
But many comedians have answers to all the concerns about cell phone recording. Few actively encourage it — "I've never said, 'Pull out your phones and record our set,'" says Keith — and most find that audience members do it respectfully. "If someone was bothering me or getting too close, I would just say, 'Stop,'" says Catherine Cohen, who hosts the weekly show Cabernet Cabaret at New York's Club Cumming. "If you say 'Don't,' then they usually won't. I always want people to share my work. I just don't see the harm in it."
What's especially helpful about Instagram's Story feature, which launched in 2016, is that it's up to the comedians to choose what they share. "You're in control of it," says Rachel Sennott, a fellow New York comedian. "It sucks if someone tapes you in a weird in-between part of your joke — then it just sounds like you're bombing. If it's a bad or weird clip, I would either turn the sound off or I won't add it. But it's fun when other people are taping, instead of putting up my own video of me doing stand-up. It's more natural." Cohen, meanwhile, won't add videos of songs she's already shared multiple times. "But usually if I look good, I'll just post it," she says, laughing.
Discovery is obviously the biggest boon to having performances shared on Instagram. Sennott says Cohen, Mitra Jouhari, and Patti Harrison have all helped her career by sharing parts of her sets. "We've been introduced to so many other young comedians because of this," says Keith Lucas. "Before, you had to go to the club to scout and ask people, 'Who's hot?' Now with Instagram, we're able to just watch a bunch of them and see who's doing great work." New York's Lorelei Ramirez sees it on a more practical level: "People seeing you working always helps in some way. They book through all social-media apps, so it's just an easier way of getting ahold of someone if you don't see them in person."
Sarah Squirm, who leads Chicago's Helltrap Nightmare, is less enthusiastic about social media in general but still sees the benefits of the "evil" Instagram. "I hate being beholden to it, but we don't live in a capital-I industry town," she says. "We don't have Comedy Central or Viacom three blocks away. It's good for people getting the vibe of our show. It's very visual — we describe it as 'Peewee's Playhouse of gore, horror, and comedy' — and if you're scrolling through your feed, you might stop on our poster of a rainbow-squirting ball sack. It's like a built-in trigger warning. You do it and then you get people coming to your show in Richmond, Virginia."
On the flip side of that is Gabe Gundacker, a Los Angeles–based comedian who writes for and stars on Showtime's Our Cartoon President. His schedule keeps him from performing as much as he used to, so his Instagram Stories allow him to get his ideas out without the stress of doing them live. "A lot of us do feel we have the chance to perform any time we use our phone," he says. "I like that there's not a lot of pressure to have it be totally formed. Comedy is always funnier when it feels messier. If it's something really, really stupid and small, then I put it on the Story, and you can add layers to it hours later, like a 24-hour narrative. It's playful and fleeting."
In that sense, the Stories are beneficial for the comedians as they work on new material, giving them a visual journal of a bit's progress. "It's helpful when someone captures a riff or something off script," says Cohen. "I'll see it the next day and be like, 'I forgot about that. I should say that again.'" She and Sennott both agree that the presence of phones doesn't make them shy away from experimentation. "I wouldn't specifically say, 'Don't tape it,' but if I'm doing new stuff, I'll kind of let them know," says Sennott. "Even with that, I've never experienced anyone taping me for more than ten seconds, so you can only get so much on there." Ramirez agrees, saying, "My sets are never exactly the same anyway, so I don't care. I say, 'Film me until you can't. I don't care.'"
The Lucas Brothers are also fans of having their stuff out there in different stages of readiness. "A joke is never really complete," says Kenny. "Social media allows for comedians to embrace that more dynamic process of telling jokes." Adds Keith, "You've seen the rise of podcasts for comedians. People are enamored with the process itself. This is just an extension of that." "And if you put a time stamp on it, it's less likely to be stolen," Kenny points out.
They're even ecstatic about the fact that people can come to their shows knowing their material before it's been released in a special. "And it didn't stop them from enjoying the joke," says Keith. "Sometimes they even enjoy them more. And ever since we started posting about PTSD and depression, we've been able to engage in conversation with fans about it. By putting it out there, it gives people a chance to be prepared for what we're about to say and ultimately engage it on a deeper level. We were in Philly last year and a couple, they'd just lost their son. They were talking about the depression they had and they said they saw our stuff online and they came through and we talked to them about it. It's insane how many people you can reach utilizing social media and use your comedy to spark conversations."
All seven comedians agree on two points. First, that Instagram and social media play an unhealthily outsize role in our lives. "Does it impact work productivity? Sure. But maybe work is part of the problem," says Keith. But they also know that as a tool to propel comedy — not just their own, but the art in general — it's invaluable, no matter what the traditionalists might say.
"I don't think it's ever been like that before in the history of stand-up, where you could do a real quick set, post it to however many followers on the app, and get their response in seconds. It's unreal how fast your material can travel," says Kenny. "That's beneficial to all comedians. Before, it was so localized — you were dependent on bookers or on TV stations to get your material out on a global scale— and now you can just do that yourself. It's really a paradigm shift. There's no other way to phrase it. It's a true revolution, and what's going to happen is that more voices are going to be heard."