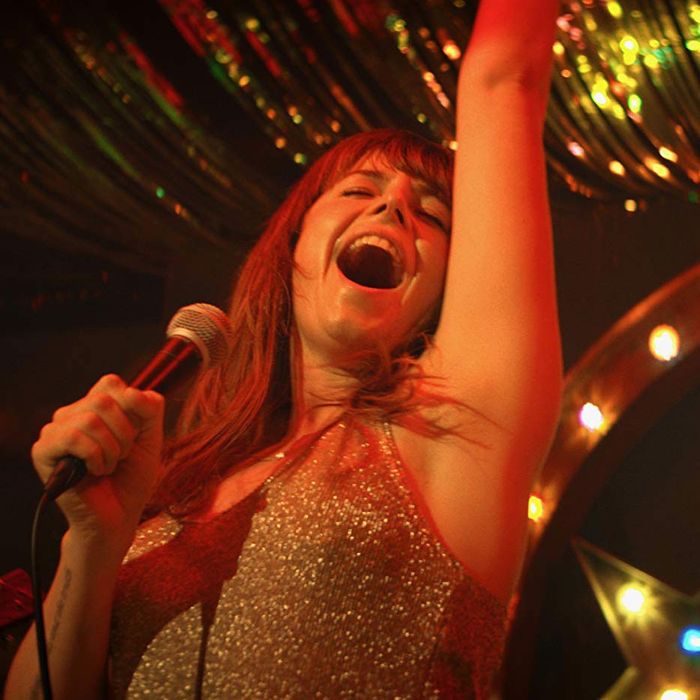 This might seem corny, but so is a lot of country music, and being corny doesn't make it untrue: When, in the film Wild Rose, the lying, foul-mouthed, unstable, Glaswegian derelict single mother and ex-con Rose-Lynn (Jessie Buckley) begins singing "Country Girl" or "Peace in This House" on the stage of Glasgow's own Grand Ole Opry, a kind of spiritual nobility settles over her. All at once, she's centered, producing sounds that aren't her but aren't not her, because they come from somewhere she can access only when she listens to Patsy Cline, Kitty Wells, or Bonnie Raitt, when her sadness and fear and longing to know who she truly is find their purest expression. She even has Harlan Howard's famous definition of country music — "three chords and the truth" — tattooed on her forearm. Arriving at Rose-Lynn's particular truth is a little more complicated, though. She thinks she should have been born in America and ought to be pursuing her dream in Nashville, and she assumes that the two kids she had before she was 18 — the sad-eyed, mostly silent 7-year-old, Wynonna (Daisy Littlefield), and the mostly angry 4-year-old, Lyle (Adam Mitchell) — will be fine with her mum, Marion (Julie Walters). Rose-Lynn is so focused on the world elsewhere that when she isn't singing, she's barely in the here and now.
Directed by Tom Harper from a script by Nicole Taylor, Wild Rose has more than three chords, but the impulse is to keep it plain. As drama, it has the straight-ahead quality of a music biopic, and I'll admit that, halfway through, I wondered if this wasn't the real story of how the astonishing Scottish country singer Jessie Buckley got out of prison, was discovered, and made the records we all know and love. With some chagrin, I discovered that I'd seen the chameleon Buckley many times before (most recently in the psychological-horror film Beast and the HBO series Chernobyl) and that she's Irish born and has never made a record. She certainly could make records, though, country and otherwise. (The Wild Rose soundtrack is first-rate.) Buckley's Rose-Lynn has a "classic" country voice — warm, slightly ragged chest tones that make the leap to high soprano with just a touch of effort, so you feel the cost to the singer and share in her triumph. Glaswegian she may be, but she earns the right to wear those fringed short dresses and white cowboy boots.
The movie has a tricky arc that moves it firmly out of the "Go for It" subgenre. Wearing an ankle-bracelet monitor that keeps her at home from 7 p.m. to 7 a.m., Rose-Lynn gets a job cleaning a house for a wealthy family. The kids hear her singing while she vacuums (she has just sneaked part of a bottle of high-end single-malt whisky) and tell their mother, Susannah (Sophie Okonedo, who takes a big-sisterly interest in introducing Rose-Lynn around and fattening her coffers for a longtime Nashville residency). She even hooks Rose-Lynn up with longtime BBC Two country DJ "Whispering Bob" Harris, who plays himself and tells her pointedly, "You do have a voice. What do you need to say?" The implication is that Rose-Lynn could go on singing other people's stories but that her own journey could open up even more aspects of her artistry. In the movie's construction, that means she'll have to stop running away from the children who need a loving mom.
Harper and Taylor push the guilt and pathos hard, meaning that every time Rose-Lynn needs to perform or rehearse for a major gig, it involves breaking promises to her exquisitely vulnerable daughter and the son whose bond is deeper with his grandmother. Schematic is the word for this kind of structure — but it's also how many country songs work (the road versus family and true love), and Buckley builds the struggle into her performance. She's brilliant, at times uncanny. You don't want to take your eyes off her for fear of missing some revelatory instant in which Rose-Lynn's spitfire confidence (bordering on arrogance) collides with her insecurity. You know what landed Rose-Lynn in prison — she's always one step away from losing control.
The whole of Wild Rose isn't up to her performance, but it's a great pedestal, and Harper shows skill and sensitivity with the kids and the supporting actors, many of whom are actual musicians. Walters doesn't let the character of the mother settle into easy moralism. Marion wants her daughter to face up to her responsibilities but not kill Rose-Lynn's hope of being liberated by her art. The script sets you up for a fairy-tale resolution, then wisely yanks it away: good fake-out, better — richer — punch line. The final sequence dodges (or elides) many of the movie's central logistical dilemmas, but the song ("Glasgow," written by Mary Steenburgen, Caitlyn Smith, and Kate York) and the performance are so rousing it almost doesn't matter. Like the best country music, the movie finds its own kind of truth.