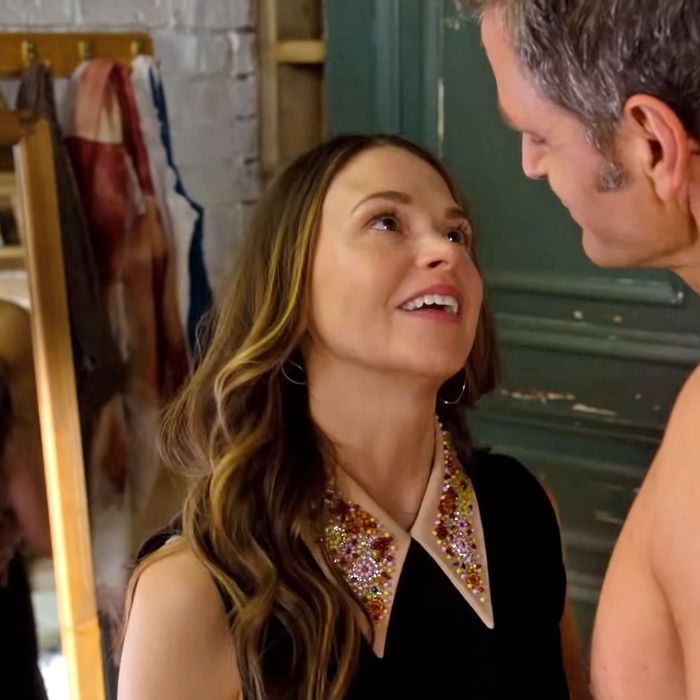 Liza (Sutton Foster) and Charles (Peter Hermann) getting a little closer in season six.
Photo: TV Land
Younger should either consider ending its run after one more season or keep going for the next decade. After watching the first two reviewable episodes of the sixth season, back again on TV Land starting Wednesday night, I honestly can't decide.
On the one hand, the primary conflicts driving the story of undercover Gen X–er Liza Miller (the endlessly appealing Sutton Foster) have lost a little of their urgency at this point in the story. That Liza merely pretended to be a millennial (she's actually in her 40s) in order to reenter the book-publishing industry is now a known fact to several key individuals, including Kelsey (Hilary Duff), Liza's close friend and colleague at the publisher formerly known as Empirical and now renamed Millennial; Charles (Peter Hermann), the former head of Empirical who gave up his job for the sake of his now openly romantic relationship with Liza; and Quinn (Laura Benanti), the author who has invested a substantial amount of money to save Millennial from certain death. Also, as implied above, the love triangle among Liza, Charles, and Josh (Nico Tortorella) now feels fully resolved. Liza and Charles are officially a thing in season six, and, despite the less-than-certain looks on their faces at the end of season five, they seem happy … for the first two episodes, anyway. Plus, Josh is gearing up to become a dad to the baby he fathered with his Irish wife Clare (Phoebe Dinevore). So case closed, right?
This being Younger, I mean, probably not? But even though the series starts on a less instantly tense note than last season, it's still just as enjoyable. Six seasons in, Younger remains a fizzy New York fantasy that's light without sacrificing its intelligence, a pleasure that comes with no residual guilt whatsoever. Its cast is still charming and fully in command of the show's snarky-to-poignant tonal shifts. And it still presents a publishing industry that, while struggling, somehow enables everyone in its orbit and their friends to go to cool parties or bars seven nights a week. This season, for example, we are treated to Foster, Duff, and the sublime Miriam Shor, who plays book marketer extraordinaire Diana Trout, singing Dolly Parton's "9 to 5" during a night out at Marie's Crisis. In the second episode, rounds of epiduri-tinis are served at a baby-gender-reveal party where the hosts acknowledge that gender can be nonbinary. Which raises the question: What's the point of even having a gender-reveal party? (The answer is that there is none. I have no idea why people do this.) But eh, who cares? Epiduri-tinis for everyone!
While Liza's big secret is mostly out in the open, it's important to remember that there are some key parties still in the dark, including Diana, Liza's former boss, and the public at large, which may be strategically informed in the near future. Series creator Darren Star and the Younger writers have taken their time fully unraveling Liza's lie, which means there are still some reveals and reactions that are very worth sticking around to see. And while Liza and Charles are all kissy-kissy, Josh still seeks Liza out for newbie parental advice and throws enough meaningful glances her way to think that something still simmers between them. There are also hints that perhaps Charles isn't totally out of the publishing game yet, which could create competition between him and Liza, who already feels caught between the former head honcho and the new one, Kelsey, the actual millennial.
Younger certainly has some notable flaws, a biggie being that Zane (Charles Michael Davis), Kelsey's sometime rival and sometime love interest, is one of the rare characters of color in a New York City that is disproportionately white. The show also struggles at times to keep characters peripheral to the publishing world, especially Debi Mazar's Maggie and Molly Bernard's Lauren, connected to the action.
Still, Younger does a more effective job of making viewers forget their trouble for 25 minutes than most other episodes of television do. In the summertime, especially, that's an enormous selling point. TV is a lot of things these days: overwhelming, thought-provoking, buzzy, conversation-generating. But it's also supposed to be fun, and, six seasons in, Younger is still very much that.