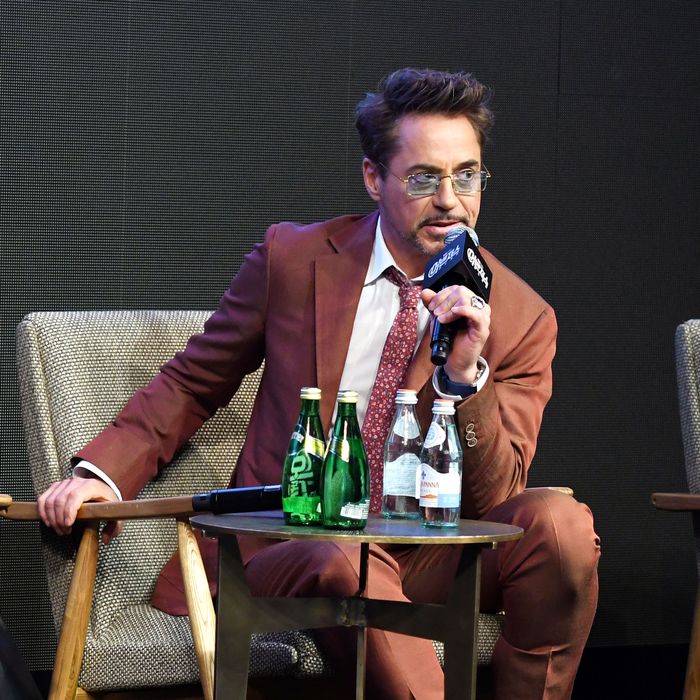 RIP
Tony Stark
, one of the many characters we probably
won't
be seeing at this year's Comic-Con.
Photo: he Chosunilbo JNS/Imazins via Getty Images
July in San Diego means Comic-Con. One of the world's biggest fan festivals kicks off Thursday in Southern California. But ahead of this year's gathering, fans have been speculating on the small number of major movie players filling the convention's storied venue, Hall H. In 2019, there will be no heroes from the DC cinematic universe in attendance, no Deadpool, and no new fantasy epics from Legendary. Those scheduling holes have made room for more TV than usual, with Netflix seeming only too happy to fill the vacuum with a pair of its own heavily anticipated fantasy projects. Regardless of which studio is staying home this year, there will probably be no short supply of special trailers and teases of what's to come in the genre over this year and beyond. Here are Vulture's 15 biggest questions going into this year's SDCC.
What will we see from Marvel?
Disney has its own built-in, back-patting party in D23, which is happening later this summer, so it's mighty generous of them to return to San Diego after a 2018 absence to give fans something to scream about. (Almost none of the other major movie studios will be on hand to trot out their wares, so why not show up to dominate an open field?) In vague details, we know that Disney will bring out "surprise panelists" at SDCC and provide "an inside look at the ever-expanding Marvel Cinematic Universe," presented by Marvel Studios chief Kevin Feige. But will Angelina Jolie and her fellow Eternals surface? Will Feige talk about the Black Widow solo movie? How much will we learn about the post-Endgame Phase Four plans? (Are new movie logos on the horizon?) Considering we are in fresh MCU territory for the first time in a decade, this year's Marvel panel could be a cornucopia of new information.
Will CBS announce even more Star Trek programming?
Last year at Comic-Con, Alex Kurtzman announced a series of Star Trek web shorts, and since that time the Star Fleet ranks on CBS All Access have grown to include Lower Decks, an animated series, and the highly anticipated Star Trek: Picard, starring Patrick Stewart. Presumably, the network will be rolling out new footage of Picard in Hall H. (Will we learn more about the incident that drove Jean-Luc into self-imposed exile?) But Kurtzman could unveil more programming, too. When the studio signed the producer to a huge contract extension, building out the Trek franchise was presumably a big part of his development deal. And the panel is titled "Enter the Star Trek Universe." So how far will the CBS universe extend? And what else will we see of Star Trek: Discovery?
Will The Witcher give us promising first footage?
Henry Cavill's Instagram is one of the most earnest corners of the celebrity internet, and it's where he's been hyping Netflix's The Witcher. The first looks he and the studio have shared so far are definitely something, but will Netflix release footage to rival the image of Cavill's dramatic platinum wig? Every massive content provider wants their very own Game of Thrones, and Netflix might hope Witcher is their play for all those fantasy fans looking to fill the Jon Snow–sized hole in their hearts. Can they make believers out of us with a mighty Comic-Con sizzle reel? For the sake of the hardworking wig and wardrobe departments, let us all hope so.
What will we learn about the fourth and final season of The Good Place?
On the one hand, it sucks that The Good Place has a definite end date, but on the other, it is refreshing that the minds behind a hit show want it to wind down when it's at the top of its game. All your favorite chili babies will be on hand for the panel, but will Mike Schur and his Soul Squad be willing to share specific information about his show's last hurrah? Will there be a new trailer, or perhaps a clip? We'd love to know how Eleanor is coping with losing Chidi (or rather, with Chidi losing everything) after the end of season three. And how many Janets will season four gift us? Give us the goods, Mike!
Will AMC give more details about The Walking Dead movies?
If it weren't for Kevin Smith, Walking Dead might well be the undisputed king of Hall H. The show has been packing in Friday crowds for almost a decade now, and its branding is always the most ubiquitous of any show or movie at SDCC. Last year's big Dead to-do was Andrew Lincoln saying farewell to fans and confirming his departure from the show, but we've learned since then that Rick will return for multiple proposed Dead movies. Danai Gurira, who will once again be present for this year's panel, has also announced her series exit, but will we learn that Michonne and Rick will reunite for the features? Since the cancellation of Lauren Cohan's Whiskey Cavalier (RIP), Dead showrunner Angela Kang has said they are "working on" a possible return for Maggie. Even after ten seasons, this could be a very newsy Con for AMC's crown jewel.
How will Batwoman land with fans?
The announcement of Ruby Rose taking on the role of Batwoman within the DC small-screen universe landed with a big kaboom. She looks right at home in the winged suit as the heiress-by-day and crimefighter-by-night, Kate Kane, but being the first gay titular hero in the CW's super-lineup is a big deal, and expectations and buzz are both running very high. The Batwoman pilot will air and be followed by a Q&A on Saturday morning, where Rose can bring her demonstrable swagger to the fans for the first time. From the first announcement to the first-look photo, it feels like Batwoman's debut has been anticipated for a lifetime already, and now we'll finally see if Greg Berlanti's newest super can stick her first landing at Comic Con.
Will Amazon finally share details about The Expanse?
Last May, Syfy canceled its critically acclaimed series The Expanse, but fans rallied and Amazon execs apparently believed in the show enough to give it a second life at the company. Since then, we have heard very little new information about the revived space epic and its continuation on Amazon Prime. The third season ended on a huge cliffhanger, but the panel description promises an "early look" at season four and mentions "news from beyond the Ring Gate." So will we at long last get to see more of what's on the other side of that really pivotal wormhole portal? Will the look of the show be different now that it's got Amazon resources behind it? And will we get an official release date? The whole core cast will be present to discuss.
How much more will be revealed about Westworld III?
The brief teaser that HBO released for Westworld season three felt very different from what we've come to expect of the show. The park is gone (or maybe it's another park modeled to look like the outside world?!) and Dolores (Evan Rachel Wood) is lurking in shadows. But what is Aaron Paul's character doing? What is everyone else doing? One of the most mysterious shows on TV doesn't return until 2020, but season two aired all the way back in 2018. Give us something more to go on, HBO!
Will the Snowpiercer panel address production troubles?
The Snowpiercer TV show, based on the 2013 movie by Bong Joon-ho, was first announced back in 2015. Josh Friedman worked on the pilot for years, it went into production and was even directed by Scott Derrickson, but then Friedman left the show (saying he was pushed out) and Orphan Black's Graeme Manson took over. Friedman publicly insulted his successor via subtweet for not reaching out after taking over the show, and Derrickson tweeted that Friedman's original pilot was so great and Manson's changes to it were so substantial that he refused to return for reshoots. But now here we are in 2019, and Snowpiercer is finally on its way to premiering on TBS. Comic-Con is a friendly space, but given the show's massive delays and very public troubles, will Manson and the cast — which includes Daveed Diggs and Jennifer Connelly — be able to get through a whole panel without addressing the drama?
How much more It: Chapter Two is New Line willing to show off?
New Line's ScareDiego event, in which they tease movies from their horror slate, has become an early schedule staple at Comic-Con. This year the company is bringing new looks at It: Chapter Two, which carries with it high hopes after Chapter One made a record-breaking amount of money for the studio. Will we get a sense of whether or not Chapter Two is willing to go dark enough to honor its Stephen King text and kill off Stanley Uris (Andy Bean), or will they pull the punch? All eyes are on the Losers Club.
What will the Riverdale panel be like in the wake of Luke Perry's death?
As always, there is a lot going on in Riverdale, what with the time jump and Hiram Lodge (Mark Consuelos) in jail and so on, but any narrative drama takes a back seat to the tragedy of Luke Perry's untimely death earlier this year. Riverdale rapidly grew from a mid-tier room assignment to a Hall H event at Comic-Con in a very brief time, and while it is a venue for good spirits, the absence of Perry will be a hard reality to shake. How will the cast cope, and will there be a special remembrance for Perry? We'll see.
Will the Game of Thrones cast acknowledge the final-season controversy?
HBO's decision to bring Game of Thrones to Comic-Con was something of a surprise, considering it just ended for good. Then again, the series has been a hugely popular Hall H appointment for years now, so why not go in for a swan song? Considering the widespread discontent among fans regarding the final season, though, it's not exactly a clean victory lap. The cast members on hand will no doubt be greeted by a friendly and enthusiastic crowd, but will any of the players share a candid opinion about the controversial ending? The cast on hand — which does include Maisie Williams, Isaac Hempstead Wright, and Nikolaj Coster-Waldau, but not Emilia Clarke, Sophie Turner, or Kit Harington — will almost definitely be peppered with audience questions about who they think should have ultimately ruled Westeros, but now that the job is done, will any of them dare to be honest? Let's hope so! The checks have been cashed.
Will we learn anymore Endgame secrets from the Russo Brothers?
Joe and Anthony Russo are getting a whole hour to themselves in Hall H to talk about Endgame, their work on the MCU, and what their production company AGBO has in store for the future. The brothers gave an in-depth interview to the Times about their final, massive Marvel installment after the movie debuted, but with potentially thousands of fans sitting in front of them, might they have saved a few more morsels about the making of their epic to share with the Con crowd?
How are Rick and Morty going to follow-up their breakout third season?
Dan Harmon's Rick and Morty has had a rabid following from the start, but it passed a new threshold of cultural permeation with its Emmy Award–winning third season. It seemed like the show was on shaky ground when renewal news didn't come soon after season three ended, but it probably just took a while to draw up the huge 70-episode renewal that was eventually announced. Since the show typically has ten episodes in each season, fans could be looking at seven more years of Rick and Morty, so how will Harmon and his co-creator Justin Roiland welcome fans back this fall when their long-term contract is finally christened? And will we actually get to see some of the new work in San Diego?
Which studio will "win" Comic-Con?
In a way, this year's Comic-Con is defined by absence. No Warner Bros. in Hall H means no big-screen DC properties, despite the fact that Wonder Woman 1984 and Joker are both on the horizon and hot-topic James Gunn is assembling his Suicide Squad. (Margot Robbie could probably host her own panel on all things Harley Quinn at this point.) There's also no Legendary, no Universal, and no Fox, perhaps since they're now part of Disney. Those studios account for the majority of what was formerly movie Saturday in Hall H, so who will be the biggest headline generator this year? Marvel took off in 2018, but is set to totally dominate in 2019, unless Paramount and Terminator: Dark Fate deliver something truly spectacular. Netflix has also seized openings on the main stage to debut first footage of Dark Crystal: Age of Resistance and The Witcher. Whatever Kevin Feige has in his bag is the presumed favorite for most buzzed-about news, but if HBO or Netflix can bring enough heat to unseat him, that would be a big Comic-Con coup.