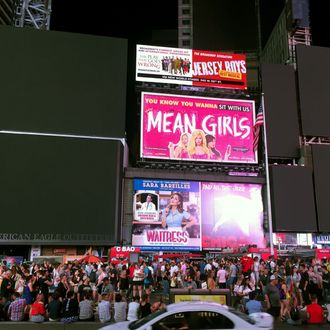 Photo: THOMAS URBAIN/AFP/Getty Images
Wow, the one time you'd actually want to be trapped in Times Square has arrived. A large power outage hit Manhattan Saturday evening, affecting parts of midtown Manhattan into the Upper West Side as of 7 p.m. According to Con Edison, approximately 42,000 customers lost power, including the paying customers attending tonight's Broadway performances.
Rather than let their audiences shuffle home in silence, however, casts from musicals like Hadestown, Come From Away, and Waitress, as well as performers who practiced all the way to Carnegie Hall, decided the show must go on and took their talents to the street. Really, isn't it moments like these that make sweating through the New York summers worth it? Honestly, maybe the power should go out more often. (This is a joke, please God, do not strike down our air conditioning.) If you have the bad luck of being stuck somewhere cool and illuminated, check out some of the 2019 New York City blackout festivities below.
Over at Madison Square Garden, the attendees at Jennifer Lopez's concert were also evacuated. Seems unlikely she'll perform on the sidewalk (the potential for heatstroke alone!), though if anyone can still surprise us, it's J.Lo.
Update: And the best moment of all, the collective cheer as the city started to regain power later in the evening.