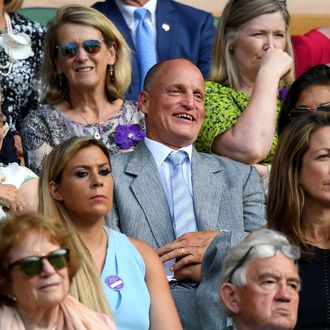 Photo: Shaun Botterill/Getty Images
The gracious director and announcers of Saturday's Wimbledon coverage realized early (and often!) that they had the gift of Woody Harrelson in their audience, which resulted in the telecast cutting to the Zombieland: Double Tap actor's reactions no fewer than one hundred billion times throughout the day, something Twitter quickly took note of. For example, there's the moment a Wimbledon security guard temporarily blocked Woody Harrelson from returning to his seat, and he had to sort of hang out, drinking, in a stairwell for a while.
Or the time Woody Harrelson was on his phone, or when he was doing whatever this is.
But cutting to Woody in the stands did more than offer a perfectly random through line to the announcers' banter. It also helped summarize French doubles player Nicolas Mahut's Wimbledon experience, which involved the tennis pro being absolutely nailed in the face with a ball.
Which you think would be enough, but no. Against God and Woody Harrelson's will, Mahut subsequently took another shot, directly to the groin. To add insult to two injuries, he and his partner Edouard Roger-Vasselin would eventually lose to Colombia's Juan Sebastian Cabal and Robert Farah. In the end, Woody's face says it all.