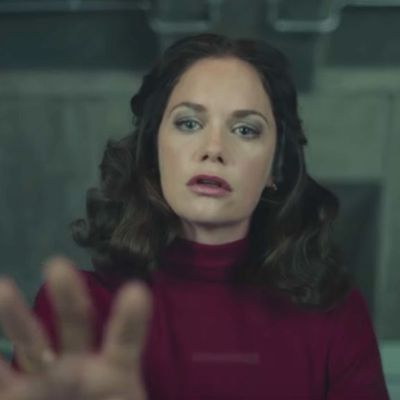 To judge by the trailer that dropped at San Diego Comic-Con's cavernous Hall H Thursday evening — and the rollicking conversation among the cast and showrunners that followed — the HBO-BBC co-adapted series of novelist Phillip Pullman's globally beloved trilogy, His Dark Materials, looks to mine a particularly rich vein of fantasy. Specifically, an anti-authoritarian coming-of-age fantasy encompassing talking animals that physically embody their human counterparts' souls, a mass child-kidnapping plot, exquisitely lush faux-Victorian production design, a cowboy in a hot-air balloon, and vivid characters whose motives for behaving the way they do begin as one thing but end up somewhere quite different.
The show's plot and characters are already deeply ingrained in the imaginations of millions of fans who made Pullman's books worldwide bestsellers many times over, so showrunner Jane Tranter and writer Jack Thorne took to Comic-Con to break down the eight-episode series' circuitous journey to the screen. Its stars Dafne Keen (best known as the preteen mutant slasher in Logan), James McAvoy (Split), Ruth Wilson (The Affair), and Grammy and Tony–winning Hamilton phenom Lin-Manuel Miranda, who were all in San Diego to elucidate the technical challenges of performing opposite CGI-generated "dæmons" — as the animal-soul creatures are known.
Here are the highlights of that conversation:
The production used puppeteers on set to embody the dæmons.
One of the most crucial elements of His Dark Materials are the sentient beings known as "dæmons": the physical manifestation of a person's inner self that takes animal form and often acts independently of its owner. Characters hold conversations and even sing with their dæmons. So during preproduction, the showrunners made the decision to employ on-set puppeteers in a bid to make these interactions less conceptual and more visceral for the actors.
Keen plays the series lead, 11-year-old orphan Lyra Belacqua. She found that performing opposite the puppet master for her dæmon, Pantalaion, grounded her performance. "It was a massive help having them there," Keen said. "She really loves Pan and has many scenes with Pan where they're talking. It's talking to yourself. But not. Because it's outside of her."
Wilson, who plays Mrs. Coulter, the scheming socialite who adopts Lyra, added: "My monkey is particularly nasty. Early on, these guys decided to use puppeteers to help the editors and crew know where these characters were going to be in the scene."
Lin-Manuel Miranda knows he was cast against type, and is loving every minute of it.
Thorne is the English screenwriter and playwright who gained acclaim adapting the stage play Harry Potter and the Cursed Child from a short story by J.K. Rowling, and Tranter is a former high-ranking executive at the BBC responsible for the popularity of Dr. Who. The two met with Miranda in London when he was filming Mary Poppins Returns to dangle the role of Lee Scoresby: an aeronaut balloonist from the Texas backcountry with an arctic hare dæmon (who also happens to be friendly with an armored bear).
"Jane and Jack took me out for a drink," Miranda recalled. "I said I was a huge fan of the Harry Potter play. I was like, 'Yes, I'll sit and have dinner.' They said, 'His Dark Materials.' I said 'Yes!' I didn't even know what the part was. I would have sharpened pencils."
Turns out Miranda and his wife based part of their courtship around reading Pullman's novels and he was intimately familiar with the character they wanted him to play. Then, once he got on set, the Broadway showman thoroughly enjoyed enacting sequences decidedly unlike what his only other film role had required. "My first two days filming were a very long, complicated sequence where I'm pulling bullies and ballasts on a hot-air balloon," Miranda said. "The next day was a bar fight. I was like, 'This is the most fun I've ever had.' It was very different from Mary Poppins Returns."
Setting the show up was extremely tricky and took two years of negotiations before HBO signed on.
While the BBC was quick to enter into an agreement to produce the first season of His Dark Materials (which is based on the Pullman novel known as The Golden Compass in the United States, but is called Northern Lights in the UK), the cable giant required convincing before it deemed the show's enormous budget worth the risk. "It was a long process," Tranter said. "The BBC came on from the start; the books are huge [in England]. But as the piece grew and became more expensive, we looked for more partners to come aboard. It was a long conversation with HBO."
"The pill for HBO is the fact that there is nothing else like it on TV," she continued. "It's not an easily comprehensible piece. It's a book about resistance and questioning authority. For Lyra, it's a journey to adulthood. And she's not always a pleasant child and makes a lot of mistakes." (A key piece of casting — one Tranter neglected to specify — and a new draft of the script ultimately persuaded them to give the show the go-ahead.)
Thorne, for his part, wrote 46 drafts of the first episode before Tranter agreed he had hit the right tone. "We tried to capture the important notes and tell them to the best of our ability," he said.
Ruth Wilson admitted she enjoyed her character's act of child endangerment.
Playing a morally ambiguous character whose motives may not be as noble as they seem, Wilson's dæmon is the only one that can separate from its master — a fact that helps it brutalize other characters and dæmons with impunity. In the book, Mrs. Coulter is described as "the cesspit of moral filth and mother of all evil," but on the panel the actress described her as "complicated and unknowable and frightening for that reason."
"You'll see that she becomes a bit of a monkey when she's at her worst," Wilson said. "I do something quite nasty to a child. It was quite fun, though!"