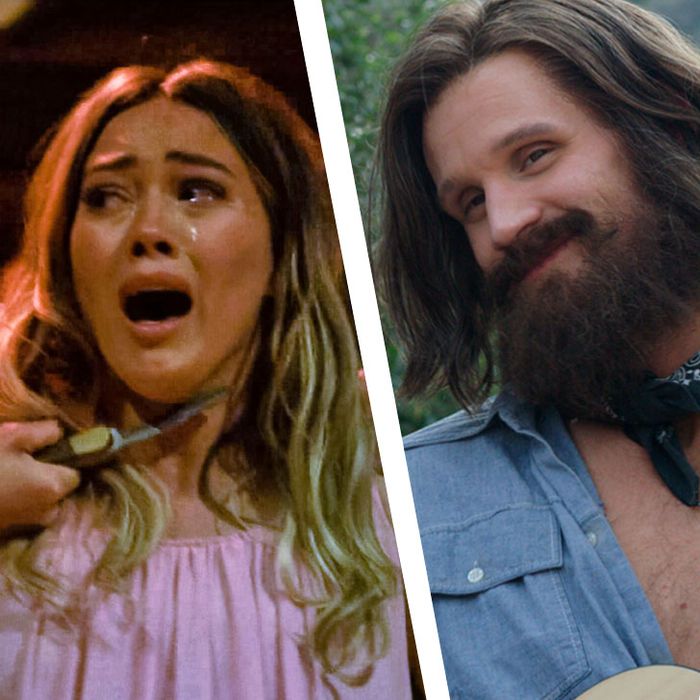 This article was originally published in May. We are republishing the piece as Once Upon a Time in Hollywood hits theaters this weekend.
The year 2019 marks 50 years since the Tate-LaBianca murders, the horrifying Los Angeles killing spree that brought Charles Manson and his Family into the public eye. Five decades later, there are not one, not two, but three(!) new films dedicated to the subject: Quentin Tarantino's Once Upon a Time in Hollywood, Mary Harron's Charlie Says, and Daniel Farrands' The Haunting of Sharon Tate. Margot Robbie, Grace Van Dien, and Hillary Duff all take turns playing the actress formerly married to Roman Polanski, who died, pregnant, at the hands of cult members possessed by Helter Skelter.
Manson-mania is, of course, nothing new. He and his followers have exercised a certain power over the popular imagination since their apprehension and trial (one of the longest-running in American history) in 1970. Countless books, movies, TV shows, and podcasts have set their sights on rehashing that terrifying moment in 1969. We're still a couple months out from experiencing Tarantino's version of the events (Harron's and Farrand's already hit theaters), so you have plenty of time to catch up on the fiction and non-fiction that came before it. Behold, Vulture's extensive guide to the pop culture of Charles Manson:
Films
I Drink Your Blood (1970): Set in a small town overrun by rabid cult members, this X-rated horror film by David E. Durston takes inspiration from the Manson murders, along with a rabies epidemic that occurred in an Iranian mountain village at the same time. Bhaskar Roy Chowdhury is suitably campy and creepy as Horace Bones, the Manson-inspired cult leader.
Helter Skelter (1976): Based on the true crime book by Vincent Bugliosi and Curt Gentry, this carnivalesque TV movie (directed by Tom Gries) stars Steve Railsback as Charles Manson. Railsback nails Manson's crazy eyes and beat-poetic patter so effectively, he was forever typecast as the killer after playing this role.
The Book of Manson (1989): Directed by artist Raymond Pettibon (best known for his album covers for Black Flag and Sonic Youth), this low-budget satire of the Manson Family stars punk rocker Robert Hecker as Charles Manson, and numerous other punk scene members as his followers.
Summer Dreams: The Story of the Beach Boys (1990): Spanning the 1950s to the 1980s, this TV movie by Michael Switzer follows the rock-and-roll careers and personal relationships of Brian and Dennis Wilson — including Dennis's notorious and ill-fated association with Charles Manson (portrayed by Michael Reid Mackay).
The Manson Family (2003): This fictionalization, directed by Jim Van Bebber, follows the early free love and rock-and-roll days of the Manson Family, including their attempts to record an album while living on Spahn Ranch. Manson is played by Marcelo Games.
Helter Skelter (2004): Also based on the true crime book of the same name, this remake by John Gray focuses on Linda Kasabian's involvement with the Manson Family and her subsequent role as a key witness in their trial. She's portrayed by Clea DuVall, with Jeremy Davies starring as Manson.
The Strangers (2008): This 2008 horror film by Bryan Bertino follows a young couple (portrayed by Liv Tyler and Scott Speedman) whose stay at a holiday house is disrupted by a band of masked intruders. Along with the Tate-LaBianca murders, The Strangers takes inspiration from the 1981 Keddie Cabin murders and a series of break-ins that took place in the director's Texas hometown.
Manson, My Name Is Evil (2009): Revolving around the teenaged Leslie Van Houten and Perry, a (fictional) juror who becomes smitten with her during her trial, this quirky low-budget feature by Canadian director Reginald Harkema benefits from not taking itself too seriously — even while commenting on the parallels between state-sanctioned violence and the violence of the Tate-LaBianca murders.
Martha Marcy May Marlene (2011): With its contemporary setting, Sean Durkin's debut feature is more evocative of — than strictly based upon — the Manson Family, yet his influence is clear in John Hawkes's captivatingly creepy portrayal of the gaunt, guitar-slinging cult leader, Patrick. The real strength of the film, though, is Elizabeth Olson's nuanced portrayal of cult defector Martha/Marcy May/Marlene.
House of Manson (2014): This biopic by Brandon Slagle is notable for its exploration of Manson's early years, including his relationship with his mother, Kathleen Maddox, and his wife, Rosalie Willis. Manson is portrayed by Ryan Kiser.
Manson Family Vacation (2015): In this comedy by J. Davis, Linas Phillips plays a Manson-obsessed oddball who ropes his brother into touring Manson murder sites, convinced that he is in fact an illegitimate child of Manson and one of his female followers.
Wolves at the Door (2016): Directed by John R. Leonetti, this horror film follows Sharon Tate (played by Katie Cassidy) and her friends, as they are stalked and slayed at 10050 Cielo Drive on the night of August 8, 1969. Critically panned as exploitative, it has a zero percent approval rating on Rotten Tomatoes.
Manson's Lost Girls (2016): Centered on the perspective of Linda Kasabian as she is introduced to the Manson Family in the summer of 1969, this Lifetime movie by Leslie Libman features Mackenzie Mauzy in the lead role as Kasabian and Christian Madsen as Manson.
Documentaries
Manson (1973): Comprised of original footage shot at the Manson Family's Spahn Ranch commune, their Death Valley hideout, and the Los Angeles Hall of Justice, Robert Hendrickson and Laurence Merrick's documentary is a harrowing distillation of corrupted ideals and the decadence of the late sixties, replete with psychedelic transitions and musical interludes.
Charles Manson Superstar (1989): Created and voiced by occultist Nikolas Schreck and his wife Zeena, a spokeswoman for the Church of Satan, Charles Manson Superstar sets out to deprogram the public's belief that Manson was a madman — only to reinforce the point.
The Six Degrees of Helter Skelter (2009): Exploring 40 locations tied to the Tate-LaBianca murders, Michael Dorsey's documentary contextualizes the Family's crimes within the wider setting of Hollywood and its outskirts.
Old Man (2012): Directed by Leah Shore, this documentary takes an aging Charles Manson as its focus, using conversations between Manson and Charles Manson Now author Marlin Marynick as source material.
Life After Manson (2014): The focal point of this documentary is Patricia Krenwinkel, an early follower of Manson and a major player in the Tate-LaBianca murders. Imprisoned to this day, Krenwinkel discusses her childhood, life with Manson, and her life as a convicted murderer.
Television
"Merry Christmas, Charles Manson!" (1998): In this season-two holiday-themed episode of South Park, Cartman's uncle busts out of prison with his fellow inmate — Charles Manson. Mayhem ensues as Manson babysits the South Park boys for the day.
Mad Men (2008–2015): From the moment that Megan Draper (portrayed by Jessica Paré) appeared in the season-six episode "The Better Half" wearing a t-shirt identical to the one Sharon Tate wore in a 1967 photo shoot for Esquire, fan theories connecting her character to Sharon Tate flooded the internet. Although the theories were ultimately unfulfilled, the series nevertheless references Manson directly in its final season (set between 1969 and 1970) and nods indirectly to the Family by writing Margaret Sterling into a cult.
Aquarius (2015–2016): Cancelled after two seasons, this NBC crime drama has a lot of flaws, but it manages to position the Manson story within the broader turbulence of the late 1960s while covering aspects of the case that other films have neglected. It also has the sort of soundtrack you'd expect from a big-budget network production: killer. Gethin Anthony (best known as Game of Thrones' Renly Baratheon) stars as Manson.
"Manson" (2016): True-crime TV series Murder Made Me Famous takes on the Manson Family for the fifth episode of its second season, with David Burkhart portraying Manson in a dramatization of the events. The series was later adapted as a podcast.
American Horror Story: Cult (2017): The seventh season of horror anthology American Horror Story takes place after the 2016 presidential election and is a veritable who's who of cult leaders and followers. Evan Peters plays Manson (as well as Jim Jones, Marshall Applewhite, David Koresh, and others), while Billie Lourd and Leslie Grossman have recurring roles as Manson followers Linda Kasabian and Patricia Krenwinkel.
Mindhunter (2017–present): Set in the 1970s, David Fincher's crime drama follows FBI criminal profilers Holden Ford, Bill Tench, and Wendy Carr as they interview imprisoned serial killers in order to understand their psychology. Although Manson is yet to make an appearance, he is mentioned in the first episode of the series, and it is rumored that he will be played by Australian actor Damon Herriman (who was also cast as Manson in Tarantino's film) in the show's second season.
Books: Fiction
Dead Circus (2003): Set between the 1960s and 1980s in Los Angeles, this neo-noir novel by John Kaye follows a former LAPD detective who is contacted by a (fictional) ex-Family member who has information about their crimes. Shortlisted as Book of the Year by the New York Times in 2003, it was described as a "looming thundercloud of a book", capturing the dark underbelly of sunny '60s California.
Jesus Coyote (2008): A genre-bending exploration of the Manson saga and its chief players, this "docufiction" novel by Harold Jaffe packs a lot of punch into its 150 pages. Jaffe fictionalizes Roman Polanski, Lynne "Squeaky" Fromme, Susan Atkins, and several other Manson acolytes, along with the cult leader himself, creating a clamor of voices that's both sensational and convincing.
"Ghosts, Cowboys" (2011): In this semi-autobiographical story from her critically acclaimed short fiction collection Battleborn, Claire Vaye Watkins explores her father Paul Watkins's role as Manson's right-hand man, as well as the history of Spahn Ranch and its owner, George Spahn.
The Girls (2016): A long-overdue addition to the canon of Manson-inspired art, Emma Cline's novel focuses on "the girls" of a Manson Family-like cult: Evie Boyd, an insecure 14-year-old languishing through the summer of '69, and a group of free-loving young women with whom she becomes infatuated. Cline's descriptive prose is a major draw, but perhaps most impressive is her insight into teen girlhood and the dangerous boredom and longing for approval that so often accompanies it.
American Girls (2016): Alison Umminger's YA novel American Girls (My Favourite Manson Girl in the UK) similarly makes sense of the Manson story through the lens of a teenaged narrator, who runs off to L.A. after stealing her mother's credit card. Over the course of a summer, Anna gets a job researching the Manson girls for a movie script her sister is slated to star in, finding parallels between their lives and her own.
Books: Nonfiction
The Killing of Sharon Tate (1970): Cashing in on the publicity of the Manson trial, this contemporaneous account of the Tate-LaBianca murders claims to tell the exclusive story of Susan Atkins and her involvement in the slayings. At the time of publication, Atkins was still allegedly under the influence of Manson.
The Family: The Story of Charles Manson's Dune Buggy Attack Battalion (1971): Not only did author Ed Sanders spend time at the Family's Spahn Ranch commune and attend their trial; as a beat poet and member of avant-rock group The Fugs, he also had insider knowledge of the counterculture of Manson and his followers. Sanders explores connections between the Family and other cults and criminal organizations active at the time, painting a vivid picture of the scene in which the group festered.
Helter Skelter (1974): Written by prosecutor Vincent Bugliosi and author Curt Gentry, Helter Skelter is the best-selling true-crime book of all time. It takes its title from The Beatles' song of the same name, which Manson interpreted as a prophesy of an apocalyptic race war that his crimes were intended to incite.
Child of Satan, Child of God (1977): Susan Atkins was one of the first followers of Charles Manson and totally unrepentant during the course of the trial. While imprisoned, she became a born-again Christian and authored this memoir. Ultimately self serving, it nonetheless illuminates what day-to-day life was like within the Family and why a seemingly ordinary middle-class woman might follow a man like Manson.
Will You Die For Me? (1978): Like Susan Atkins, Charles "Tex" Watson was a major player in the Tate-LaBianca murders who found God while behind bars. This personal account follows his trajectory from good Southern boy to crazed killer to born-again Christian and father of four.
My Life With Charles Manson (1979): Another Manson Family memoir, Paul Watkins's account differs from Atkins's and Watson's in presenting the story of a member who defected before the Manson Family's murders, eventually testifying against them.
Manson in His Own Words (1986): Compiled by Nuel Emmons from hundreds of hours of in-prison interviews, this autobiography reveals Manson's philosophy and life story in his own words. Like any autobiography, it's steeped in subjectivity, but worth reading if you're interested in knowing more about how the criminal himself justified his actions.
Squeaky: The Life and Times of Lynette Alice Fromme (1997): Despite never actively participating in the Tate-LaBianca murders, Lynette "Squeaky" Fromme is one of the most notorious followers of Charles Manson — not least of all for her attempt to assassinate President Gerald Ford in 1975. Author Jess Bravin paints a complex portrait of Fromme before, during, and after her life with the Family.
Taming the Beast: Charles Manson's Life Behind Bars (1998): Written by Dary Matera, together with Manson's former prison counsellor Edward George, this biography of Manson focuses on his life behind bars and George's attempts to understand how Manson became the man he was.
The Long Prison Journey of Leslie Van Houten: Life Beyond the Cult (2001): Authored by sociologist and human rights activist Karlene Faith, this biography of Manson follower Leslie Van Houten and her role in the Tate-LaBianca murders presents a sympathetic picture of Van Houten and argues for her parole.
Charles Manson Now (2010): Written by psychiatric nurse Marlin Marynick, this account grounds Manson's story within Marynick's wider experiences working with mentally ill prisoners, shedding light on the cult leader's later years.
Restless Souls: The Sharon Tate Family's Account of Stardom, the Manson Murders, and a Crusade for Justice (2012): An antidote to the tradition of criminal-centric true crime, this account by Brie Tate and Alisa Statman focuses on the life of Sharon Tate and the ongoing impact of her murder on the Tate family. It's based on the collected unpublished memoirs of Tate's mother, father, and sister.
Manson: The Life and Times of Charles Manson (2013): A bestselling author of fiction and nonfiction, Jeff Guinn demonstrates his clout as both a storyteller and a researcher in this authoritative biography of Manson. Much of the book is based on original interviews with previously undiscovered relatives and it includes never-before-published family photographs.
Member of the Family: My Story of Charles Manson, Life Inside the Cult, and the Darkness that Ended the Sixties (2017): At 14, Dianne Lake was the youngest member of the Manson Family. Although she never participated in the Tate-LaBianca murders, she was a member of the group for two years. This is the story of her life inside the Family, as well as her attempts to lead a normal life after their conviction.
The Manson Women and Me (2018): In an attempt to understand how seemingly normal individuals can commit unspeakable acts, journalist Nikki Meredith began visiting former Manson girls Leslie Van Houten and Patricia Krenwinkel in prison. Filtered through her meetings with Van Houten and Krenwinkel, Meredith explores broader questions of violence, trauma, and rehabilitation.
Podcasts
You Must Remember Manson (2015): Launched in 2014, film critic Karina Longworth's podcast You Must Remember This covers stories from the underbelly of early-to-mid twentieth century Hollywood. In 2015, she dedicated an entire season to the Manson Family, exploring its connections to well-known industry personalities like Roman Polanski, Dennis Wilson, and Doris Day, as well as fringe figures like Kenneth Anger.
Last Podcast on the Left (2015): Renowned for their explorations of horror, serial murder, and conspiracy, this weekly podcast hosted by researcher Marcus Marks and comedians Ben Kissel and Henry Zebrowski devoted three consecutive episodes to Manson and the Family's crimes in 2015.
"Charles Manson and the Manson Family" (2015): In this episode of Irish comedy podcast Those Conspiracy Guys, hosts Gordo and Neil Rochford take on Manson, his Family, and the indelible mark they left on the twentieth century, along with the hallmarks of mind control and charismatic cult leaders.
Manson's Lost Girls (2016): Released in anticipation of the Lifetime movie of the same name, this five-episode podcast showcases the experiences of the film's actors and creators as they attempt to understand the Manson Family and their crimes.
Murder Made Me Famous (2018): Adapted from the TV series of the same name, this true-crime podcast is presented by crime reporter Steve Helling, who uses a combination of archival research and commentary from those connected with the events. Manson takes center stage in the eighth episode of the podcast.
Young Charlie (2017): Following Manson's formative years and the investigation of the Tate-LaBianca murders, Young Charlie is both fast-paced and sprawling. While writing it, Larry Brand studied Manson's speech patterns and music from the era, incorporating similar rhythms and imagery into the script.
Stuff You Should Know (2018): The brainchild of Howstuffworks.com editors Charles "Chuck" Bryant and Josh Clark, Stuff You Should Know (SYSK) aims to educate the general public about everything from science to history to popular culture. In 2018, they spent two episodes delving into the Manson murders and the turbulence that ended the 1960s.
Monsters Who Murder: Serial Killer Confessions (2019): Australian true-crime author Amanda Howard brings over 30 years of research to her podcast Monsters Who Murder: Serial Killer Confessions, attempting to go beyond the headlines to understand the psychology of murderers. The first episode of the podcast's fourth season discusses Manson and follower Leslie Van Houten, among others.
Music
"Never Learn Not To Love" (1968): Credited to Dennis Wilson and released as a B-side to The Beach Boys' "Bluebirds over the Mountain," this song is an altered version of Charles Manson's "Cease to Exist." Manson exchanged the writing credit for a motorcycle and a sum of cash, yet became enraged when he discovered that The Beach Boys had altered his original lyrics.
Lie: The Love and Terror Cult (1970): Although Manson failed to make it as a musician when he was a free man, during his incarceration, his songs were compiled into an album by record producer Phil Kaufman. Since its 1970 release, many of the songs have been covered, including: "Cease to Exist" (by Redd Kross in 1982, The Lemonheads in 1988, and Rob Zombie in 2010), "Look At Your Game, Girl" (by Guns 'N' Roses in 1993), "Arkansas" (by The Brian Jonestown Massacre in 1999), and "Sick City" (by Marilyn Manson in 2000).
Desert Sun (1970s): Together with fellow Manson Family defector Brooks Poston, former right-hand man Paul Watkins formed the band Desert Sun in the 1970s. A number of their dreamy folk-rock compositions, including "Young Girl" and "Moments," can be heard in 1973 documentary Manson.
"Revolution Blues" (1974): This song from Neil Young's album On The Beach was allegedly written from the perspective of Manson, who Young claimed to have met during his days in the LA hippie scene in the 1960s.
"Bloodbath in Paradise" (1988): The fifth track from Ozzy Osbourne's fifth studio album No Rest For The Wicked is explicitly based on the Manson murders.
Assassins (1990): Manson follower Lynette "Squeaky" Fromme figures prominently in this musical by Stephen Sondheim, which portrays men and women who've attempted (successfully and unsuccessfully) to assassinate presidents of the United States.
The Downward Spiral (1994): Nine Inch Nails' breakthrough album was recorded at the location of the Tate murders, 10050 Cielo Drive, in a studio space that frontman Trent Reznor named "Le Pig" after the word that was scrawled on the mansion's front door in Sharon Tate's blood.
Laura Elizabeth Woollett is the author of The Love of a Bad Man (2016), a short-fiction collection that imagines the lives of real women who were drawn to infamous bad men, and includes a story about Manson's female followers, "Charlie's Girls."
*A version of this article appears in the May 27, 2019, issue of New YorkMagazine. Subscribe Now!