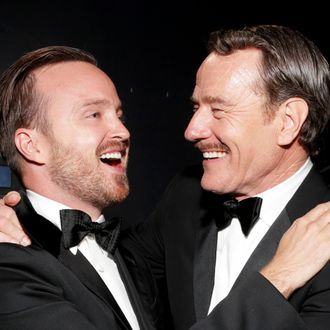 Photo: Todd Williamson/Invision/AP/Shut/Todd Williamson/Invision/AP/Shut
Where were you when you saw Aaron Paul's Instagram post from a week ago that was just a picture of him in a river with Bryan Cranston and the word "Soon" written in the caption? Were you, a Breaking Bad fan who knows a movie is in the works, texting with friends about what it could possibly mean? Were you speculating about whether or not Vince Gilligan was involved, too? One thing you likely weren't doing was asking yourself, What do you think they will call their brand of artisanal mezcal once it's finally unveiled?! If you did, however, have that insanely specific hunch, then today you are validated. Once again on his Instagram, Paul posted photos of himself and Cranston exploring nature and imbibing as he let the world know: The secret collaboration he's been working on with his former Bad co-star is … a mezcal called Dos Hombres, because they were "two guys on a quest" to find themselves and us the perfect mezcal. Apparently.
Um, thanks? Responses in the comments ranged from "Viva Mexico!" and various messages of congratulations from sympathetic blue-checked accounts to feedback like "this is so disappointing," "so you guys have officially ruined all our hopes," and "that doesn't sound like breaking bad to me." Yes, it's news for Paul and Cranston, but they should have seen the blowback coming. You can't just be the Breaking Bad guys walking around Mexico saying "soon" and not think people won't assume, Oh my God, spinoff?? But, congratulations all the same to these two guys and their quest, which has led them to the exact same location as so many booze-slinging famous bros before them. Cheers.