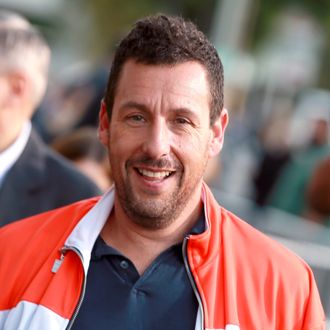 Photo: Leon Bennett/Getty Images
Everybody's always saving Christmas, but realistically, Halloween is the holiday most in need of rescue, what with all the restless ghosts and flesh-eating demons and so forth. According to reports, Adam Sandler will continue his impressive Netflix run with an as-yet-unnamed Halloween comedy featuring all of his friends and half the current Saturday Night Live cast.
For example, Kenan Thompson, Maya Rudolph, Kevin James, Julie Bowen, Ray Liotta, June Squibb, Tim Meadows, Colin Quinn, Rob Schneider, Shaquille O'Neal, Mikey Day, Melissa Villaseñor, Kym Whitley, Lavell Crawford, Betsy Sodaro, George Wallace, and Steve Buscemi are reportedly set to co-star in the film, presumably as the various residents of Witch Center USA, Salem, Massachusetts.
Sandler, meanwhile, will play town oddball Hubie Dubois, a man mocked for his deep and abiding love of the town's annual Halloween festival. Naturally, Hubie must come to its rescue when, per Entertainment Weekly, "something really is going bump in the night." Sure would be a shame if we didn't get to see Adam Sandler barehanded brawling with some undead witches for Halloween domination, but if we don't get it this go-around, there's always next year.