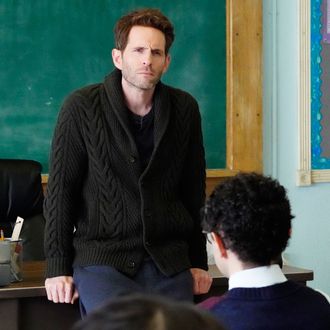 Glenn Howerton on
A.P. Bio.
Photo: Evans Vestal Ward/NBC
A recently canceled NBC comedy series has been saved from disappearing forever, and it will now officially get a second life on … NBC. Well, kind of. The network announced today that Mike O'Brien's A.P. Bio, which was canceled after two seasons earlier this year, will return with new episodes on NBCUniversal's upcoming streaming service. It will have the unique double honor of being both a show saved by the network that axed it and the first scripted comedy ordered for NBC's streaming service. Also slated to move to the streaming service — which reportedly launches next year — is The Office, which will make the leap after it leaves Netflix in 2021.
"I'm so overwhelmed by the outpouring of support from the fans," O'Brien said on the news. "The cast and I are thrilled that we get to make more and I'm excited to work with the NBCU streaming platform." After news of the cancellation was announced earlier this year, O'Brien and A.P. Bio cast member Patton Oswalt took to Twitter in an effort to drum up support for the show. Looks like their efforts paid off!