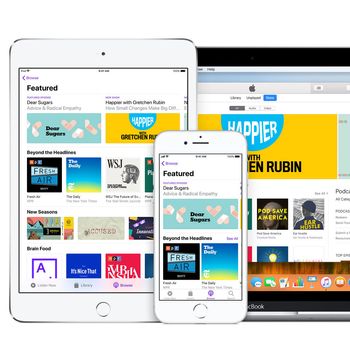 Last week, Bloomberg dropped a fascinating scoop that Apple, the long-time impartial steward of the podcast ecosystem, is apparently planning to finance original podcasts that would be exclusive to its platforms, and that it has met with media companies to discuss possible deals toward this end. According to the report, the talks were preliminary and Apple has yet to establish a clear strategy around exclusive audio content, but whatever the actual game plan turns out to be, the company appears ready to do things with podcasting and audio shows that it hasn't done before.
This development has largely been interpreted as a response to Spotify's efforts to diversify its offerings away from music, such as its $300 million–plus acquisition of three podcast companies earlier this year and subsequent exclusive-content partnerships, most notably a deal with the Obamas' production company Higher Ground that'll see the former president and First Lady developing podcasts for the platform. If you've been following the competition between Spotify and Apple over the music-streaming business, then you might see Spotify's diversification efforts as an attempt to outflank Apple Music for users and paid subscribers, and you might perhaps read the Bloomberg report as Apple looking to respond in kind.
But this news of Apple potentially investing in original podcasts also seems to fit more broadly with the company's moves in other content arenas, including the truckload of original TV shows being developed for the Apple TV+ and a roster of video games being developed exclusively for its upcoming Apple Arcade subscription service. All this, combined with the company's general shift away from an iTunes-centered directory-style value proposition, suggests a future in which Apple may serve as an eminent publisher-distributor across all media categories. This possible future, as it specifically pertains to podcasts, is unnerving to some corners of the podcast ecosystem — particularly those that champion the medium's historically open nature.
Apple has long had a distinctly unique relationship with podcasts, one that's rooted in the company's 2005 decision to begin offering the format on iTunes. That year, podcasting, in the form we currently know it, was barely a few years old, and it was still very much the domain of early adopters and tech enthusiasts. But Apple's decision to bundle podcasting with iTunes considerably elevated the medium's visibility, expanded access for potential listeners, and strengthened incentives for audio creators of all stripes to publish through podcasts — and, specifically, through iTunes.
The move essentially created the podcast marketplace that we know today, and it immediately established Apple as the dominant podcast distributor while pushing aspiring podcast-distribution start-ups (like Odeo, now known as Twitter) off the board. Apple further cemented its centrality by assuming a somewhat unexpected position: It didn't move to directly monetize podcasts listed on iTunes in any shape or form, opting instead to serve as a pure distributor. On top of that, Apple also allowed the iTunes podcast directory to become the foundation for a wide array of third-party podcast apps. To this day, apps like Overcast and Pocket Casts rely on Apple's podcast API to populate their inventories.
At this point, you could understandably ask: Why didn't Apple monetize podcasts from day one? Here's how I see it: Frankly, there wasn't much to monetize in those early days. In 2008, which is the furthest back that Edison Research has studied the podcast category, only 9 percent of all Americans over the age of 12 listened to podcasts on a monthly basis. In those days, podcasts barely made any money, and the modern podcast-advertising business model only really started finding its feet after the financial crisis of the late 2000s.
At the time, it was probably more valuable (or less trouble) for Apple to let podcasting grow on its own terms than to apply itself onto the category the same way that it did with apps, music, and television. Even without somehow directly monetizing podcasts on iTunes, the category could still provide marginal indirect value: For the slice of people who did find and like podcasts, they were another reason to keep using an iPhone and stay within the Apple universe.
The company even became the beneficiary of goodwill for its relatively impartial position. For a long time, Apple was not only nearly synonymous with podcasting, it was also held up as a positive model for a certain kind of open publishing environment. Its hands-off stance allowed the medium to flourish as a quirky backwater of digital curiosity — equally inhabitable by experts, amateurs, talking heads, audio documentarians, public-radio powerhouses, public-radio refugees, fiction writers, and so on, all working the same odds of finding an audience over a relatively open ecosystem. Of course, the arrangement wasn't always perfect — here's a New York Times headline from 2016: "Podcasts Surge, but Producers Fear Apple Isn't Listening" — but for the most part, things worked out.
The substance and stakes are now dramatically different, of course, as podcasting grows in popularity and profit. These days, 32 percent of Americans over 12 listen to podcasts on a monthly basis, per Edison Research. The podcast industry made over $470 million in advertising revenue last year, according to the Interactive Advertising Bureau, and the number is projected to beat $1 billion by 2021. We now have podcast millionaires and podcast celebrities. The Bodega Boys are now on Showtime. American presidential candidates are hitting podcasts like they're the new roadside diner in Iowa.
And Apple now faces real competition for dominance over podcast distribution from entities eager to tap into monetization. The company is still believed to hold the lead as far as podcast listenership is concerned, with estimates suggesting that the Apple Podcast platform (f.k.a. iTunes Podcasts) still drives somewhere between 50 percent to 60 percent of all listening. But after years of fits and starts, Spotify, following its definitive push into the category earlier this year, is thought to have quickly become a strong second distributor. (Also angling to meaningfully compete: fellow music-streaming service Pandora.)
In the face of all this, Apple has considerable incentive to abdicate its longtime position as the impartial steward of podcast-land and to begin properly figuring out ways to directly extract value for itself. To be clear, we still don't quite know the extent to which the company will break from the past should it go down this path. As the Bloomberg report notes, a clear strategy around exclusive audio content doesn't appear to have been determined just yet — it's unclear how many of these exclusives are being developed, whether they will apply to Apple Music or Apple Podcasts (or both), whether it will involve a major overhaul of how the Apple Podcast platform currently works, and so on.
But the very possibility of Apple being willing to fundamentally change the way it relates to the podcast ecosystem as a whole, amidst a vastly increased competitive environment, is yet another signal that podcasting's historically open nature is subject to an uncertain future.