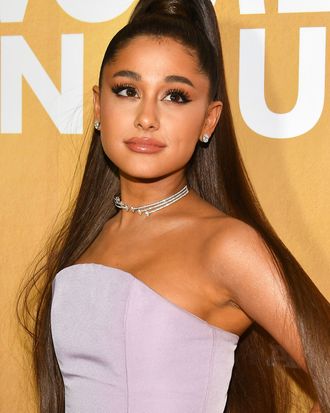 Ariana Grande.
Photo: Dia Dipasupil/FilmMagic
Ariana Grande has had a painful few years. From the Manchester bombing, to the start and end of a tumultuous relationship with Pete Davidson, to Mac Miller's devastating death, Ariana Grande has seen her share of heartbreak. But instead of remaining private, she has opened up to Vogue in a new cover story about her experiences to set the record straight and maybe shine a little light.
Before her ex-boyfriend and good friend Mac Miller died, Grande spent the bulk of their relationship fighting for him, warning him, and checking up on him. "By no means was what we had perfect, but, like, fuck," she recalled. "He was the best person ever, and he didn't deserve the demons he had. I was the glue for such a long time, and I found myself becoming … less and less sticky. The pieces just started to float away." Now that he's gone, the grief is "all-encompassing." She cried onstage a few times since beginning her Sweetner World Tour, once while in Miller's hometown. But the tour is part of her plan to "get well soon" by providing a rigid schedule. It's just hard to sing about such personal moments, including her short, but legendary relationship with Pete Davidson.
After her break up with Mac Miller, Ariana Grande's friends moved her from Los Angeles to New York for an escape. And then she met Pete: "It was an amazing distraction. It was frivolous and fun and insane and highly unrealistic, and I loved him, and I didn't know him." The relationship we spent all summer obsessing over, the relationship that launched "big dick energy" was probably just as silly and ridiculous as we made it out to be. If a whirlwind relationship no one can wrap their minds around is what it takes to make Ms. Grande just a little bit happier, we'd write a million relationship timelines.